Review: The Dragon of New Orleans' by Genevieve Jack
August 10, 2023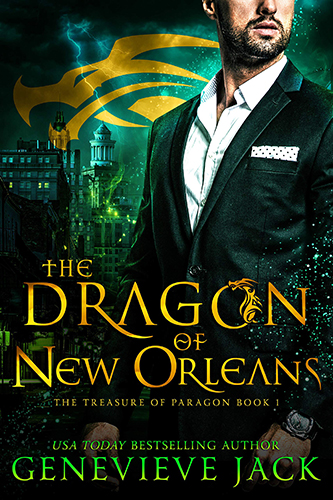 The Dragon of New Orleans
by
Genevieve Jack
Series:
The Treasure of Paragon #1
on March 5, 2019
Genres:
Paranormal Romance
Format:
AudioBook
,
eBook
Source:
Purchased
Goodreads
Purchase at
Amazon
|
Barnes & Noble
|
Kobo


New Orleans: city of intrigue, supernatural secrets, and one enigmatic dragon.

A deadly curse....For 300 years, Gabriel Blakemore has survived in New Orleans after a coup in his native realm of Paragon scattered him and his dragon siblings across the globe. Now a jealous suitor's voodoo curse threatens to end his immortal existence. His only hope is to find an antidote, one that may rest in a mortal woman.
A lifesaving gift...After five years of unsuccessful treatment for her brain cancer, death is a welcome end for Raven Tanglewood. Her illness has become a prison her adventurous spirit cannot abide. Salvation comes in the form of Gabriel, who uses dragon magic to save her.
A harrowing price...To Raven, the bond that results from Gabriel's gift is another kind of captivity. Can Gabriel win Raven's love and trust in time to awaken the life-saving magic within her? Or will his fiery personality and possessive ways drive her from his side and seal his fate?
---
I'm always looking for new books to read and was introduced to Genevieve Jacks's books because she is one of the attending authors for the Coastal Magic Convention next year in Daytona Beach. I decided to read the first book in The Treasure of Paragon series since I'm a huge reader of the Paranormal Romance genre, and I'm also a fan of dragon shifters in my books.
I thoroughly enjoyed the first book of the series and I am intrigued enough to continue binge-reading this series. (I've already purchased the next four books, that's how much I'm invested.) I just need to find time to read them in between other books.
The MMC, Gabriel Blackmore, is a dragon shifter sent to the human realm with his siblings, scattered in different places, not knowing if they can ever return to their realm due to what happened there. Gabriel has lived for over three hundred years in New Orleans without any issues until a voodoo priestess curses him, and now he has a risk of losing his immortality or worse. He needs to find an antidote to the curse and thinks he has found someone to help him. Raven Tanglewood has been sick for a while, and she knows it's almost time, especially since there is no cure to her cancer, until a strange, handsome man shows up at her hospital bed, offering her hope if she helps him. She takes him up on his offer, and she has no idea what she agrees to, but she's getting a second chance at life, and that's all that matters.
I loved where Genevieve Jack was going with the first book in the series and the world-building behind it. It did take a while to learn about Gabriel's background, as far as where he came from and what happened to him. The beginning of the book is mainly the two characters having communication issues and Gabriel not being upfront about what he expects from Raven. He even does something that triggers poor Raven, and I felt for her when it happened, but thankfully, Gabriel learned from his mistake. There's a lot of back and forth between the two characters, but eventually, the story progresses and picks up. The author dives more into the logistics of everything. I enjoyed every bit of it and now want to read Gabriel's siblings' stories and where they ended when they were kicked out of the Paragon realm, especially since one of the brothers played a significant role in this book.
What about the villain in the story, who cursed Gabriel? Don't worry; the villain gets what is coming to her. Readers will learn why Gabriel was cursed in the first place, which is crazy. Even Raven finds it crazy.
How about spice in the book? It's mild compared to other books I read that include a lot of spice, but it's there. The story focuses on the characters finding the antidote and Raven having a second chance at life and learning about herself. It also has a fated mate trope, which means the main characters were destined to be connected. I've always loved the fated mates trope, even though it's sometimes an instant love connection between the characters.
Overall, a very entertaining read, and I'm excited to read the next book in the series. Thanks to Coastal Magic Convention for introducing this author and her books.
---
Story Rating: ⭐️ ⭐️ ⭐️ ⭐️
Single/Dual/Multiple POVs: Multiple POVs, mostly Dual.
Would I recommend this book? Yes. I recommend this book/series to Paranormal Romance readers that enjoy a suspenseful storyline and love dragon shifters/magic.
Audiobook Rec: I actually listened to this book more than I read it since it's hard for me to sit down lately to read a book due to my schedule. This was the first book I listened to that was narrated by Rock Engle, and I enjoyed listening to the book because of him. I'm usually picky with it only being one narrator when it's Dual POV, but he did a good job with both characters.
Genre/SubGenre(s): Romance | Paranormal Romance
Trope(s)/Element(s): Fated Mates | Slow Burn | Dragon Shifters | Magic | Voodoo | Witches/Sorcerers

This post contains affiliate links you can use to purchase the book. If you buy the book using that link, I will receive a small commission from the sale. It will help sponsor future giveaways but costs you nothing extra. You can read the full disclosure underneath the Privacy Policy.
---
---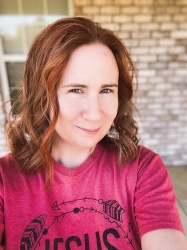 Latest posts by FranJessca
(see all)