Review: 'The Hallow Boys' by Rosie Alice
November 16, 2022
This book may be unsuitable for people under 18 years of age due to its use of sexual content, drug and alcohol use, and/or violence.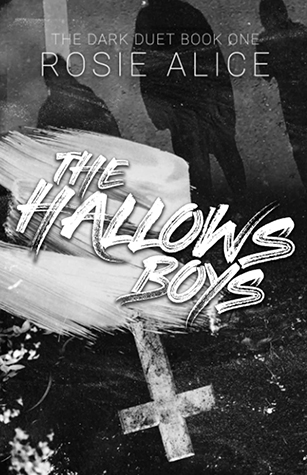 The Hallows Boys
by
Rosie Alice
Series:
The Dark Duet #1
Published by
Self-Published
on May 1, 2022
Genres:
BDSM
,
Dark Romance
,
Mature High School/Young Adult Romance
,
MF Romance
,
MM Romance
,
Reverse Harem
Format:
eBook
Source:
Kindle Unlimited
Goodreads
Purchase at
Amazon

Previously published as a novella titled In The Dark, Rosie Alice brings you the first full length novel in the Dark Duet – The Hallows Boys.

Welcome to Blackmore, I hope you like the dark.

Thrust into a dark and mysterious town – Sage just wants to get through the next few months, intending to keep her head down and go unnoticed.

Except the Hallows Boys – Kaiden, Beckham and Vincent – have a different plan for her…
Secrets are uncovered, and Sage is presented with more questions about herself than she ever could have imagined.

Let the games begin.

**The Dark Duet will not be suitable for all readers. This is a dark, reverse harem, erotic duet. Please read responsibly.
---
I wanted something to read during Halloween this year, and I had The Hallows Boys by Rosie Alice on my TBR for a while and finally made time to read it. I'm glad I read it because it was one of those Dark Romance books that were hard to put down. Now, forewarning, this book has many potential content warnings that may bother some readers. If you are like me and have barely or no triggers, this book/duet is right up your alley. I highly recommend reading the author's trigger warnings at the beginning of the book before diving into it. I've also listed them in my review down below. Some are listed under elements and not triggers.
Storyline/My Thoughts: Welcome to the small town of Blackmore, where every girl wants to be picked as a Chosen. The Hallow Boys, Kaiden, Vincent, and Beckham, are to choose a girl they can use and play with every Halloween in their grave site crypts. They can do whatever they want with the girl chosen for that night. The boys are chosen for the secret society known as the Hallow boys, and this is their last year of participating in the games. They want to find the perfect chosen girl, but it's slim pickings in Blackmore until the new girl comes to town after her parents pass away. They know she will be perfect for it, especially since she knows nothing about the rules. Sage is new in town and has no idea she's been pegged as the Hallow Boys' next chosen for this Halloween. She wants to keep her head down and stay out of the limelight, but unfortunately, the boys will make her life hell if she doesn't play with them.
Now, if you are squirmish due to some of the things done to Sage, such as knives coming out to play, edge and impact play, etc., this book may not be for you. There are a lot of sexy times too. Sage is put through the wringer a few times. After what the boys did to her, the girl needed a breather and lots of sleep. Yup, they didn't take it easy on her during Halloween. She handled it all, though, for being the new girl and having no idea what would happen. Don't worry; there's a plot to the book, not just spicey times between all characters, but I never mind a book having a lot of spice. Rosie Alice does mention in the beginning, with her author's note you should be prepared for many moments between the characters. That there had me immediately diving into the book. As a romance reader who has been reading romance since high school (Not saying my age here), I love books with a lot of smut. Please give me more! This book involves scenes with MF, MM, and even MFM. I am still determining which of the boys I like best. I can like them equally. I can't categorize them as book boyfriends because they are too young for me, but if I were the same age as Sage, I would have them listed as book boyfriends.
Now, with any book involving a secret society, there's bound to be dirty little secrets they don't want to come out. After Sage participates, she is to sign her name with the other girls that had been chosen. This is when Rosie Alice shocks readers with what Sage learns about society. No spoilers from me. I was on the edge of my seat with the twists and turns that Rosie gave me while reading. Yes, there is spiced, but there are mysteries to be solved, and I need them answered, like yesterday. When does the second book duet come out? I really need answers to so many questions after that cliffhanger of an ending. I need to know what Sage will do and what the boys are planning. I give the first book in the Dark Duet five stars. No, just not due to the spice level either. I really enjoyed the storyline and the characters.
Standalone or Part of Series: It's part of the Dark Duet. The book ends on a cliffhanger and I recommend reading in order.
Steam/Spice: 🌶 🌶 🌶 🌶 🌶
Cliffhanger: Yes.
Genre(s)/Trope(s)/Element(s): Dark Romance. Reverse Harem/Why Choose. Halloween Romance. MF, MM, and MFM Romance. Polyamorous Romance. Secret Society. BDSM. Bondage. High School Aged Characters (17 and 18). Degradation and Praise. Spanking, Slapping, and Whipping (Impact Play). Anal Sex/Play. Sadist MMC. Orgasm Denial and Torture. Breath Play/Choking. Knife Play. Blood Play. Edge Play. Bratty FMC. Kidnapping/Abduction. Tattooed MMCs. Spitting in Mouth. Voyeurism. Dirty talker MMCs.
Trigger(s)/Content Warning(s): Dubious Consent. Kidnapping. Violence. Mention of Murder/Rape. Death of Loved Ones.
Would I recommend this book? Yes. If you enjoy books involving Secret Society with a girl that doesn't have to choose from three guys with a Halloween theme, this book/duet is for you.

This post contains affiliate links you can use to purchase the book. If you buy the book using that link, I will receive a small commission from the sale. It will help sponsor future giveaways but costs you nothing extra. You can read the full disclosure underneath the Privacy Policy.
---
---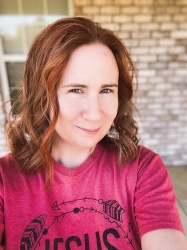 Latest posts by FranJessca
(see all)