Review: 'The Ritual' by Shantel Tessier
November 26, 2022
This book may be unsuitable for people under 18 years of age due to its use of sexual content, drug and alcohol use, and/or violence.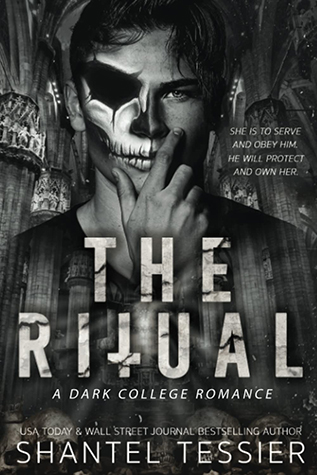 The Ritual
by
Shantel Tessier
Published by
Self-Published
on December 1, 2021
Genres:
Dark College Romance
,
Dark Romance
Format:
eBook
Goodreads
Purchase at
Amazon

An all-new dark standalone romance from the USA Today & Wall Street Journal bestselling author, Shantel Tessier
THE CHOSEN ONE
I vow. You vow. We vow.
Barrington University is home of the Lords, a secret society that requires their blood in payment. They are above all—the most powerful men in the world. They devote their lives to violence in exchange for power. And during their senior year, they are offered a chosen one.
People think growing up with money is freeing, but I promise you, it's not. My entire life has been planned out for me. I never got the chance to do what I wanted until Ryat Alexander Archer came along and gave me an option for a better life. He offered me what no one else ever had—freedom.
I chose to be his. He made me believe that anyway, but it was just another lie. A way that the Lords manipulate you into doing what they want.
After being sucked into the dark, twisted world of the Lords, I embraced my new role and allowed Ryat to parade me around like the trophy I was to him. But like all things, what started out as a game soon became a fight for survival. And the only way out was death.
Things to know about The RitualIt is MFTW (Please see the author's note on the inside)J/P & OTT Hero (jealous/possessive & over the top)This is a 150K word dark romance and may contain triggers for some due to sexual situations, language, and violence.
---
After reading The Ritual, I may need to consider returning to the church to confess my sins because I should not be falling for the dark, twisted, sadist MMC in this book. It's all the author's fault, though. Shantel Tessier made me fall for the MMC that unalives people like nothing whenever someone looks or touches his girl without question. Seriously, what is wrong with me falling for Ryat Archer? My husband will question my sanity the next time he asks me to describe my favorite moments in one of the books I'm reading, and I mention scenes from the Ritual that involve Ryat and Blakely.
Storyline/My Thoughts: If you have yet to read this book and have possible triggers, check your triggers before diving into this book. I knew this book was going to be a dark one by the warning within the synopsis. I was prepared and had the popcorn and everything ready when I started reading this book. This book took me a while to read, not due to the reason you think. It was a long book, and my damn family kept interrupting whenever I did sit down to read it; otherwise, I would've devoured this morsel in a day.
The Ritual had everything in it, where the MMC has been preparing himself to be initiated in the Lords, a Secret Society at Barry University. He has done everything that is expected without question to be a Lord, and now it's time for him to choose his Chosen during his Senior year. Every Lord gets to choose a girl from a list of girls that want to be part of the chosen. The girl Ryat Archer ends up with is already in an arranged relationship/marriage with another Lord. Ryat doesn't care and doesn't hesitate to ask Blakely to be his chosen. He ends up stalking her to get to know her routine and everything because he would have never considered her a choice for himself until he gets to know Blakely and realizes she's not as innocent as everyone assumes.
Blakely is clueless about the dark secret society inhabiting Barry University that she's about to immerse herself in due to Ryat. She knows she shouldn't since she's dating someone, but that someone is a grade-a-hole to her, and I was all for her being Ryat's chosen, especially after truths started to come out about her so-called boyfriend.
Now, prepare yourself because when Ryat and Blakely take the vow together, you will go down a path like I did that questions everything. Finding out kinks that you never knew you could like, but these two made you like them. (Now I understand some readers are bothered by certain things, which is understandable, just know these two as a couple are not vanilla. What they do in this book works for them, which is why I loved Ryat and Blakely together.) Ryat is a sadist and likes inflicting pain, while Blakely realizes she likes pain, especially since she's new to it. My favorite thing about Ryat is that he doesn't judge Blakely when he asks her what she could be into and acts it out for her. Yes, he's not a judgemental a-hole like her ex is in this book. Ryat is Blakely's first for everything in this book, and I was glad it was him and no one else. These two were made for each other, and they didn't even realize it.
Yes, this book is off the charts regarding the spice level between the characters. Shantel Tessier writes what you expect in Dark Romance, and she writes it damn well. She's a new-to-me-author that I've been meaning to read, and I'm glad I made time to read The Ritual. This book will go on my list of favorites. I'm buying the damn paperback to have it in my collection as we speak. Yes, I know it has dark themes, but it's fictional, and I loved not only the characters but the crap they had to deal with in the book. Yes, this book has a storyline, and it's not just about the smut.
I was all for the storyline that Shantel Tessier wrote in this book and how she shocked me so many damn times with the twists and turns and secrets that kept being revealed. Poor Blakely thought being chosen for Ryat was the only thing she would have to deal with; nope, she had other things that came to light. Ryat and his constant jealousy streak and unaliving people, yes, he is one of those that if touch what is his, they will be no more.
I give this book five stars and can't wait to read more from Shantel Tessier. I've already added all her books to my TBR and will make time to read them all. =) I can't wait for The Sinner, a book set in this book but can be read as a standalone. I'm all for it!! I wonder if the MMC in that book can top Ryat, though. He's on the list of unforgettable MMCs, and Blakely is on the list of favorite FMCs.
Standalone or Part of Series: Standalone.
Steam/Spice: 🌶 🌶 🌶 🌶 🌶
Genre(s)/Trope(s)/Element(s): Dark College Romance. Suspense. OTT Jealous/Possessive MMC. Sadist MMC. Virgin FMC. Masochist FMC. Unaliver MMC. Secret Society. Touch Her and I'll Unalive You. Degradation/Praise. Spitting in Mouth. Dirty Talker MMC. Knife Play. Bratty FMC. Spanking. Bondage. Anal Sex/Play.
Trigger(s)/Content Warning(s): Drug/Alcohol Use. Violence. Murder. Death. Non/Dub Con. Branding. Forced Sex Fantasy. Breath Play. Masks. Bondage. Kidnapping.
Would I recommend this book? Yes. Remember, this is a work of fiction. I'm only recommending this to readers that can handle Dark College Romances that can handle the dark elements in this book. This book has many triggers; I've listed them in my review, and the author has them in the book. If you are like me and love these books where you have a sadist OTT J/P MMC with FMC is a masochist, this book is for you.
Favorite Quote(s): "I'll own you, Blake." He shortens my name, his free hand comes up, and he trails a finger down my neck over my racing pulse, making my body break out in goose bumps. "And I think that's exactly what you want."
"You were mine yesterday, today, and tomorrow." He gently kisses my forehead. The tenderness a contradiction to his threatening words. "And you will continue to be mine forever."

This post contains affiliate links you can use to purchase the book. If you buy the book using that link, I will receive a small commission from the sale. It will help sponsor future giveaways but costs you nothing extra. You can read the full disclosure underneath the Privacy Policy.
---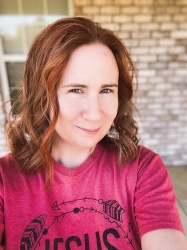 Latest posts by FranJessca
(see all)