Review: 'Unhidden' by @DinaGivenAuthor
September 10, 2015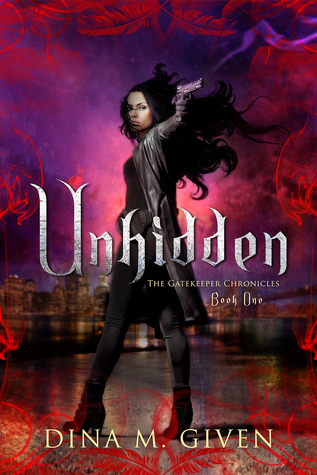 Unhidden (The Gatekeeper Chronicles, Book 1)
by
Dina Given
Series:
The Gatekeeper Chronicles #1
Published by
LLC
on December 29th 2014
Genres:
Urban Fantasy
Source:
Purchased
Goodreads
Purchase at
Amazon

It's not always easy to differentiate between the good guys and the bad guys, especially when your heroine is a trained killer and she may be falling in love with her evil hunter…
Emma Hayes, a former military Special Forces Operative turned mercenary-for-hire, finds her tightly controlled world turned upside down when she is attacked by horrible monsters.
Emma must use every skill in her arsenal to stay alive as she tries to solve the mystery of why she has been targeted. Her list of enemies keeps growing - from Zane Shayde, an evil Mage, to a secret branch of the US government - and she doesn't know if there is anyone left she can trust.
To complicate matters further, Emma is inexplicably drawn to Zane in a way she doesn't quite understand, even knowing her life is forfeit if captured. Who is he and why does he have this affect on her? How can she fight a being that calls to her, body and soul?
Emma is left haunted by questions, doubts and fears as to why she has been targeted, when they will come for her next, and how she will possibly be able to survive against an enemy she doesn't understand.
My Review:
Dina Given is one of the Featured Authors attending CMCon16, and I definitely wanted to make sure to start reading the first two books in the Gatekeeper Chronicles before the convention.
Since I didn't have much reading time in the last couple of weeks, I decided I would listen to the first book in the Gatekeeper Chronicles. I definitely don't regret listening to Unhidden, while on the way to the work every morning. A 30 minute drive was getting boring just listening to music, so Dina Given's Unhidden kept me sane on the way to work.
Emma Hayes is not your typical character. She's an ex-military operative who now works as a mercenary for hire. Her most recent job has her searching for a child, but instead she's trying to keep herself alive. She ends up having monsters coming after her and she's curious to know why. She had no clue there were monsters out there that are attacking her, but she's about to find out there's a lot more going on then she realizes. Her list of people or creatures who want her dead or maybe alive, she's not sure (they usually tell her), an evil Mage named Zane (who she can't stop thinking about), some part of the government that seems to be evil as well, and the list keeps going on. It's up to her to find out who she can trust and who she can't trust. Some of the people she thought she could trust are not actually her friends at all.
She's also going to find out what really happened to her at the age of 16 and why everything is falling apart around her.
Dina Given's first book in the Gatekeeper Chronicles is a action-packed filled book that will have you on the edge of your seat with anticipation on what is going to happen next to Emma. Dina doesn't make it easy for Emma at all in the story. In fact, every time I thought Emma was going to catch a break, Dina throws her another issue she has to handle. Poor Emma!  If there is one thing I adored most about this book is all the action and all the characters being introduced. I also enjoyed the world that Dina started to enfold in the story. Definitely was not expecting the twists and turns at all and I loved every minute of it. I look forward to reading the next book very SOON.  =)
I give this book 4.5 stars and recommend to Urban Fantasy readers out there. Be prepared for an action-packed adventure with Emma. It's not a your HEA adventure, but it's an edge of your seat, heart-pounding adventure to find out WHY Emma is being targeted. Sometimes you need a good heart-pounding adventure, dang it! I know I do. I don't like reading all the time, the girls gets the guy stories. I want adventures in crazy worlds, which have paranormal creatures and lots of action.  This is that story.
Cate Strey was the narrator that narrated Unhidden and I definitely enjoyed listening to her bring the characters to life. She even changed her voice a bit to reflect each character. Some of the bad guys after Emma drove me batty and Cate made me hate them even more, whenever she had to speak in their voice (that's a good thing, thought). Cate did a superb job bringing everything to life in Unhidden and I'll definitely have to check to see if I can listen to Unraveled (after I finish reading it) in the near future. I'll also have to see which other books Cate has narrated.
I'm starting to branch out to listening to more narrators and thanks to Unhidden I've found another narrator to listen to.  🙂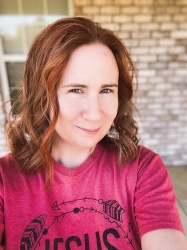 Latest posts by FranJessca
(see all)