I received a complimentary copy of the book from the Author in exchange for an honest review. This does not affect my opinion of the book or the content of my review.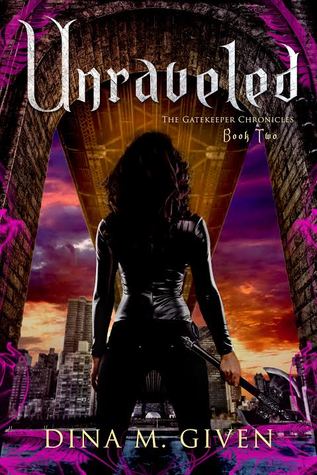 Unraveled
by
Dina Given
Series:
The Gatekeeper Chronicles #2
Published by
LLC
on January 1st 1970
Genres:
Urban Fantasy
Source:
Author
Amazon Kindle
Goodreads

Emma Hayes, a mercenary turned monster hunter, finds herself the secret savior of Earth as she attempts to battle creatures and keep unsuspecting humans safe.
Emma already has blood on her hands, and the tide of creatures keeps coming. She quickly learns that not all battles can be won with a gun. She must decide whether to take up Sharur, the magical battle axe, which may trigger a latent and terrifying magical ability with her.
Emma's monster hunting skills also catch the attention of a government operative who enlists her to help discover the identity of another creature-killer. This investigation leads Emma deep into the heart of a supernatural organized crime Syndicate. All of Emma's notions about the evil nature of these creatures are called into question when she meets Duncan, The Syndicate's leader.
Emma's world continues to unravel as she is pulled deeper into the realm of magic and monsters.
My Review Continue reading →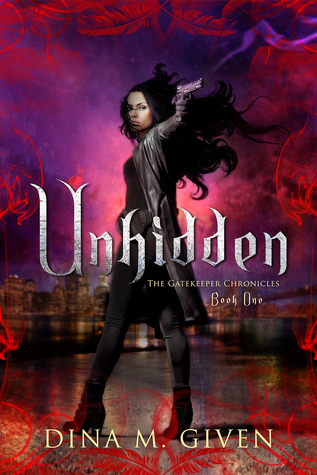 Unhidden (The Gatekeeper Chronicles, Book 1)
by
Dina Given
Series:
The Gatekeeper Chronicles #1
Published by
LLC
on December 29th 2014
Genres:
Urban Fantasy
Source:
Purchased
Amazon Kindle
Goodreads

It's not always easy to differentiate between the good guys and the bad guys, especially when your heroine is a trained killer and she may be falling in love with her evil hunter…
Emma Hayes, a former military Special Forces Operative turned mercenary-for-hire, finds her tightly controlled world turned upside down when she is attacked by horrible monsters.
Emma must use every skill in her arsenal to stay alive as she tries to solve the mystery of why she has been targeted. Her list of enemies keeps growing - from Zane Shayde, an evil Mage, to a secret branch of the US government - and she doesn't know if there is anyone left she can trust.
To complicate matters further, Emma is inexplicably drawn to Zane in a way she doesn't quite understand, even knowing her life is forfeit if captured. Who is he and why does he have this affect on her? How can she fight a being that calls to her, body and soul?
Emma is left haunted by questions, doubts and fears as to why she has been targeted, when they will come for her next, and how she will possibly be able to survive against an enemy she doesn't understand.
My Review: Continue reading →