I received a complimentary copy of the book from the author in exchange for an honest review. This does not affect my opinion of the book or the content of my review.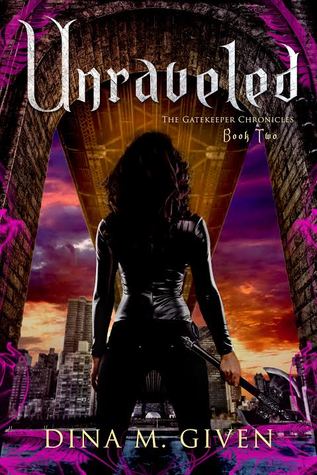 Unraveled
by
Dina Given
Series:
The Gatekeeper Chronicles #2
Published by
LLC
on January 1st 1970
Genres:
Urban Fantasy
Goodreads
Purchase at
Amazon

Emma Hayes, a mercenary turned monster hunter, finds herself the secret savior of Earth as she attempts to battle creatures and keep unsuspecting humans safe.
Emma already has blood on her hands, and the tide of creatures keeps coming. She quickly learns that not all battles can be won with a gun. She must decide whether to take up Sharur, the magical battle axe, which may trigger a latent and terrifying magical ability with her.
Emma's monster hunting skills also catch the attention of a government operative who enlists her to help discover the identity of another creature-killer. This investigation leads Emma deep into the heart of a supernatural organized crime Syndicate. All of Emma's notions about the evil nature of these creatures are called into question when she meets Duncan, The Syndicate's leader.
Emma's world continues to unravel as she is pulled deeper into the realm of magic and monsters.
My Review