Review: 'Unraveled' by Dina M. Given
September 22, 2015
I received a complimentary copy of the book from the author in exchange for an honest review. This does not affect my opinion of the book or the content of my review.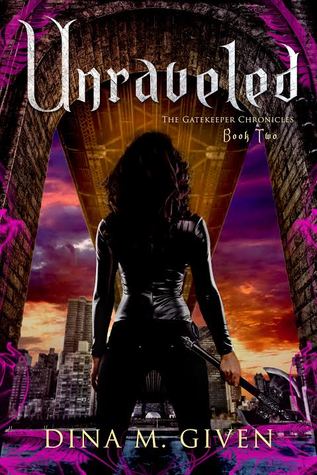 Unraveled
by
Dina Given
Series:
The Gatekeeper Chronicles #2
Published by
LLC
on January 1st 1970
Genres:
Urban Fantasy
Goodreads
Purchase at
Amazon

Emma Hayes, a mercenary turned monster hunter, finds herself the secret savior of Earth as she attempts to battle creatures and keep unsuspecting humans safe.
Emma already has blood on her hands, and the tide of creatures keeps coming. She quickly learns that not all battles can be won with a gun. She must decide whether to take up Sharur, the magical battle axe, which may trigger a latent and terrifying magical ability with her.
Emma's monster hunting skills also catch the attention of a government operative who enlists her to help discover the identity of another creature-killer. This investigation leads Emma deep into the heart of a supernatural organized crime Syndicate. All of Emma's notions about the evil nature of these creatures are called into question when she meets Duncan, The Syndicate's leader.
Emma's world continues to unravel as she is pulled deeper into the realm of magic and monsters.
My Review
Unraveled picks up a few weeks after Unhidden, and Dina Given definitely brought a lot of action and emotions in the second book.  I had a hard time putting it down because I needed to know what was going to happen next to the characters.
Emma is one kick-butt heroine, but even a kick-butt heroine needs a break from the craziness. It seems ever since she went to Mexico, everything has been out to get here. Unhidden brought forth the truth of what happened to Emma, but in Unraveled Emma will be put through the real test. She's going to lose her trust with some people and she's going to lose another person she cared so much for to the bad guy that is after her.
I don't want to go into what happened in the story because I definitely don't want to give anything away.
What I loved about the second book is the action-packed scenes and ending. Dina didn't take it easy on Emma. She made it even worse for her. I can only imagine what Dina is going to put Emma through in the next book, which makes me want it even more.
The ending is what had me wanting more. I want to know if a certain character is all better. I also want to know if Emma will choose with her heart or her past, when it comes to love. I hope she chooses, who I think she should be with.  He may have lost her trust for a bit, but he's always been there for her no matter what.
All in all this book was an amazing book to read, and I'm so glad I was introduced to Dina Given and her books from LBtS (for the Blog Tour) and Coastal Magic Convention (since she's one of the Featured Authors).
I highly recommend this book, as well as the first book to Urban Fantasy readers out there. It's an edge of your seat action-packed book full of surprises.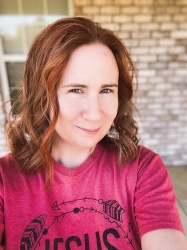 Latest posts by FranJessca
(see all)