Review: 'Untouched' by Sara Humphreys
I received a complimentary copy of the book from the Netgalley, publisher in exchange for an honest review. This does not affect my opinion of the book or the content of my review.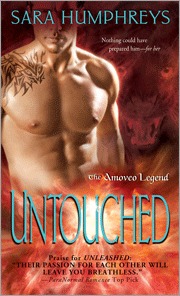 Untouched
by
Sara Humphreys
Series:
The Amoveo Legend #2
Published by
Sourcebooks Casablanca
on April 3rd 2012
Genres:
Paranormal Romance
Pages:
302
Format:
eArc
Source:
Netgalley, publisher
Amazon Kindle
|
Amazon Paperback
Goodreads

SHE SHOULD BE SEEN, BUT NEVER TOUCHED...

Kerry Smithson's modeling career ensures that she will be admired from afar, which is essential since mere human touch sparks blinding pain and terrifying visions.

EVERY GOOD MODEL NEEDS A HEAVENLLY BODYGUARD...

Dante Coltari is hired to protect Kerry from those who know who she is - or more importantly what she is - and want her dead because of it. Nothing could have prepared him for the challenge of keeping her safe. But, strangely, his lightest touch brings her exquisite pleasure rather than pain, and Dante and Kerry have an otherwordly connection that might just pull them through.
My Review
This book touched my heart when I read it.
This book is about Kerry and Dante this time.  I got a taste of both of these characters from the first book "Unleashed."
Kerry is a sexy model who isn't the starving run-way model either.  She's the model with the womanly curves who everyone wants modeling for them.  She has a condition though where she hates touching people because once she moves them, she feels pain and also sees images.  She was adopted, and she always felt distant from her adopted family.  She always felt like something was wrong with her because they did not want anything to do with her.
Dante is a sexy Amoveo who is apart of the Fox clan. He's had it rough since what happened in the last book.  He knows there's something different about Kerry and he also knows that she's his mate after seeing her on the beach for the first time.  He has to find a way to tell her about him and also find out what she is exactly.
Kerry is half human and half Amoveo just like her best friend, Samantha who is from the previous book.  In the first book, Kerry was put into the dilemma between the Clans, and she didn't even realize it.
In "Untouched," Kerry is sent on a modeling job down in New Orleans, and of course, the sexy Dante goes with her as a bodyguard.  While they are there, they find out the job has switched to an old house.  For some reason, the old man there doesn't want them inside of it.
Also, while on her modeling job Kerry is being threatened by "The Punisher" which is Dante's mission to find out who it is.  He knows it has to do with something with Kerry being half Amveo., but he doesn't know who to trust.  Malcolm and Samantha end up helping out with it, but of course, they end up in the crossfire again in this book.
In between, the chaos of the modeling job and "the Punisher," Dante and Kerry end up hooking up, and the chemistry between them is perfect.  They fit well together, and there is no way Kerry can resist Dante and vice versa.
In the end, when I found out who the killers were, I wasn't expecting it.  I also wasn't expecting the twist that Sara threw into the book about Kerry.  Yes, Sara…you had me crying at the end.  I felt so sorry for Kerry.  At least Dante was there for her, and she got some closure.
This book will have you crying, turning the pages for more, and loving the characters.
I recommend this book to anyone who loves Shifters and loves Paranormal Romance.
Sara has a fan for life, and I look forward to the next book in the series this November, which to me is too far away at the moment.  =)


I guess I should type a bio here. I'm FranJessca or Fran for short. I'm the owner of Book Lovin' Mamas and main Reviewer. I've been reviewing books since I got out of the Navy in 2011. Now 8 years later, I'm still reviewing, but this time with my youngest sidekick.
When I'm not reading and reviewing, you can find me at my day job during the week and on the weekend taking care of our little farm.

Latest posts by FranJessca (see all)