Review: 'You Can't Kiss the Nanny, Brady Banks' by Piper Rayne
February 14, 2023
I received a complimentary copy of the book from Valentine PR in exchange for an honest review. This does not affect my opinion of the book or the content of my review.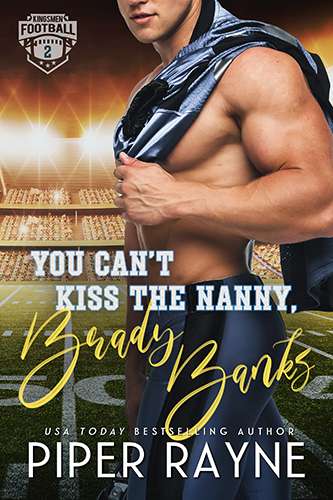 You Can't Kiss the Nanny, Brady Banks
by
Piper Rayne
Series:
Kingsmen Football Stars #2
Published by
Self-Published
on February 14, 2023
Genres:
Contemporary Romance
Format:
eArc
Source:
Valentine PR
Goodreads
Purchase at
Amazon
|
Apple
|
Barnes & Noble
|
Google Play
|
Kobo

Brady Banks.
The Kingsmen's best wide receiver.
Rich AF.Hot as hell.A stallion in the sack.
How do I know that last fact? I may have shared a one-night stand with him six months ago when I was rebounding from a broken heart.
I didn't forget him, but I was done with him, until I discovered he's the single dad of the boy I've been hired to nanny.
It's near impossible to ignore my attraction to him now that we're living under the same roof—but I have no choice.
First, this job pays well, and I need the money to move out of my parents' spare room.
Second, he's a public figure and there's no room for me to get caught up in a scandal with him—I can't disappoint my parents again.
Third, men like Brady were built to break hearts. I barely managed to piece mine back together after my failed engagement and Brady would do irreparable damage if I gave him the chance.
Let the longest three months of my life begin…
---
I'm so glad I found the author duo, Piper Rayne. I'm enjoying every one of their books I've read so far, especially the Kingsmen Football Stars. You Can't Kiss the Nanny, Brady Banks is the second book in that series, and I have to admit right away that it wasn't Brady or Violet that stole the spotlight for me; it was Brady's son, Theo. Theo was so friggin' adorable! He had my heart immediately when reading his Daddy's book. Brady may have stolen a piece of my heart, too. He is such a great dad to Theo.
Storyline/My Thoughts: I was looking forward to reading Brady Banks's book, especially with him being introduced in Lee Burrow's book. This sexy wide receiver from the Kingsmen is a Single Father who loves his little boy, Theo. Brady has a friendly relationship with Theo's mother, Hannah. They knew they were better as co-parents and friends and not in a relationship together. They work it out by splitting time with Theo, especially when Brady is on the road for his football games. When Hannah takes a job elsewhere for a few months, they hire a nanny to help Brady take care of Theo, especially during the football season. This is where the FMC, Violet, gets introduced. Brady had a one-night stand with Violet six months ago, and he has not stopped thinking about that night. Violet didn't think she would run into the guy, she slept with that one night in a hotel since they didn't exchange names, but here she was now, taking care of his little boy. Yes, this won't be a problem, or will it?
Here is what I loved about Brady and Violet's book:
A Professional Football Player/Single Father and his nanny, with whom he had an ONS six months before = Forbidden Romance. This means they both need to keep it professional or give in to their attraction for each other because, believe me, they REALLY like each other. I love forbidden romances, and the author duo, Piper Rayne, made it unbearable at times with how much I wanted these two to give in to each other, especially the FMC. Yes, there is tension between the two MCs. There is one place where the two MCs spend a lot of time together – the kitchen pantry. When they do finally get together, it's HOT! 
I did understand Violet's hesitation about being with Brady. The poor girl. No, I won't go into details about it. Just know this girl deserved a HEA and someone to love her. Her parents were a handful, too, and I was rooting for her to have someone who liked her for her and did not try to pressure her into someone she wasn't. Yes, I liked her character.
I loved Brady for so many reasons. I loved his relationship with Hannah, Theo's mother, and how he is a devoted father. He and Hannah worked well together for the well-being of their son. I haven't read many books that have this dynamic, and it was refreshing. He may have been a player initially, but after he meets Violet, he knows she is the one and won't give up on her. (Although there is a scene he has to grovel.) We all love a good grovel scene.
Lennon, Brady's mama, is another favorite of the story. She runs a sex toy company, and she had me cracking up whenever she came into the story. Lennon ensured Brady knew how to care for the women in his life. (that's all I'm saying)
Theo is the one that stole the book for me. This adorable little boy and how he loved his mommy and daddy. How he also grew to love Violet, too. Yeah. He stole my heart, especially with how he stuck up for Violet when her parents were jerks to her.
This book was sweet, funny, and a great read right before Superbowl weekend. I don't even watch NFL, but if Brady and the other Kingsmen were real, I would watch them play in a heartbeat. Brady is one MMC I will never forget, and Violet is lucky to be his gal. Overall, I give this book 4.5 stars. I'm so glad I found Piper Rayne's books. They are now my newest auto-buy authors.
I'm looking forward to Chase's book next. He's been the grumpy football player on the team. The author duo set it up so that readers know ahead of time who is getting their book and who's the FMC for it, too. I can't wait!!!
Standalone/Part of Series: It's part of the Kingsmen Football Stars series, but each book can be read as a standalone.
Steam/Spice:🌶 🌶 🌶
Genre(s)/Trope(s)/Element(s): Contemporary Romance. Sports/Football Romance. One Night Stand. Forbidden Romance. Single Father Romance. Forced Proximity. Football Player MMC. Single Father/Parent MMC. Nanny FMC.
Would I recommend this book? Yes. This book is for you if you enjoy Contemporary Romance stories with a football player falling for his son's nanny. Single Father Romance + Forbidden Romance = One heck of a good story. 😊
Favorite Quote(s): Putting aside my attraction for Brady is getting harder and harder, especially when he looks at me as if he wants to lick every inch of me.
"I need to reacquaint myself with the taste of your pussy. I can't stop thinking about it after last night."…"Don't you have to get to training camp?"…"I have five minutes. I can make you come in five minutes."

---
---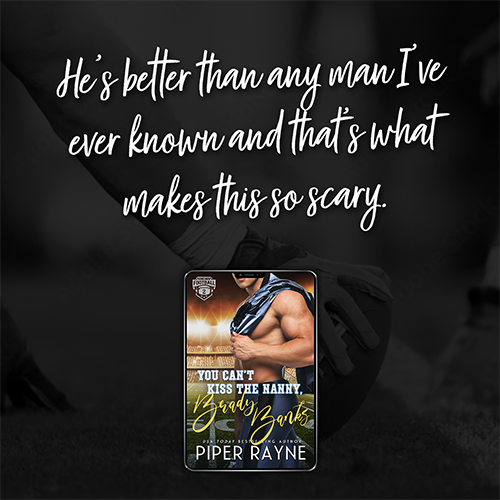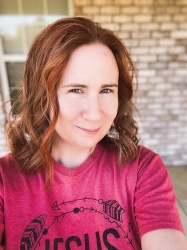 Latest posts by FranJessca
(see all)