Review: 'Zodiac Academy: Ruthless Fae' by Caroline Peckham & Susanne Valenti
March 7, 2022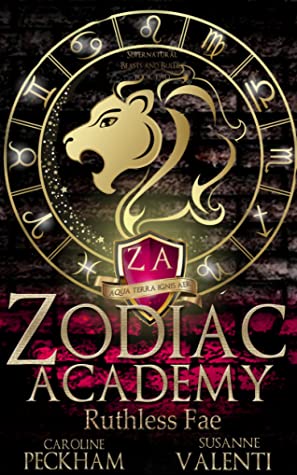 Ruthless Fae
by
Caroline Peckham
,
Susanne Valenti
Series:
Zodiac Academy #2
Published by
Self-Published
on August 25, 2019
Genres:
Dark Paranormal Bully Romance
Format:
eBook
Source:
Kindle Unlimited
Goodreads
Purchase at
Amazon
|
Barnes & Noble

They tried to break us.They almost did.But we're not going anywhere.
The Celestial Heirs think the stars are on their side. But they don't know what's coming. We have to be smart. Fighting them one on one isn't an option so we have to be stealthy. Remaining under the radar won't be easy, but if we pull it off, they'll never suspect our involvement when their lives start falling apart.
Besides, they've already taken us to the brink of hell, what more can they really do?
**THIS IS NOT REVERSE HAREM**
This is a paranormal academy bully romance and forbidden teacher romance. Suitable for Upper YA/NA readers who are fans of Shunned, Cruel Magic and Supernatural Academy.
---
Ruthless Fae is the second full-length novel in the Zodiac Academy series. I love this series so far and have a hard time putting it down. I need to find out what happens next, especially since the authors keep leaving a cliffhanger. Caroline Peckham and Susanne Valenti definitely drive me crazy with their endings, but I love how they keep me wanting more of their stories. Dang, it! These books are so addicting, even if they have A-hole male characters in them. 
Storyline/My Thoughts: Ruthless Fae picks up where The Awakening left off. The poor twin sisters, Tory and Darcy, have been bullied so bad that they plan on leaving. Darcy got humiliated by having her hair chopped off, and Tory almost died. They can't face anyone after what the Heirs put them through, and I don't blame them. Fortunately, after they make a plan to go back to the mortal world, they end up changing their minds after Tory actually gets her revenge on Darius, and Darcy gets caught in Professor Orion's office. In all honesty, Tory's scene had to be the best bad-ass scene ever that I've read so far in this series, and I'm glad that Darcy got caught. Professor Orion is about to do a 365 when it comes to Darcy, and I like where it's heading. 
Darcy and Tory's plans change and focus on learning their magic in this book. Don't worry. They also plan their revenge on all four heirs, and the boys will not know what hits them.
This book involves not only Tory's and Darcy's points of view but also the four heirs and Orion's. I loved how Caroline Pecham and Susanne Valenti did this in this book. I learned more about how the boys tick in this book and what they are thinking, especially when it comes to Darcy and Tory. It also was funny whenever the girls got their revenge, how the boys were handling what was happening to them, and they had no clue it was Tory and Dary, and sometimes her royalty fans.
Some things came to light in this book that piqued my interest, which involved three types of star bonds, and I can't wait to find out more about those. I feel that I already know a couple of different star bonds that are happening in this book. One involves a particular dragon and twin sister, and the other involves a forbidden romance with a teacher and a student.
There were some very steamy moments in this book. The best scene was the kissing scene between a forbidden romance couple in the book. I'll be thinking about this scene, and I hope there's more in the upcoming books.
There's also another really descriptive scene, and I felt it was going to happen since this twin sister has a thing for the bad boys. She regrets it somewhat, but not really. I think a certain other character will really start showing his jealousy, and I feel bad for whoever is in his path.
There's not only drama from the twins and heirs in this book, but the nymphs are starting to show up more, and this time no one is prepared for the attack.
Overall, this book gets four stars from me. Some things bothered me in the book, especially when it was slow-paced. I will say this; I love how Tory and Darcy are fighting back now. I can't wait to find out what Order they are in, especially after reading the battle scene at the end of this book. They will be something epic, and the heirs better watch their backs. =)
Standalone or Part of Series: It's part of the Zodiac Academy series, and I recommend reading in order.
Steaminess: ⭐️ ⭐️ ⭐️ 💫
Trope(s): Female Protagonist(s) learning their Magic; Fae Royalty: Forbidden Romance (Teacher/Student Relationship); Slow Burn(s)
Would I recommend this book? Yes. If you enjoy reading Dark Paranormal Bully Romance books, this book is for you.
Content Warning(s)/Triggers: Emotional/Physical Bullying moments; Violence/Death, Abusive moments (family related); A-hole male characters and one jerk of a father (and how he treats his kids…Grrrr! He makes me so mad.)

This post contains affiliate links you can use to purchase the book. If you buy the book using that link, I will receive a small commission from the sale. It will help sponsor future giveaways but costs you nothing extra. You can read the full disclosure underneath the Privacy Policy.
---
---
---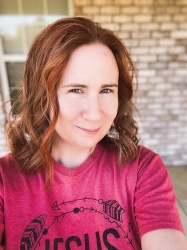 Latest posts by FranJessca
(see all)