Review: 'Zodiac Academy: Shadow Princess' by Caroline Peckham & Susanne Valenti
March 21, 2022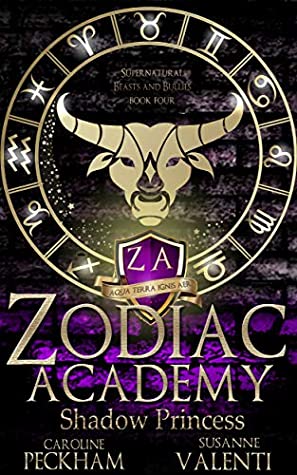 Shadow Princess
by
Caroline Peckham
,
Susanne Valenti
Series:
Zodiac Academy #4
Published by
Self-Published
on January 13, 2020
Genres:
Dark Bully Romance
,
Dark Paranormal Bully Romance
Format:
eBook
Source:
Kindle Unlimited
Goodreads
Purchase at
Amazon
|
Barnes & Noble

After the events of the Lunar Eclipse, Tory and Darcy must learn to deal with the darkness which shadows their lives.
With a secret binding them to Darius and Orion, they must find a way to all work together for the greater good. But some things are easier said than done...
---
I thought the last book put me through the wringer. Nope. This one made me want to throw my damn kindle against the wall. I didn't, so don't worry, but I will be getting the actual book, so if I re-read in the future, I'll be able to throw the physical book. I'm so mad, especially with that ending. My heart hurts. No spoilers, I promise.
Storyline/My Thoughts: Shadow Princess is the fourth book in the Zodiac Academy series. Tory and Darcy have to keep their Order hidden because if Lionel finds out what they are, he will have them killed. On top of it, they have to learn to deal with the fifth element since it was forced on them. It will take them getting assistance from Orion and Darius to deal with the shadows. Tory is not happy about working with Orion and Darius, especially Darius. In the last book, she is not over what Darius let happen to her and her sister. She has to understand, though, why he couldn't help. She frustrated me in this book, especially with how she treated Darcy and let the shadows get to her. Darcy meant to tell her the truth, but something that happened in this book prevented her from telling Tory her secret. I felt terrible for Darcy in this book.
Orion and Darcy's relationship is getting risky, but these two are determined to be together. Some adorable moments between these two left me wanting more. Unfortunately, fate has other plans for these two, and I'm ticked off what happened to them in this book. This is one of the reasons I wanted to throw my kindle. Caroline and Susanne, how could you let that happen to them. My heart can't take it.
Tory and Darius's relationship is beyond complicated in this book. Since book one, I've wanted them to admit they have feelings for each other. Even Orion confronts Darius about it, but Darius blows him off. Tory has so much hate for Darius that she would rather hurt him than admit she has feelings, too. Darius is constantly hurting her, even though he doesn't want it. It's frustrating. They do eventually have some steamy moments in this book. Clothes are ripped, fingernails are used, and blood is drawn.
Darius tries to be nice to Tory, too, and she refuses to believe him. Then the unthinkable happens at the end of this book, which made my blood boil over. My heart hurts for Darius, but I also understand why Tory did it. He put her through so much, but really, did you have to be a b*tch about it. My heart dropped at what she decided.
The heirs are still trying to figure out how to ruin the twins, and they try in this book, but it backfires on them. I loved how it backfired. It was about time that they realized these twins were not going down without a fight.
Two things that drove me crazy in this book involve two heirs. Seth is the biggest jerk, proving it several times in Shadow Princess. I can't stand what he put Darcy, though. I could understand Darcy's hatred for him.
Caleb drove me crazy with Tory and how he was ticked off that she wouldn't be with him. I hope their relationship is sizzling out because I want Tory to be someone else, even though it may never happen. Boo!
The princesses visit the Palace of Souls in this book, which is where their mother and father lived. Tory and Darcy will finally have a home to go to and find out more about their parents.
My favorite person in this book is Geraldine. I adored her character, especially how she puts Max Rigel in his place. Max has never been told no, and he is obsessed with winning Geraldine over. Even the other heirs can't believe that Max can't pursue her for a second time. She's a badass!
Overall, this book receives 3.5 stars. It may not be my favorite, but that doesn't mean I didn't enjoy certain aspects. I really hope Darcy and Orion eventually get a HEA, but I know mentally it's not going to happen any time soon. The authors have proven so many times not to get my hopes up. Why do I torture myself with the Zodiac Academy series? Because both authors keep me invested with these unforgettable characters and the addicting storylines.
Standalone or Part of Series: It's part of the Zodiac Academy series, and I highly recommend reading in order.
Steaminess: ⭐️ ⭐️ ⭐️ 💫
Would I recommend this book? Yes. If you enjoy a dark and twisted Paranormal Bully Romance, this book/series is for you. Forewarning, both authors will rip out your heart and stomp on it several times with what she has her characters go through. Don't say I didn't warn you!

This post contains affiliate links you can use to purchase the book. If you buy the book using that link, I will receive a small commission from the sale. It will help sponsor future giveaways but costs you nothing extra. You can read the full disclosure underneath the Privacy Policy.
---
---
---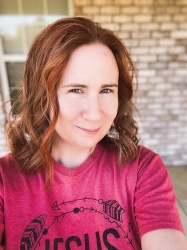 Latest posts by FranJessca
(see all)