Review: 'Zodiac Academy: The Awakening' by Caroline Peckham and Susanne Valenti
March 1, 2022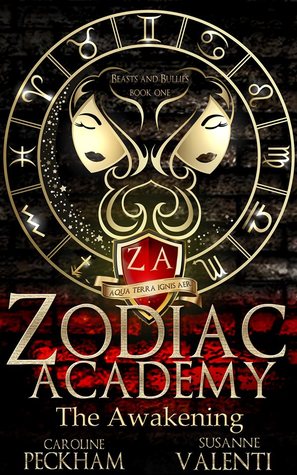 The Awakening
by
Caroline Peckham
,
Susanne Valenti
Series:
Zodiac Academy #1
Published by
Self-Published
on July 13, 2019
Genres:
Dark Bully Romance
Format:
eBook
Source:
Kindle Unlimited
Goodreads
Purchase at
Amazon
|
Barnes & Noble


You have been selected to attend Zodiac Academy, where your star sign defines your destiny.

If you're one of the Fae, elemental magic is in your blood. And apparently it's in ours. As twins born in the month of Gemini, we're a rare breed even in this academy of supernatural a-holes.
Changelings were outlawed hundreds of years ago but I guess our birth parents didn't get the memo. Which means we're totally unprepared for the ruthless world of Fae.
Air. Fire. Water. Earth.
No one has ever harnessed all four of them, until we arrived. And it hasn't made us any friends so far.
As the rarest Elementals ever known, we're already a threat to the four celestial heirs; the popular, vindictive bullies who happen to be some of the hottest guys we've ever seen. It doesn't help that they're the most dangerous beasts in the Academy. And probably on earth too.
Our fates are intertwined, but they want us gone. They've only got until the lunar eclipse to force us out and they'll stop at nothing to succeed.
We never knew we had a birthright to live up to but now that we do, we intend to claim our throne.
We can't expect any help from the faculty when it comes to defending ourselves. So if the dragon shifters want some target practice, the werewolves want someone to hunt or the vampires fancy a snack then we have to be ready. But we've been looking after each other for a long time and fighting back is in our blood.
Today's horoscope: totally screwed.
This is a full-length medium burn novel that is the first in a university-age academy series. Expect forbidden love and bully romance with mature content suitable for upper YA readers and onwards.
---
I listed some warnings/triggers to the first full-length novel of Zodiac Academy: The Awakening below, but I'm going to warn in the introduction of my review too. If you don't like bully romances, this book may not be for you. This book will have some things that readers may not be comfortable reading. For some reason, these books are an addiction to me, and I can't get enough of them even though I should be bothered by them after having trauma happen to me when I was a kid with a bully. After many years of tormenting me, that same bully realized that he couldn't mess with me anymore when I got older. I eventually know these types of books; the ones being bullied will stand up for themselves, and I have to keep reading to find out. =)
Storyline/My Thoughts: I was almost in a reading slump the month of February 2022, so I needed something to prevent me from going into a severe slump. The first book in the Zodiac Academy series definitely stopped me from going into that slump. Thank goodness. I've read reviews of the series and seen these books posted quite frequently on Instagram and TikTok, so I made room to start reading them.
I liked the idea of a series that reminded me of Harry Potter, but it was darker, more twisted, and steamy. I was not prepared to despise four/five characters at once when they are first introduced. Here's a little bit of the storyline without giving too much away. The two young female protagonists (Darcy and Tory) have been in the mortal world since babies and were brought up into foster houses. Now, they are trying to make it out in the world by themselves since they are adults. One night, a professor from the Zodiac Academy tells them they are Fae princesses, and they have been missing for 18 years. They are to come with him to Zodiac Academy to learn their powers and possibly regain their throne. The only problem is that they will have to take it from the four celestial heirs who will inherit the throne. The only reason they will have the throne is due to the original king and queen being killed and the twin princesses supposedly being killed, too. Tory and Darcy are about to embark on their new lives and learn their fae abilities, but the celestial heirs will not make it easy for them. They want Tory and Darcy gone and will do anything to have them leave and never take the throne from them.
Here's what I enjoyed about the first book:
Both Darcy and Tory are not only sisters but twins. They look out for each other and do anything to help each other. They have suffered and have overcome everything thrown at them. They are tougher than everyone thinks, and I loved that about them. The only physical difference between the two is that Darcy's hair has blue at the tips. There's also the fact that Tory has a smart mouth and will backtalk anyone, which drives the heirs crazy. Her mouth tended to get her in trouble a lot in the book. In the case of Darcy, she doesn't trust easily, but once she does, she's someone you want on your side.
I liked the secondary characters, such as the particular group of people who support the princesses taking back their throne. They have the weirdest acronym, which doesn't bother them one bit. The twins can't get over it.
After reading the prequel, I could understand why the celestial heirs did not want the twins taking back the throne. It's not easy after they have been trained to be the Kings for many years. They each have different qualities, which makes them unique. Darius is the one I'm most fascinated with since he has reasons why he is the way he is, and it's a sad story. There's also Caleb, Seth, and Max. Each is different, but they all are A-holes! Big-time A-holes! You either like them or not and in this book, I didn't like them.
Professor Orion is someone you either like or dislike. After reading the prequel in this book, I have mixed feelings for him. There is an issue with how he treats his students and how he is with Darcy. I know eventually, I may end up liking him, though. He plays a big part in the book. I recommend reading the prequel to find out more about him.
I loved the idea that this book involves the paranormal world of Fae but also includes vampires, sirens, werewolves, etc., in it. It also deals with astrology, and every one is unique with their star signs, etc. Everyone has at least one elemental power (air, water, earth, fire), but some have more than one. All the Heirs have two powers, while you will find out what the twins have when they have their awakening.
There is so much hatred and tension in this book between the twins and celestial heirs, which makes the book hard to put down. I needed to know what would happen next, especially after the end. The authors do leave readers hanging, but thankfully I have quite a few books to catch up on until the last book in the releases. I would go insane if I didn't know what happened next in the series.
Overall, this book gets four stars from me, and I look forward to reading the next book in the series. Caroline and Susan have become auto-buy authors since they helped me not get into a reading slump. They may write characters you love to hate, but I can't get enough of this world and its characters.
Standalone or Part of Series: It's part of the Zodiac Academy series, and I would recommend reading in order.
Steaminess: ⭐️ ⭐️ 💫
Trope(s): Bully Romance; Real Heir(s) to the Throne being bullied by four a-hole male antagonist(s) (heirs); Female Protagonist(s) find out they are Fae Royalty; Magic (Dark Magic)
Audience: 18+
Would I recommend this book? Yes. I would only recommend it if you enjoy reading bully romance books. If you don't, this book/series may not be for you. If you are like me and for some reason enjoy these types of books, then I recommend them.
Warning(s)/Trigger(s): Bullying (Emotionally and Physically); Coercion; Forbidden Teacher/Student Relationship (borderline in this book – Professor knows it's wrong.); Sexual Harassment; Physical Trauma (Vampire/Siren Related); A-hole Male Characters (The Four Heirs)

This post contains affiliate links you can use to purchase the book. If you buy the book using that link, I will receive a small commission from the sale. It will help sponsor future giveaways but costs you nothing extra. You can read the full disclosure underneath the Privacy Policy.
---
---
---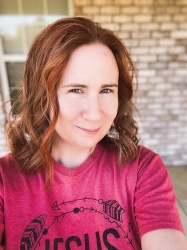 Latest posts by FranJessca
(see all)