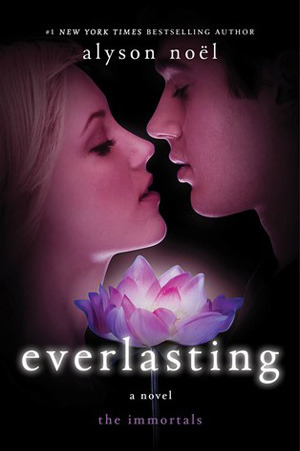 Everlasting
by Alyson Noel
Series: The Immortals #6
Published by St. Martin's Griffin on June 7th 2011
Pages: 336
Format: Hardcover
Source: Purchased
Amazon Kindle | Amazon Paperback
Goodreads


Their darkest enemies now defeated, Damen and Ever are free to embark upon their final quest—to free Damen from the poison lingering in his body. If they can just find the antidote, they'll finally be able to feel each other's touch—and experience the passionate night they've been longing for. But their fight to be together will lead them into the most formidable terrain yet…into the dark heart of Summerland.
Here in a land of scorched earth and endless rain, Ever and Damen will discover their relationship's hidden origins, expose a secret history they never imagined…and come face to face with the true reason fate keeps tearing them apart. Only then, when the final mystery is unraveled and the last secret revealed, Ever and Damen's future will hinge on one ultimate decision that will put everything at stake….even eternity.
My Review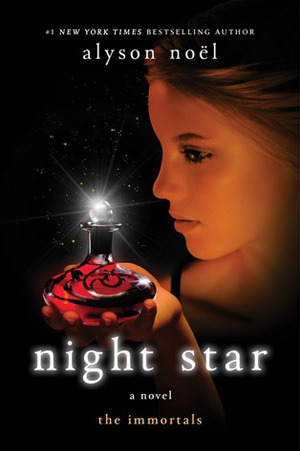 Night Star
by Alyson Noel
Series: The Immortals #5
Published by St. Martin's Griffin on November 16th 2010
Pages: 302
Format: Hardcover
Source: Purchased
Amazon Kindle | Amazon Paperback
Goodreads


Haven still blames Ever for the death of her boyfriend Roman, no matter how hard Ever's tried to convince her it was an accident. Now she's determined to take Ever down…and destroy Damen and Jude along the way. Her first step is to tear Ever and Damen apart—and she has just the ammunition to do it.
Hidden in one of Ever's past lives is a terrible secret about Damen—a secret that illuminates new facts about her relationship with Jude, but that's so dark and brutal it might be enough to drive her and Damen apart once and for all. As Ever faces her greatest fears about the guy she wants to spend eternity with, she's thrust into a deadly clash with Haven that could destroy them all.
Now it'll take everything she's got—and bring out powers she never knew she had—to face down her most formidable enemy. But in order to win, she must first ask herself: is her own survival worth dooming Haven to an eternity of darkness in the Shadowland? And will learning the truth about Damen's past hold the key to their future?
My Review