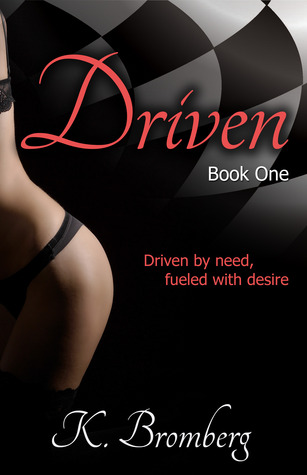 Driven
by
K. Bromberg
Series:
Driven #1
Published by
JKB Publishing
on May 8, 2013
Genres:
Contemporary Romance
Format:
eBook
Source:
Purchased
Goodreads
Purchase at
Amazon
|
Apple

Rylee Thomas is used to being in control. But she's about to meet the one man that just might make her enjoy losing it…
I am the exception to the rule.
In a world full of willing women, I'm a challenge to the roguish and achingly handsome Colton Donavan. A man used to getting exactly what he wants in all aspects of life. He's the reckless bad boy constantly skating that razor thin edge toward out of control, on and off of the track.
Colton crashes into my life like a tornado: sapping my control, testing my vulnerabilities beyond their limits, and unintentionally penetrating the protective wall around my healing heart. Tearing apart the world I rebuilt so carefully with structure, predictability, and discipline.
I can't give him what he wants and he can't give me what I need. But after a glimpse beneath his refined exterior into the dark secrets of his damaged soul, can I bring myself to walk away?
Our sexual chemistry is undeniable. Our individual need for complete control is irrefutable. But when our worlds collide, is the chemistry enough to bring us together or will our untold secrets and battle of wills force us apart?
My Review