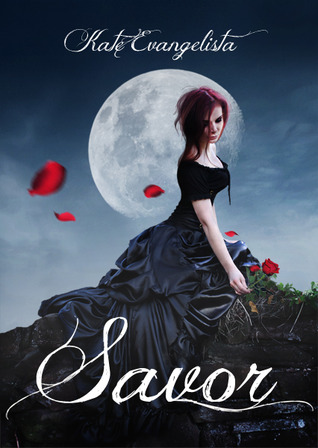 Savor
by
Kate Evangelista
Series:
Vicious Feast #1
Published by
Crescent Moon Press
on December 1, 2013
Format:
eBook
Goodreads

Mature and explicit content. Not recommended for readers below 18-years-old. Yup, you've got to be that old to read my story. Consider yourself warned.
I'm Dakota Collins, a tough talking, eye patch wearing, workaholic photography student. Why am I important? Well, maybe because I get to spend an entire month with Vicious, only the sickest indie rock band out there.
You see, I needed a subject for my Spring Showcase introspective in order to graduate. During a chance encounter at a club I'd been sent to cover for the Daily Gossip, our ironically named college paper, the features writer I usually teamed up with introduced me to the band—by accident, I might add. It involved a run in with a scary, bald bodyguard. Anyway, long story short, I signed a contract to take pictures of Vicious.
I should have known their handsome, yet way too serious for his own good bassist, Luka Visraya, wouldn't be able to keep his hands to himself. He's gorgeous and all, but the way he smiles spells trouble with a capital L. I'm in for a long month with him around.
Crazy shit happens and then some. So, if you want the skinny on Vicious and the events revolving around my stay at Lunar Manor, read my story.
Again, refer to the warning above.
My Review