Review: 'Savor' by Kate Evangelista
January 24, 2014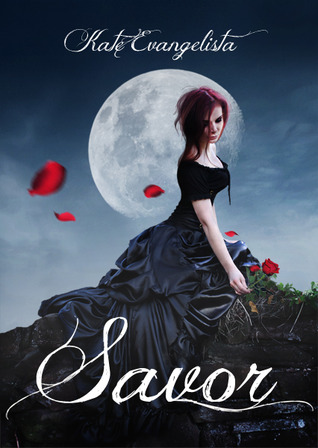 Savor
by
Kate Evangelista
Series:
Vicious Feast #1
Published by
Crescent Moon Press
on December 1, 2013
Format:
eBook
Goodreads

Mature and explicit content. Not recommended for readers below 18-years-old. Yup, you've got to be that old to read my story. Consider yourself warned.
I'm Dakota Collins, a tough talking, eye patch wearing, workaholic photography student. Why am I important? Well, maybe because I get to spend an entire month with Vicious, only the sickest indie rock band out there.
You see, I needed a subject for my Spring Showcase introspective in order to graduate. During a chance encounter at a club I'd been sent to cover for the Daily Gossip, our ironically named college paper, the features writer I usually teamed up with introduced me to the band—by accident, I might add. It involved a run in with a scary, bald bodyguard. Anyway, long story short, I signed a contract to take pictures of Vicious.
I should have known their handsome, yet way too serious for his own good bassist, Luka Visraya, wouldn't be able to keep his hands to himself. He's gorgeous and all, but the way he smiles spells trouble with a capital L. I'm in for a long month with him around.
Crazy shit happens and then some. So, if you want the skinny on Vicious and the events revolving around my stay at Lunar Manor, read my story.
Again, refer to the warning above.
My Review
Savor is the first book I have read by Kate Evangelista, and now I need to go back and read Taste and the rest of the books she has ever written. It's close to 1 am, and I read this book from 9:30 pm to 12:30 am. Only taking breaks when I needed to because Kate sucked me into the book. Only a few authors have managed to grip me like that before literally.
First off, I'm not going into details about this book and what it is about because I could end up spoiling it for someone, who wants to read it. No instead…I'm going over the things I loved, liked, and the one thing I disliked.
The first thing I loved is how Dakota Collins, the main character telling the story, is one strong-willed character who can deal with the stuff that is thrown at her. She's there to capture photos of the band Vicious at their manor for 30 days, and the way Kate describes in detail of each photo shoot is amazing and breathtaking. (She's doing it for her Spring Showcase so that she can graduate) I felt like I was there behind the lens, helping Dakota take the photos. Dakota goes through so much, while she's with the band and it doesn't help with the bassist of the band, Luka, making her confused and head spin every day. He's happy and talkative one day and guarded and secretive the next. Dakota was able to deal with him though, until the end and the secret came out. I felt for her throughout the book because I wanted to know what made Luka the way he is.
Luka is the most intriguing, but disturbing character in the book due to how his mood constantly changed from beginning to end. He drove me crazy most of the time due to this mood changes, but he had a way with making me swoon after him like Dakota was. He's kind of the part I disliked when he mistreated Dakota. It was even worse at the end of the book. I wanted to slap him for Dakota…but had to get a grip and realize he's fictional.
The other bandmates in the story made it even more fascinating. I loved Dray due to his facts he would spur out at any moment. Demetri due to him always having his shirt off and the mentioning of his tattoos. (Oh…and there's a specific scene that made me love him even more, with a particular character. Then there's Phoenix, who definitely was intriguing even more at the end. I hate her because of the ending, but then I can't because she did the right thing.
There's so much more I could go on and on about the characters, but I wanted to mention last was the storyline and how it gripped in from the moment Dakota saw Luka for the first time. There was just something there that made me want to know about him and his band. The ending is what was the doozy of it all. Kate had to leave me hanging, and now I have to wait until the next book to find out what happens next. You better believe I will be buying and reading it as soon as it comes out.
I give this book 4.5 moons and recommend it to readers who love the new adult genre with a paranormal twist to it. You must be 18+ to read it though. Hitherto the warning in the synopsis otherwise, you may have nightmares or fantasies over some of the bandmates. (Nightmares because of the nightmares that Dakota had in the story and what may have happened to her and nightmares over Luka.)
I need to find out what exactly happened to her and find out more about the band and now Dakota's mother. Grrr!! I need the next book. =)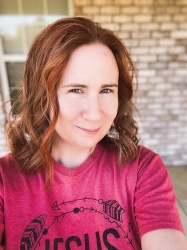 Latest posts by FranJessca
(see all)