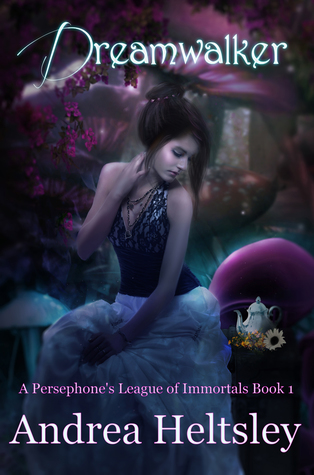 Dreamwalker
by
Andrea Heltsley
Series:
Persephone's League of Immortals #1
Published by
Starfire Press
on May 23rd 2012
Genres:
Paranormal Romance
Format:
eBook
Source:
the author
Goodreads
Purchase at
Amazon

Noel Kennedy lost her boyfriend, her job, and her dignity all in one week. She then gained an entirely new life. Hunted by a mysterious league of immortals, Noel must rediscover her forgotten past while uncovering the truth behind the two men who battle for her heart, both in dreams and in reality.
Entranced, she slowly unravels a world she was meant to stay out of. A world filled with creatures she once thought to be myth and dangers that threaten her very soul. Now Noel begins the fight for her life and must choose between two men who call to her heart. Can she escape a life of servitude or immortality for a chance at love?
Book One of The Persephone's League of Immortals Series
http://adiaryofabookaddict.blogspot.com - Tee loves Kyle Jacobson .HOLY HADES....... Dreamwalker is one of those mythology stories that grips you right from the beginning and you are unable to stop reading it because you need to know what is going to happen next. As you all know I love mythology stories and I love my bad boys! This story has it all and I want no I NEED book 2 ASAP!
http://rottenapplereads.blogspot.com/ - Alice Belikov First lady Ivashkov's .I SOoo LOVED reading this book, it was a wonderful FRESH and enjoyable read. I loved all the characters, it's normal to fall in love with the protagonist but I found myself falling for Boone.
 My Review