I received a complimentary copy of the book from the publisher in exchange for an honest review. This does not affect my opinion of the book or the content of my review.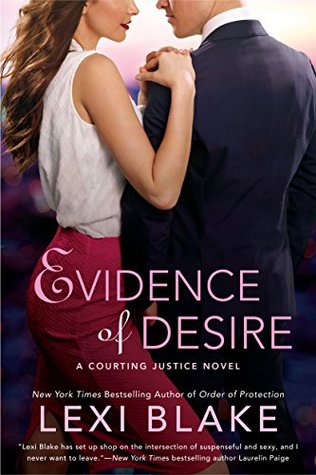 Evidence of Desire
by
Lexi Blake
Series:
Courting Justice #2
Published by
Berkley
on January 8, 2019
Genres:
Contemporary Romance
Format:
eArc
Source:
publisher
Amazon Kindle
|
Amazon Paperback
|
Apple iBooks
Goodreads

A fast-paced contemporary romance that sizzles from the New York Times bestselling author of Order of Protection where passion for the law isn't the only thing heating up the courtroom.

Isla Shayne knows she's in over her head. As former all-star linebacker Trey Adams's personal lawyer, she's used to handling his business dealings and private financial matters, not murder charges. She needs to find an experienced criminal attorney who speaks her client's language. David Cormack of Garrison, Cormack and Lawless is exactly what she needs in the courtroom—and the only man she wants in the bedroom.

For David, taking on the Adams case means diving back into a world he thought he'd left behind and colliding head on with tragic possibilities he's in no mood to face. There's a reason professional football is in his past and no matter how close Isla gets to the truth he intends to leave it there.

But long days working on the case together lead to hot nights in each other's arms. As their feelings grow, the case takes a deadly twist that could change the game between the two lovers forever.

---

Continue reading →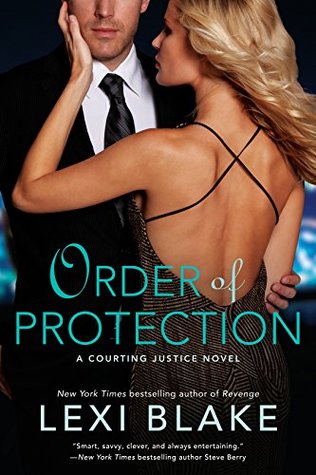 Order of Protection
by
Lexi Blake
Series:
Courting Justice #1
Published by
Berkley
on June 5, 2018
Genres:
Contemporary Romance
Pages:
336
Format:
Paperback
Source:
Purchased
Amazon Kindle
|
Amazon Paperback
Goodreads

A sexy and suspenseful new contemporary romance from New York Times bestselling author Lexi Blake where love and law entwine for a conviction of the heart.
To high-end defense attorney Henry Garrison, Win Hughes is a woman he met during one of the most trying times of his life. She's soft and warm, and he finds solace in their brief relationship. But Win has a secret. She's actually Taylor Winston-Hughes—born to one of the wealthiest families in the country, orphaned as a child by a tragic accident. Win moves in the wealthiest circles, but her lavish lifestyle hides her pain.
When her best friend is murdered in the midst of a glittering New York gala, Win's charged with the crime, and the only person in the world she wants to see is Henry.
Henry is shocked at the true identity of his lover, but he can't reject the case. This trial could take his new firm into the stratosphere. Still, he's not getting burned by Win again. And yet every turn brings them closer together.
As the case takes a wild turn and Win's entire life is upended, she must look to the people she's closest to in order to find a killer. And Henry must decide between making his case and saving the woman he loves...

Continue reading →