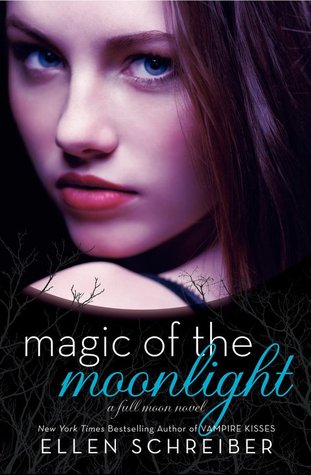 Magic of the Moonlight
by Ellen Schreiber
Series: Full Moon #2
Published by Katherine Tegen Books on December 27, 2011
Pages: 240
Format: Hardcover
Source: Library
Amazon Kindle | Amazon Paperback | Barnes & Noble
Goodreads


Beware of a bite under a full moon . . . It will complicate your love life.
Celeste has more to worry about than a secret romance with a hot guy from the wrong side of town. That guy, Brandon, is a werewolf. With gossip and hostility swirling at school, it's time to find a cure for his nocturnal condition, and perhaps the one person who can help is his scientist father. But what if a "cure" makes things worse and Brandon becomes a werewolf full time?
To keep Brandon's secret safe, Celeste must hide her relationship with him from her best friends, but with the Moonlight Ball approaching, she must make a choice. Her dream is to go with her one true love—Brandon. But once the sun goes down, the clouds separate, and the full moon appears, could she really walk into the dance on the arm of a werewolf?
In this installment of the sumptuously romantic Full Moon series, Celeste faces her fears and her friends and finds out whether she's strong enough to stand up for herself and her one true love.

Continue reading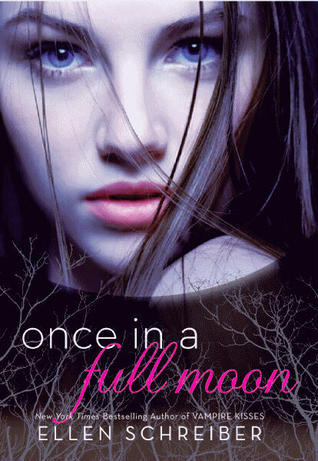 Once in a Full Moon
by Ellen Schreiber
Series: Full Moon #1
Published by Katherine Tegen Books on December 28th 2010
Pages: 292
Format: Hardcover
Source: Purchased
Amazon Kindle | Amazon Paperback
Goodreads


Beware of a kiss under the full moon. It will change your life forever.
Celeste Parker is used to hearing scary stories about werewolves—Legend's Run is famous for them. She's used to everything in the small town until Brandon Maddox moves to Legend's Run and Celeste finds herself immediately drawn to the handsome new student. But when, after an unnerving visit with a psychic, she encounters a pack of wolves and gorgeous, enigmatic Brandon, she must discover whether his transformation is more than legend or just a trick of the shadows in the moonlight.
Her best friends may never forgive her if she gives up her perfect boyfriend, Nash, for Brandon, who's from the wrong side of town. But she can't deny her attraction or the strong pull he has on her. Brandon may be Celeste's hero, or he may be the most dangerous creature she could encounter in the woods of Legend's Run.
Psychic predictions, generations-old secrets, a town divided, and the possibility of falling in love with a hot and heroic werewolf are the perfect formula for what happens . . . once in a full moon.
My Review