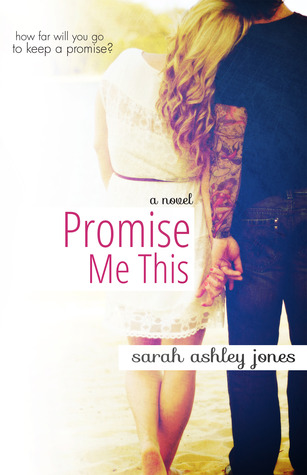 Promise Me This
by
Sarah Ashley Jones
Series:
Promise Me #1
Published by
Self-Published
on June 17, 2013
Format:
eBook
Source:
Purchased
Goodreads
Purchase at
Amazon

Welcome to the South - where the tea is sweet and the accents are sweeter. This Southern way of life is all Charlie has ever known. It's not until she loses the only person who pushed her to break free of the Southern Belle mold that she starts living the life she needs and not the life her parents forced on her.
Jhett has lived on the edge for as long as he could remember - constantly teetering back and forth between being a rock star and living a normal life. His rebellious and sometimes arrogant attitude is known to get him into trouble, especially with the girls who hang on his every move.
Charlie never thought that a trip to pack up her brother's apartment would leave her feeling even more unsettled about the grainy details of her brother's death. Her quest for information leads her straight to his old hangout and into arms of Jhett, who suspiciously knows more about her situation than he ever should.
Only a few questions remain - Can you trust someone based on their word alone? And if you make a promise, how far will you go to keep it?
My Review