I received a complimentary copy of the book from the blog tour host in exchange for an honest review. This does not affect my opinion of the book or the content of my review.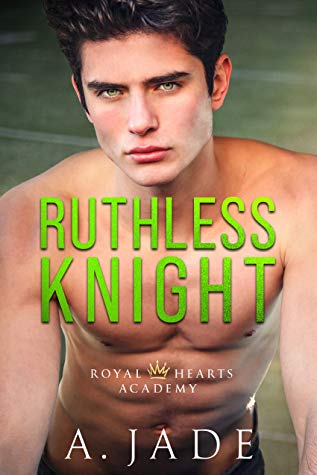 Ruthless Knight
by
Ashley Jade
Series:
Royal Hearts Academy #2
Published by
Self-Published
on January 23, 2020
Format:
eArc
Goodreads
Purchase at
Amazon


Welcome to their kingdom.

Cole Covington is the most popular heartbreaker at school. Every guy wants to be him and every girl wants to screw him. Except me. His devastatingly good looks, golden arm, and flirty smiles don't do it for me anymore...because I know what's lurking underneath the star quarterback's gorgeous armor.
At least I thought I did.
Sometimes the most beautiful people...hide the ugliest truths. And sometimes the only way to save someone... is to walk beside them through hell.
Sawyer Church is the bible-thumping nerd of Royal Hearts Academy. Girls pick on her and guys don't notice her. Except me. Sweet, curvy, and sarcastic, she's impossible to ignore. No matter how much I try. Everyone at school has her pegged as the chubby, Jesus loving geek, but unlike them—Sawyer's real and never pretends to be someone she's not.
Until I ask her to be my fake girlfriend.
Sometimes the most beautiful souls...hide the greatest pain. And sometimes the only way to save someone... is to fight for them.
This is book 2 in the Royal Hearts Academy series. Please note: Although this is Cole and Sawyer's book, Cruel Prince (Jace and Dylan's book) should be read first for a better understanding of the family dynamic. WARNING: Royal Hearts Academy is a New Adult/High School series of standalones filled with drama, a touch of angst, and boys who are bad to the bone. The characters are flawed. If you're looking for a safe, sweet romance with nice heroes and heroines who are perfect all the time, this series is NOT for you.