(18 & Over Only) Review: 'Bind Me' by Stacey Kennedy
May 29, 2012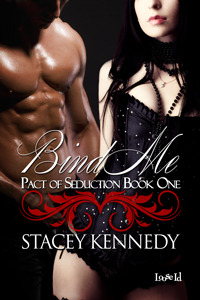 Bind Me
by
Stacey Kennedy
Series:
Pact of Seduction #1
Published by
Loose Id
on October 10th 2011
Genres:
Erotic Romance
Format:
eBook
Source:
Purchased
Goodreads
Purchase at
Amazon
|
Apple

Four best friends embrace their fantasies and make a pact of seduction to live out their deepest and darkest desires. The women place their lives in the hands of fate and one short straw declares Marley will be the first to awaken her secret wishes.
Reed, a Dom at sex club Castle Dolce Vita, has lived the BDSM lifestyle for awhile, but has yet to find a submissive that suits him. That is until he meets Marley, a woman seeking to indulge her fantasies.
As Reed guides her through a night of pleasure, Marley brings more to him than a perfect submissive--she stirs emotions in him long ago lost. By binding Marley, he runs up against his own limits, and now he has to choose between his self-protective barriers or surrendering to the wildfire Marley has reignited in his heart.
Publisher's Note: This book contains explicit sexual situations, graphic language, and material that some readers may find objectionable: BDSM theme and elements, including spanking.
My Review
 This book is meant for 18 & over readers out there.
Who here has an "Erotica" addiction?  (This gal raises her hand)
Don't take it the wrong way either I love diving into a good smutty book every once in a while and "Bind Me" definitely did it.  I spent less than an hour reading this book on my Kindle because I had a hard time putting it down.
The books start with four best friends in Baltimore making a pact with each other to live out their deepest, darkest fantasies.  They have to draw a straw to find out who goes first.  Marley is the lucky one to go first.  To her though, she's nervous as hell.  She's never done this kind of thing before.  Her friends sign her up with getting a Dom from the sex club Castle Dolce Vita by sending information to the sex club's forum online.  Within minutes, it seems, she has herself a Dom, whose name is Reed.
Reed is a lawyer by day, but by night he is a Dom that works at the Sex Club.  He had his heart broken two years ago from a previous submissive and never thought he would fall for another submissive again.
He falls for Marley though when he sees her picture on the forum.  He immediately wants to fulfill her fantasies as a submissive.
Marley doesn't know what to expect though when she finally meets Reed.  When he gets in contact with her…he wants her to call him "Master Reed."  She never thought she would call someone like that, but Reed is about to make everything come true for her.  He's also going to make her realize she can do things she never thought possible.
My thoughts on "Bind Me" was it was a GREAT erotic read.  It's short and fast to read (at least it was for me).  I enjoyed the steamy, erotic scenes between Marley and Reed. Reed is one domineering man who knows not to take it too far.  He's very good at being a Dom also.  Crap…he had me even squirming sometimes on what he was doing to Marley.  Although at the beginning of the book I was introduced to his roommate, Kole…who is a bit more domineering then Reed.  (Can't wait to read his book).
Marley is an excellent match to Reed.  She's everything that Reed has ever looked for in a submissive and Marley in this book has always wanted a guy like Reed. (even though she didn't know until her friends brought up the pact)
There were moments I felt uncomfortable…but that's just me being me.  I got over it because I love how everything played out for the characters.  Yes, I'm one of those who enjoys a sexy, happily ever after.
I recommend this book to anyone who loves the genre Erotica and loves to read BDSM.  Yes, there are moments of tying up, flogging, smacking, and much more other things that I rather not spoil the book to anyone who wants to read it or is thinking about reading it.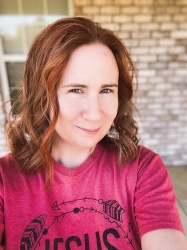 Latest posts by FranJessca
(see all)