ARC Review: 'Cougar's Mate' by Terry Spear
May 7, 2014
I received a complimentary copy of the book from the author in exchange for an honest review. This does not affect my opinion of the book or the content of my review.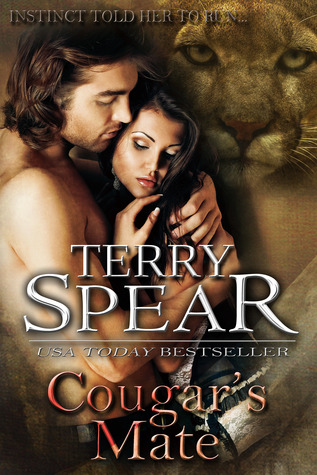 Cougar's Mate
by
Terry Spear
Series:
Heart Of The Cougar #1
Published by
Self-Published
on February 7, 2014
Genres:
Paranormal Romance
Format:
eArc
Goodreads
Purchase at
Amazon
|
Apple
|
Google Play

Cougar's Mate: Instinct told her to run…
Shannon Rafferty learns that hanging out with the bad boys could be a dangerous business, but hooking up with a cop is even worse. Now she's on the run, trying to avoid being murdered by his cougar shifter brothers and uncle. If that isn't bad enough, a deputy sheriff hunts her down while she's running as a cougar and trying to survive in the Colorado wilderness. He vows to protect her no matter what she's done. With three dead boyfriends to her name, she's sure she will be the death of Chase Buchanan before either of them can prevent it. No matter how much she knows she has to run again, he soon holds her heart hostage. But will that be enough to keep them both alive?
Chase Buchanan—as wilderness cabin resort owner, former US Army Special Forces, and part time deputy of the small town of Yuma, Colorado that boasts a love of cougars—is tasked to track down a cougar reported to be hunting human prey. Chase soon learns she's a shifter, not a full-time cougar, and she's on the run. When he takes her in, he vows to protect her. After losing his wife and baby to the human kind of predator years earlier, he's not letting Shannon's hunters kill her, too. But how is he going to hold onto the wild-cat woman, who is unpredictable at every turn, without losing his heart to her, and then losing her as well?
My Review
This is not new, but I've been a fan of Terry Spear's books since 2009. The minute I found her Heart of the Wolf series at my favorite used book store, I became a fan. She's one reason why I'm addicted to shifter books.
I was excited to get a chance to read her new series, which involved cougars. I definitely knew the minute I started reading, I would have a hard time putting down Cougar's Mate. Terry Spear does amazing research on every shifter book she writes. I studied about cougars when I was little, so was curious to read a fictional shifter story about them. (In Florida, we call them panthers,and they are an endangered subspecies of cougars, and Terry Spear did an amazing job on in cooperating these beautiful animals into a story.) She was able to portray these beautiful animals into shifters that will win readers hearts.
In Cougar's Mate, we have Shannon Rafferty who is on the run due to her witnessing her own boyfriend's murder. She was supposed to be safe with her current boyfriend due to him being a cop. She ends up dating someone who is into something illegal, and his family thinks he is stealing money from them. She's now having to run through the mountains in Colorado as a cougar to hide from her boyfriend's family that is looking for her. She ends up meeting other cougar shifters just like her who want to take her in and protect her. She doesn't want to put anyone in danger over what has happened and she doesn't want them finding out the truth. The person who ends up becoming her savior, Chase Buchanan will do anything to win her trust, but she definitely doesn't make it easy.
Let's just say Shannon is one cougar who can take care of herself and managed to make a ruckus in a usually quiet town. She managed to hurt both Chase (who is a part-time deputy) and his friend, Dan who is the Sheriff. I have to say I adored Shannon's character due to how strong she was. (She probably would have never considered herself strong due to how she always bolted. She managed to take down to strong characters in the book though and everyone would not let those two live it down…LOL) Even though at times I wanted to slap her silly. She could have just told the truth about everything and everyone would have accepted her, but I also understood why she didn't. She definitely made the book very lively, especially when she first met Chase and Dan. (She was able to best both of them…I love when a female character can take down two alpha males)
Chase was such an adorable character. He was willing to do anything for Shannon the moment he met her, even when she made it difficult for him. I loved his alpha tactics, but I also adored his way of winning over Shannon. He was soft with her at first until the very end. He gave her time to trust him…which again was not easy. He had lots of patience. =)
I enjoyed every minute of this book and look forward to reading the next in the series. If you are looking for a book that has romance, action from beginning to end, and lots of humor then this book is for you.
I give this book 4.5 moons and recommend it to paranormal romance readers out there. If you haven't read Terry Spear's books yet, then you are missing out on some amazing books.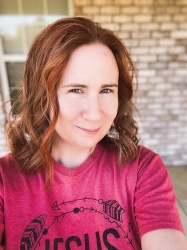 Latest posts by FranJessca
(see all)