ARC Review: 'It Stings So Sweet' by Stephanie Draven
February 8, 2013
I received a complimentary copy of the book from the author in exchange for an honest review. This does not affect my opinion of the book or the content of my review.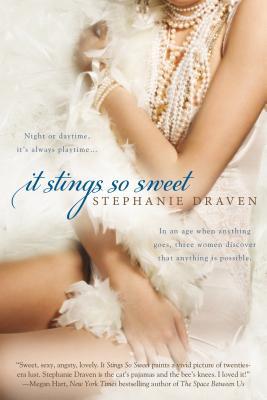 It Stings So Sweet
by
Stephanie Draven
Published by
Berkley
on February 5, 2013
Genres:
Historical Romance
,
Erotic Romance
Format:
eArc
Source:
the author
Goodreads
Purchase at
Amazon
|
Apple

They vibrated with incendiary Jazz. They teemed with sexual abandon.The Twenties were roaring and the women—young, open, rebellious, and willing—set the pace and pushed the limits with every man they met…
In the aftermath of a wild, liquor-soaked party, three women from very different social classes are about to live out their forbidden desires.
Society girl, Nora Richardson's passionate nature has always been a challenge to her ever-patient husband. Now he wants out of the marriage and she has just this one night to win him back. The catch? He wants to punish her for her bad behavior. Nora is offended by her husband's increasingly depraved demands, but as the night unfolds, she discovers her own true nature and that the line between pain and pleasure is very thin indeed.
Meanwhile, Clara Cartwright, sultry siren of the silent screen, is introduced to a mysterious WWI Flying Ace. If Clara, darling of the scandal sheets, knows anything, it's men. And she's known plenty. But none of them push her boundaries like the aviator, who lures her into a ménage with a stranger in a darkened cinema then steals her jaded heart.
Working class girl Sophie O'Brien has more important things on her mind than pleasures of the flesh. But when her playboy boss, the wealthy heir to the Aster family fortune, confronts her with her diary of secret sex fantasies, she could die of shame. To her surprise, he doesn't fire her; instead, he dares her to re-enact her boldest fantasies and Sophie is utterly seduced.
One party serves as a catalyst of sexual awakening. And in an age when anything goes, three women discover that anything is possible…
My Review
I first noticed this book on Amazon one day underneath my recommendations and decided to place it on my Wish List.  I have always loved the 1920s and the description of this book, as well as the cover, had me already ready to buy it when it released.  I was contacted by Stephanie's assistant in January to read the book early and review it.  I definitely could not pass it up since the book was on the top of my Wish List so I did not miss out on buying it.
Stephanie Draven not only dived me into the Roaring 1920's with flappers, prohibition, and women's suffrage…but she brought me into a world of 20's erotica that includes BDSM, menage, and scandals.
Three different stories, but each has a connection with each other, which made me love this book even more.  I believe more authors should do this kind of writing style.  It made everything fall into place and took me into other's people's heads during each story.
The first story, Leave Me or Love Me, is about Nora Richardson and how her husband is going to leave her due to what she did with another man.  She will stop at anything to win him back and have him with her forever.  She'll even discover things about herself, she never knew she enjoyed.  She'll even discover what her husband always wanted from her.  This story definitely takes you out of your comfort zone and what Nora endures with her husband.  He puts her in certain scenarios that would make women cringe, feel embarrass, or leave their husbands for.  Instead, Nora is a strong-willed wife that will please her husband and spite her father, just to prove to her husband she loves him.
The second story, When I'm Bad I'm Better, is about the famous actress, Clara Cartwright, who has never fallen in love.  Until, she meets a stranger one night, who has something of hers that could hurt her career.  The stranger is about to reveal the real Clara and what she is capable of doing.  He'll push her to new boundaries, she never thought she would enjoy, until the stranger introduces her to his best friend.  This story leads you into a menage story where Clara is about to be devoured by two handsome guys, but only one will steal her heart permanently and change her for the better.
The last story, Let's Misbehave, is about the working girl Sophie O'Brien, who works at the hotel run by Robert Aster.  He is introduced several times in this book.  Sophie never thought her fantasies would come true until she is called into her boss's office to discuss the journal that was found in her locker.  He wants to make her journal fantasies come alive.  In the meantime though, she may be over her head with Robert.  Robert also may be over his head…but both are going to find out how much they really need each other in their lives.
I enjoyed all three stories and also enjoyed being taken back in the past with certain historical elements that definitely have intrigued me since I studied the Roarin' Twenties in school.  Stephanie Draven did an amazing job on putting everything together and making it feel like I was taken back in that era with her characters.
Each story gets you out of your comfort zone, and Stephanie Draven makes each story more erotic it seems. ( at least in my opinion it was….one of my fave scenes is in the last story….let's just say it involves restraining an individual)  =)
This book includes elements of BDSM, menage, and several other elements that you will have to read to find out.
If you love historical romance and erotica together, you will enjoy this sexy, erotic novel from Stephanie Draven.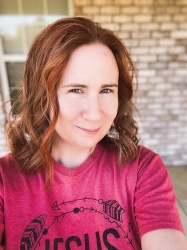 Latest posts by FranJessca
(see all)