ARC Review: 'Reflected in You' by Sylvia Day
I received a complimentary copy of the book from the publisher in exchange for an honest review. This does not affect my opinion of the book or the content of my review.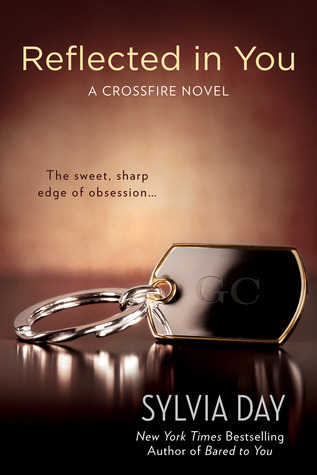 Reflected in You
by
Sylvia Day
Series:
Crossfire #2
Published by
Berkley
on October 23rd 2012
Genres:
Contemporary Romance
Pages:
338
Format:
Paperback
Amazon Kindle
|
Amazon Paperback
Goodreads

Gideon Cross. As beautiful and flawless on the outside as he was damaged and tormented on the inside. He was a bright, scorching flame that singed me with the darkest of pleasures. I couldn't stay away. I didn't want to. He was my addiction... my every desire... mine.
My past was as violent as his, and I was just as broken. We'd never work. It was too hard, too painful... except when it was perfect. Those moments when the driving hunger and desperate love were the most exquisite insanity.
We were bound by our need. And our passion would take us beyond our limits to the sweetest, sharpest edge of obsession...
My Review
Let me first say that I've read many romance books since 2009, but I've never read a book that made me such an emotional wreck after reading it, that it took me a few days to calm my nerves before I tempted to type up a review of it. Oh my goodness, Sylvia Day knows how to make a reader go through an emotional roller coaster in zero points one second. ( at least that's how long for me )
When I got the email from Netgalley saying I was approved to read "Reflected in You," early…I scared my family by screaming and jumping up and down like my oldest daughter does when she gets something she loves.
Gideon Cross, how I missed you the last five months.
While every mom out there is going crazy over the Fifty Shades Trilogy, I've been going mad over the Crossfire books by Sylvia Day and going gaga over Gideon. *sigh*
(Just to let everyone know…no Spoilers here I want everyone to enjoy the book…because this is a must-read for everyone who loves contemporary erotic romance)
"Reflected in You" picks up where Gideon and Eva left off. Eva has seen Gideon at his place and vice versa. She still does not know what to think of what her roommate, Cary has done and she knows something is going on with him. Gideon has to take a business trip, and he wants Eva to go he orders her to go since he can't seem to get enough of her. Of course, Eva needs to have a moment with Cary and come to terms to what he did in their apartment. Gideon agrees to let her go on her little trip for a weekend with Cary, but with of course with some stipulations that she must stay in one of his hotels and be protected. Eva is noticing changes with Gideon when they get back from their trip. He keeps acting cold one second and hot the next. She has no idea what is going on, but she knows he's keeping secrets. One of those secrets could evolve her, and her past was creeping back up to get her. Gideon plays the domineering, over-bearing, protective, and secretive alpha male again in "Reflected in You," but he also opens up a bit with some of his secrets on what happened to him and why he is the way he is. He becomes very odd in this book and several times I wanted to beat his butt for Eva because he was acting like a jerk towards her, but then he would throw in, "trust him," every once a while, that maybe think, he was up to something. (Seriously, the man made my blood boil second and heart race another second…he was driving me crazy. GRRRR! I still loved him). Eva was her usual self in "Reflected in You." She was jealous over Gideon's past loves and getting upset with things that Gideon kept doing, and she would find out later on the web. There was a time in the book with one of Eva's decisions that I backed her 110%. She was fed up with Gideon and just wanted to live her life as normal not with Gideon being cold-hearted and hiding stuff from her. Her family and friends were even worried about her. Sylvia Day didn't disappoint at anything when it came to the sex scenes between Gideon and Eva. (Can I say…I'm happy to have read that Gideon and Eva went to the Outer Banks in this book…since it's my second home) =) That was the best part of the book when it came to Gideon not getting on my nerves. The ending though blew my mind and left me wanting more. How could Sylvia, leave me hanging like that. She also answered all my questions that had been bugging me since the beginning. Her writing style is fantastic and flowed well. If you've read books before that had you keep flipping because you couldn't get enough that is how Sylvia's is. Like I stated in the beginning, "Reflected in You" is a serious roller coaster of emotions. I went from happy, smiling, bawling like a baby, boiling from anger, and about to throw down with one certain character in just a few seconds. I'm telling you, in warning, so you are prepared ahead of time. Be prepared to have tissues, and be prepared not to bend your book or hit your Kindle a couple of times because you want to jump in the book and whoop some butt. I'm looking forward to the final book to the Crossfire Trilogy because there is still plenty of questions to be answered and I want to see if Gideon and Eva will finally have their happily ever after. They both deserve it. Both characters have their issues. Let's say Eva's problem gets fixed, and Gideon's is just now coming up in the story. All I can say is…this book made me LOVE Gideon even more. How could anyone resist, one sexy, billionaire, twenty-eight-year-old who owns half of Manhattan (at least that is how Eva describes him, and I have to agree with her). *sigh* Now if only it could be December already so I can have my final fix of Gideon. =)


I guess I should type a bio here. I'm FranJessca or Fran for short. I'm the owner of Book Lovin' Mamas and main Reviewer. I've been reviewing books since I got out of the Navy in 2011. Now 8 years later, I'm still reviewing, but this time with my youngest sidekick.
When I'm not reading and reviewing, you can find me at my day job during the week and on the weekend taking care of our little farm.

Latest posts by FranJessca (see all)