ARC Review: 'The Darkest Touch' by Gena Showalter
October 14, 2014
I received a complimentary copy of the book from the publisher in exchange for an honest review. This does not affect my opinion of the book or the content of my review.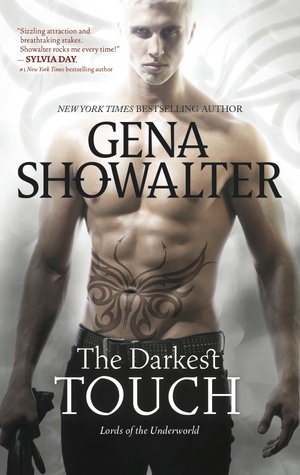 The Darkest Touch
by
Gena Showalter
Series:
Lords of the Underworld #11
Published by
Harlequin HQN
on November 25, 2014
Genres:
Paranormal Romance
Format:
ARC
Goodreads
Purchase at
Amazon
|
Barnes & Noble
|
Kobo

From New York Times bestselling author Gena Showalter comes the long-awaited story of Torin, the most dangerous Lord of the Underworld yet…
Fierce immortal warrior. Host to the demon of Disease. Torin's every touch causes sickness and death—and a worldwide plague. Carnal pleasure is utterly forbidden, and though he has always overcome temptation with an iron will, his control is about to shatter.
She is Keeley Cael. The Red Queen. When the powerful beauty with shocking vulnerabilities escapes from a centuries-long imprisonment, the desire that simmers between her and Torin is scorching. His touch could mean the end for her, but resisting her is the hardest battle he's ever fought—and the only battle he fears he can't win.
---
Five years ago I fell under the spell of the LOTU series thanks to a friend suggesting this series to me. Since then I have been patiently waiting for Torin, the Keeper of Disease, to get some kind of happily ever after.
Torin deserves every bit of happiness just like his other fellow demon family members/friends, but unfortunately he is doomed to never feel the real touch of a woman due to the demon that plagues him literally. If he allows himself to feel any kind of physical touch he could give the person a sickness that could lead to death or worse become the carrier of the disease to spread to others. I have felt since the beginning that Torin got shafted. Poor guy! He needs someone too just like Reyes, Strider, Paris, etc have. I was anxious though, to figure out who would be the lucky lady to be able to hook up with Torin and actually survive.
Gena gave Torin the perfect person to hook up with and I knew the minute she was introduced I would adore her. Keeley Cael, otherwise known as the Red Queen reminds me of Anya (Lucien's love), but a little feistier. Let's just say the Red Queen gives Anya a run for her money, when it comes to how scary she is and funny she can be in certain situations. One of my favorite scenes between Anya and the Red Queen is when Anya confronts her the first time. Keeley also knows how to handle tough situations and she knows how to put Torin through the ringer (literally). The guy didn't have it easy for Keeley. =)
Be prepared for some funny moments between Torin and Keeley because these two banter constantly. They also have some very heated romantic moments together that will make readers grab for a cold glass of water. (or cold shower) Ladies…Torin knows how to get creative in the bedroom.
In The Darkest Touch, Gena continues the storyline from the previous book, but with Torin and Keeley being the main characters. These two will be put through several tests thanks to what Gena had them go through, but that made me continuously flipping through the pages. (My husband may have gotten the evil eyes several times, while I was reading this book. He should know by now to not interrupt me, while I'm reading a book by Gena Showalter.) Gena also gives us glimpses into what is happening with other characters. Secrets will be let out of the bag in this book that will leave you in shock. I know one particular scene I'm still in shock over.
If you haven't read this series and are a fan of paranormal romance, I definitely recommend reading this series in order. It's a series full of action, romance, darkness, and humor that will have you on the edge of your seat.
I look forward to the next book in the series, especially since Gena left me hanging with a couple of the other characters. I know one thing, I really would love to read William's story. He's fascinated me just as much as Torin has in the LOTU series.
***Gena you have managed to add way more book boyfriends to my over-grown book boyfriend list since I started reading your books in 2009. My husband is kind of getting jealous. =)

This post contains affiliate links you can use to purchase the book. If you buy the book using that link, I will receive a small commission from the sale. It will help sponsor future giveaways but costs you nothing extra. You can read the full disclosure underneath the Privacy Policy.
---
---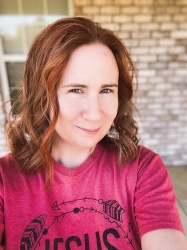 Latest posts by FranJessca
(see all)