ARC Review: 'When It's Right' by Jennifer Ryan
March 31, 2015
I received a complimentary copy of the book from the publisher in exchange for an honest review. This does not affect my opinion of the book or the content of my review.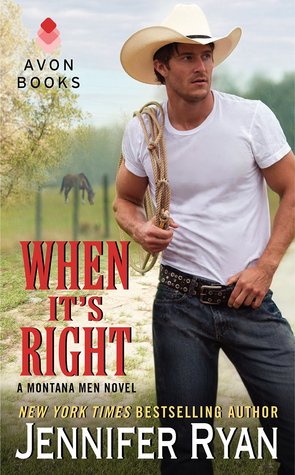 When It's Right
by
Jennifer Ryan
Series:
Montana Men #2
Published by
Avon
on March 31st 2015
Genres:
Contemporary Romance
Format:
eArc
Goodreads
Purchase at
Amazon
|
Apple

Everything's bigger in Big Sky country, including the hearts of the Montana Men
Wide open sky, rolling green hills . . . Gillian Tucker could get used to life in the country—one far from the violence she left behind in San Francisco. Warily accepting an invitation to the Montana ranch that belongs to her grandfather, a man she's never met, Gillian hopes this is the haven she seeks. A sexy, overbearing cowboy who shines a light on her well-hidden dreams is not at all part of her plans.
Blake Bowden's reckless past is far behind him, and as a newly named co-owner of Three Peaks Ranch, he's not taking any chances. Until a beautiful, haunted woman arrives, igniting a desire he shouldn't feel. His partner's granddaughter is strictly off limits. But the longer Gillian's there, the stronger the pull grows between them. And when a new danger surfaces, Blake will do anything to keep her safe…even if it means risking everything for her heart.
Read My Review: 
The moment I started reading the first chapter of When It's Right, I knew this it was going to be one emotional roller coaster of a book. The first chapter alone grabbed me into the story. It also didn't help with having such a lovable male character who won me over the minute Jennifer switched to his POV. Oh…HOW I LOVE BLAKE BOWEN! He was a sweetheart cowboy the whole entire time in the book. Jennifer definitely matched the female character with the perfect Bowden man. (I'm definitely jealous.)
Gillian Tucker is the female character of the story and she hasn't had it easy at all. Again, the first chapter alone will grip you in and explain what the girl has gone through. The story digs deeper into what Gillian has been through when your reading the story. (but I won't give it away) She is one determined woman who can handle what is thrown at her. Gillian doesn't really trust easily until she meets her Grandfather and one of his co-workers at his Ranch that she is now going to be living at.
The minute Blake sees Gillian he knows he won't be able to let her go. It's an instant attraction kind of thing, but Gillian doesn't make it easy for Blake. She's had it rough. She also has been taking care not only of herself, but someone else too. Blake will do anything to win her over though. He'll even do it very slowly. He's what you will call the perfect caring gentleman.
There's going to be drama in the book that will be uncomfortable at times. Gillian is put in certain situations that definitely make it difficult to read because she's been through so much already. I wanted to go through the book and help her during those tough times. Jennifer definitely didn't make Gillian weak though. She's a fighter. She also has the biggest support system ever in this book.  It just takes her a while to realize she has people to lean on.
I will admit I teared up during certain scenes in the book, especially in one certain point that was a happy moment. Yup…tissues were needed.
I will say it again though, Jennifer wrote the two perfect people to be together. Gillian needed Blake and Blake needed Gillian. These two are my favorite so far in the Montana Men series.
I give this book 4.5 stars and look forward to reading the next in the series. This series is making me want to get a ranch out in Montana now. Maybe I can convince the hubs to move again.  =)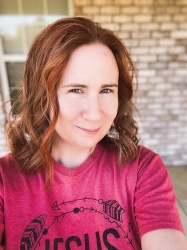 Latest posts by FranJessca
(see all)