Review: 'Caught in the Act' by Kim Law #CMCon23
September 17, 2022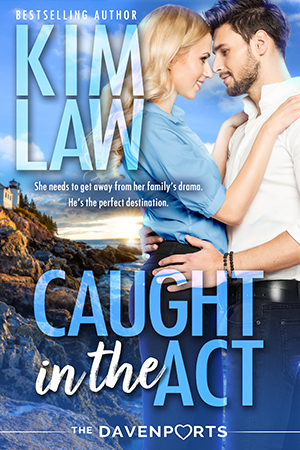 Caught in the Act
by
Kim Law
Series:
The Davenports #2
Published by
J-Ko Publishing
on February 27, 2021
Genres:
Contemporary Romance
Format:
AudioBook
,
eBook
Source:
Purchased
Goodreads
Purchase at
Amazon
|
Barnes & Noble
|
Kobo

Sex and politics collide…with passionate results.
Catherine Davenport Carlton needs a break. After dedicating her life to her political-minded family, shocking scandals from the past have shaken her to her core. Summer in the quiet town of Dyersport, Maine, is just what she needs, especially with a super-hot neighbor right next door . . . who's none other than the boy she once fell in love with. Cat wants nothing more than to pick up right where she and Brody left off eighteen years ago, but she's still haunted by a terrible secret of her own. One that could devastate Brody.
Brody Hollister spent years pining over Cat Davenport. They met young and loved passionately—until she disappeared from his life. Now she's back, as spirited and beautiful as ever. But while Brody is determined to help Cat free herself from her family's drama, his own family may be hiding something that could ruin their rekindled romance for good.
---
Caught in the Act is the second book in Kim Law's The Davenports series. I enjoyed this one more than the first, but it put me through the wringer. I'm going to warn you that this one was a tearjerker, at least for me, especially in the beginning and the ending. I should have grabbed the tissue box when I got to the end. Kim Law definitely knew how to bring on the waterworks with Catherine Davenport Carlton's story.
Storyline/My Thoughts: I was already prepared for the book to be challenging because I was introduced to Catherine Davenport Carlton in the first book. This poor woman had lost her husband and now was a single mother to two beautiful children who never really got to know their father since he died when they were young. She has a great support system to help with her children, but when Davenport's secrets start being revealed, she has to take some time for herself and go off to Maine, where she used to visit when she was younger with her family.
Cat is trying to enjoy her vacation before her kids visit her in Maine. She ends up spying on her sexy neighbor, that keeps jogging at the beach near her vacation rental with binoculars. The second she meets the jogger at the local museum in town, she realizes he was the first love she fell in love with nineteen years ago. She would love to pick up where they left off, but she has kids now, and she has a huge secret she had been keeping from him that she knows will devastate him and ruin their chances of being together.
Brody Hollister was in love with Cat Davenport when he was fifteen, and ever since she walked out of his life and never came back, he still found himself following her life because of her family being in the media. He never expects to see her again in Maine, where they first met. He knows he should stay away from her, not only because she chose never to talk to him again but because he has a secret that could cause a big issue with her family, especially with her mother running for Senate.
The second book in the series has a lot of drama, like the first one, between the two main characters and the whole Davenport family. Cat has a secret that has been haunting her since she was sixteen years old that only a select few knew about, and it is a tearjerker of secrets. Brody has his own secret, but it pertains to the truth of who his birth father is in the story. There are so many secrets between the characters that it's bound to cause issues, especially when they try to establish a relationship again nineteen years later.
I felt for both characters because they have a star-cross lovers' romance and a second chance at love when they see each other again. I've always been a sucker for second chances, and I loved that Kim Law incorporated this in Cat and Brody's story. Cat and Brody deserved to be in love and with each other again. They were destined for each other, but they will have to tell each other the secrets they have been keeping from each other.
The one character that drove me crazy in Cat and Brody's book happened to be the same person who almost drove a wedge in JP and Vega's relationship in their book. Cat's mom is one woman who has caused more grief than anything regarding her children. She has her own secrets that are coming out, and they impact Cat and Brody. Cat's mom is getting karma big time. I don't feel sympathy for her.
This book put me through the wringer from the beginning. Two scenes in the book that made me cry were the real reason why Cat was visiting Maine and when she found out the truth of what happened eighteen years ago. (I won't give it away to readers who haven't read this book.) I felt her pain in both scenes and wanted to go through the book and comfort her. I knew it would be hard for her to tell Brody the truth, and I could understand why she kept it from him for so long. She didn't know how he would handle it and when he did find out, he was ticked off, and he had every right to be mad.
I didn't like reading Cat and Brody's pain, but I did like how a specific character at the very end made them realize how much they were in love. They went through so much, but they were meant for each other. Now, I can't wait until the next book, which involves Bennet Davenport, Cat, and JP's older brother. Another family secret comes out towards the end of this book that involves Bennet, and I'm all for reading his story.
Overall, this book receives 4.5-stars from me. Yes, this book made me cry, but it did have an epic happily ever after for Cat and Brody, who deserved it.
Kim Law writes sweet contemporary romance stories, but she does make the characters go through some drama to find their happily ever after with each other.
Standalone or Part of Series: It's part of the Davenport series, but each can be read as a standalone. I would recommend reading in order, though, because you'll miss out on meeting JP Davenport in the first book and learning about the family drama ahead of time.
Steam/Spice: ⭐️ ⭐️ ⭐️
Trope(s)/Element(s): Star-crossed Lovers (Romeo & Juliet), Second Chance at Love, Family Secrets, Family Drama, Political Drama (Scandals), Teenage Pregnancy/Adoption
HEA: Yes.
Would I recommend this book? Yes. If you enjoy sweet Contemporary Romance stories with drama and secrets, this book is for you.
Favorite Quote(s): "Complications are merely the road bumps of life," he told her. "In the end, you still reach your final destination."

This post contains affiliate links you can use to purchase the book. If you buy the book using that link, I will receive a small commission from the sale. It will help sponsor future giveaways but costs you nothing extra. You can read the full disclosure underneath the Privacy Policy.
---
---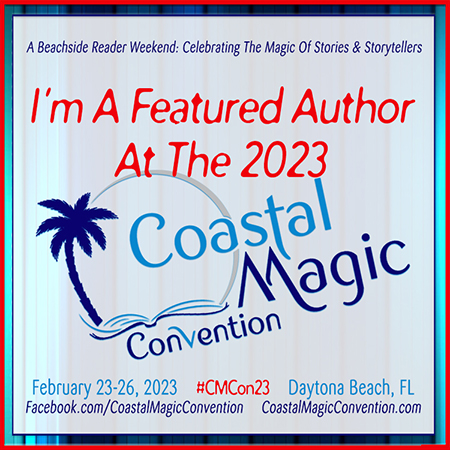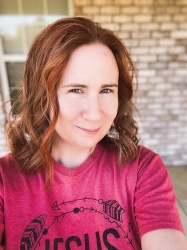 Latest posts by FranJessca
(see all)