Review: 'Cerulean Sins' by Laurell K. Hamilton
May 13, 2021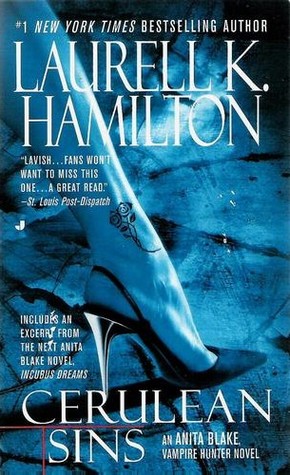 Cerulean Sins
by
Laurell K. Hamilton
Series:
Anita Blake Vampire Hunter #11
Published by
Berkley Books
on August 31, 2004
Genres:
Urban Fantasy
Format:
AudioBook
,
Paperback
Source:
Purchased
Goodreads
Purchase at
Amazon
|
Barnes & Noble
|
Kobo

Cerulean Sins, the eleventh entry in the hugely-popular Anita Blake series, finds everyone's favorite vampire hunter keeping house and kicking butt.
Anita Blake is trying to get her life back to "normal" after a break-up with her werewolf lover. She has settled into a pattern of domesticity, which means that the new man in her life, the leopard shapeshifter Micah, has no problem sharing her with Jean-Claude, Master Vampire of the City. Things are as peaceful as they ever get for someone who raises the dead, when Jean-Claude receives an unexpected and unwelcome visitor: Musette, the very beautiful, very twisted representative of the European Council of Vampires. Anita soon finds herself caught up in a dangerous game of vampire power politics.
To add to her troubles, she is asked to consult on a series of brutal killings, which seem to be the work of something un-human. The investigation leads her to Cerulean Sins, a vampire-run establishment that deals in erotic videos, videos that cater to very specific tastes. Anita knows one creature of the night who has such interests — Jean-Claude's visitor. But if Anita brings Musette down, the repercussions could cost her everything she holds dear.
Once a sworn enemy of all monsters, Anita is now the human consort of both Master Vampire Jean Claude and leopard shapeshifter Micah. When a centuries-old vampire hits St. Louis, Anita finds herself needing all the dark forces her passion can muster to save the ones she loves.
Anita Blake returns to find hell hath no fury like a vampire scorned.
---
I was binge-reading Laurell K. Hamilton's Anita Blake, Vampire Hunter series back in 2009, so this was my second time reading Cerulean Sins. It's my first time reviewing the book, though. It's been so long since I read this series that it feels like I'm reading it for the first time. 🙂 
Storyline/My Thoughts: Anita Blake is trying to get her life back to normal, as much as she can, with a vampire boyfriend and a leopard shifter as her Nimar-Raj. Her werewolf boyfriend broke up with her because he couldn't stand what she could accept, and he couldn't. (If you read the previous books, then you'll understand when I say this, I was not a fan of Richard, her werewolf boyfriend. He got on my nerves.) I'm glad Anita is no longer with him. This book also made me realize that Anita is better off without Richard, but she has further lover drama in this book. Poor Anita! She went from not having a love life to having too much.
Cerulean Sins has Anita dealing with vampire politics, something she never wanted to be a part of, but dating the Master of the City is inevitable. Musette, who is a part of the European Vampire Council, has come three months early to St. Louis, so now Jean Claude, Anita, Asher, etc., have to cater to her. Unfortunately, Musette has something up her sleeve thanks to Belle Morte (Jean Claude's maker). It's not a friendly visit, and poor Anita is caught in the crossfire of it all. Anita will find out right away that Belle Morte is not someone to mess with, and she is up to something horrible. 
On top of the vampire politics, Anita has to solve some gruesome murders. You would think Anita would be used to looking over gruesome cases, but these take a lot out of her. Laurell K. Hamilton had me cringing with the details to understand why Anita was bothered by the scenes. One of many reasons I love Laurel K. Hamilton is how detailed she gets with scenes. I love her writing style, even if she has me cringing due to the gruesome scenes. 🙂
This book has quite a bit of steamy moments between Anita and Jean Claude and several other characters. Anita's ardeur shows up several times in this book, and some of it due to Belle Morte. If you are not a fan of a lot of steamy menage-a-trois moments, then this book may bother you.
The one thing that bothered me was how some scenes dragged on that could've been shorter. The first time I read this book, it didn't bother me because I was binge-reading the series. This time though, I'm trying to read the series slowly and savor the storylines. It's been so long since I read this series, so it's like I'm reading it for the first time. Some of the steamy moments could have been shorter. Don't get me wrong; I loved the steamy scenes. One particular scene was when Jason was involved. He finally didn't feel left out. There were also scenes with Richard that drove me crazy. I know we needed drama, and he definitely brings it. (He drives me crazy.)
Overall, this book gets four stars from me, and I can't wait to dive back into the next book. I know the books are going to get steamier because LKH knows how to write steamy scenes. 🙂 I know more drama is coming for Anita, Jean Claude, Asher, Micah, etc. It's going to be crazy, but I'm looking forward to rereading it.
Standalone or Part of Series: It's part of the Anita Blake, Vampire Hunter series, and I would recommend reading in order.
Steaminess: Hot! Laurell K. Hamilton writes some very steamy scenes.
Would I recommend this book? Yes. If you are a fan of PNR/UF that has vampires, shifters, necromancy, steamy scenes, and suspense, then you'll enjoy this book/series.

This post contains affiliate links you can use to purchase the book. If you buy the book using that link, I will receive a small commission from the sale. It will help sponsor future giveaways but costs you nothing extra. You can read the full disclosure underneath the Privacy Policy.
---
---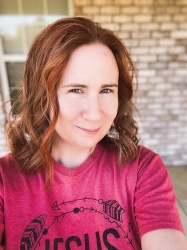 Latest posts by FranJessca
(see all)