Review: 'Changes & Chocolates' by Heather Long
April 5, 2022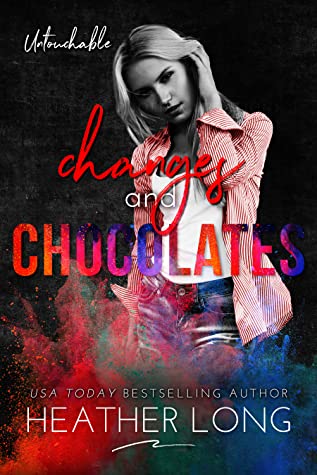 Changes and Chocolates
by
Heather Long
Series:
Untouchable #2
Published by
Self-Published
on January 22, 2020
Genres:
Mature High School/Young Adult Romance
,
Reverse Harem
Format:
eBook
Source:
Kindle Unlimited
Goodreads
Purchase at
Amazon
|
Barnes & Noble

170 some odd days left in my senior year and everything has changed. I went from untouchable to dating my best friends to making out to being betrayed. Why can't they understand humiliating and controlling me doesn't say I care?
Could this get any worse?
We've all crossed lines. Broken the rules.
Ian had asked me to Homecoming.
Jake spent the night in my bed.
Coop and I had made out on the sofa.
But Archie? Archie and I had blown past all of them.
Now?
I had to get out of here more than ever. Change was inevitable. College was coming. That was where my focus needed to be. Not on the four guys I adored. Our friendship was everything and there wasn't enough chocolate in the world to salvage this situation.
Losing them for a few months hurt.
Losing them forever might be inevitable, but it would be unbearable.
---
Changes & Chocolates is the second book in Heather Long's Untouchable series. This is a Mature Young Adult book where the female MC and male MCs' are in high school. If you do not like reading books that have intimacy, underage drinking, cyberbullying/bullying, and reverse harem, then this book/series may not be for you. Thanks to me coming across it on BookTok, which I don't usually get recommendations from, but I needed something different since I've been reading some tearjerkers lately. I took a chance on this series, so far, I'm enjoying it. 
Storyline/My Thoughts: If you haven't read Rules & Roses, I recommend you do this first before reading my review of Changes & Chocolate. I'm going to try not to spoil anything in my review, but fair warning, it's not going to be easy.
Changes & Chocolates picks up where Rules & Roses left off, and that is with Frankie finding out what her mother has been up to, and I'm going to be completely honest, I'm not too fond of Frankie's mother. She is selfish and doesn't have any caring bone in her body for Frankie. This woman has been going off for days, leaving her teenage daughter to fend for herself. As a mother to a teenager and a preteen, both of my children are my life. I would do anything for them. Frankie's mother, nope. She instead goes off and is with a married man. 
I'm so glad Frankie has her best friends, Archie, Coop, Jake, and Ian. They are there to help her, even if some are possessive, jealous, and stubborn at times, not considering that Frankie can make her own decisions. Frankie is learning to juggle school and work and dating all four of her best friends. Her friends each have different personalities, which makes reading this series interesting.
Jake is very protective of Frankie.
Ian is the caring one who wants to take things slowly.
Coop has been her best friend since kindergarten, and he is the calmest of them all.
Archie is the rich one who wants to take care of Frankie emotionally and physically.
Since Frankie is now dating all her friends, the boys' ex-girlfriends don't like it and decide to cyberbully/bully Frankie. Frankie understands why the ex-girlfriends are acting out because the boys hurt them. Frankie also learns something in this book about what truly happened during the summer when she decided not to hang out with her guy best friends. It may even change her mind about if she truly knows her friends.
Fair warning again that this book contains sex scenes, and the characters are in high school. This is a reverse harem, too, which means Frankie is dating four guys and isn't choosing any of them (yet). There's bound to be drama in this book with the ex-girlfriends and some of the guys getting jealous or concerned with how fast they are moving with Frankie.
Frankie's secret admirer in this book is revealed, and I was surprised by who it was but also glad. Frankie needed this person in her life, especially with everything she's going through in this book. Poor girl can't catch a break.
Now, here's the issue I still had with this book. Too much information about school work and going out to eat, with too many details. I also was getting annoyed by Frankie at times, especially when it came to what she decided with one of her guy friends. She had to understand his concern for her, and I agreed with him.
Overall, this book receives 3.5-stars from me. I've already read the third book in the series (review to come soon) and will be moving on to the next book. I hope Frankie doesn't get hurt, and I hope she doesn't lose any of her guy friends. Although, this book tested her a lot with dating all four of her friends.
Standalone or Part of Series: It's part of the Untouchable series, and I would recommend reading in order.
Steaminess: ⭐️ ⭐️ ⭐️
Trope(s)/Element(s): Reverse Harem, Friends to Lovers
Cliffhanger: Yes.
Would I recommend this book? Yes. If you enjoy Mature High School/Young Adult Romance with Reverse Harem, this book may be for you.
Trigger(s)/Content Warning(s): Underage drinking, cyberbullying/bullying, harassment, vandalism

This post contains affiliate links you can use to purchase the book. If you buy the book using that link, I will receive a small commission from the sale. It will help sponsor future giveaways but costs you nothing extra. You can read the full disclosure underneath the Privacy Policy.
---
---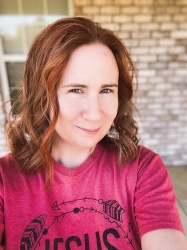 Latest posts by FranJessca
(see all)