Review: 'Claimed by her Cougar' by Felicity Heaton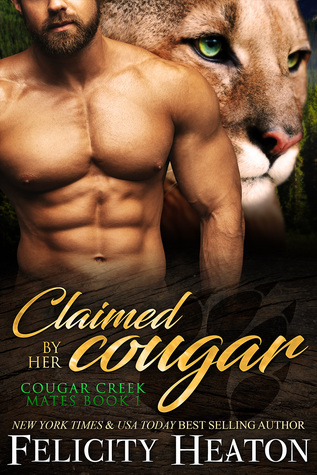 Claimed by her Cougar
by Felicity Heaton
Series: Cougar Creek Mates #1
Published by Self-Published on July 28, 2018
Genres: Paranormal Romance
Pages: 150
Format: eBook
Source: Purchased
Amazon Kindle | Amazon Paperback
Goodreads


Having lost his parents and mate in a brutal attack on his cougar shifter pride by a hunter organisation, Rath burns with a need to keep humans off his land and out of his life. He'll do whatever it takes to protect his pride from them, but when a lone female wanders into his territory, it isn't a burning need to drive her away he's feeling and it isn't his pride that needs protecting—it's his heart.
Down on her luck, Ivy follows a lead to a spot where she hopes to photograph black bears, but what she discovers there is a mountain of a man who lacks manners and seems determined to drive her off his property—a man who stirs unbidden fire in her veins and a strange sense of home.
With a pride gathering on the verge of happening at Cougar Creek and the air charged with a mating heat, the last thing Rath needs is a human on his land, especially one as beautiful and alluring as Ivy, one who rouses a fierce need to fight for her, but he can't convince himself to let her go… and that proves dangerous for them both.
Discover four sexy cougar shifter brothers guaranteed to become your next book boyfriends in this hot new shapeshifter romance series from New York Times and USA Today international best-selling author Felicity Heaton, set in the same rich and addictive world as her Eternal Mates paranormal romance series. Book 1: Claimed by her Cougar Book 2: Captured by her Cougar Book 3: Courted by her Cougar Book 4: Craved by her Cougar
My Review

I started reading Claimed by her Cougar in the late afternoon on 11/3 and ended up finishing it at midnight 11/4. I would've finished it sooner, but the life of a mom/wife on a Saturday never ends. 🙂 I have to take breaks from reading to take of responsibilities around the house.
Claimed by her Cougar is the first book in Felicity Heaton's Cougar Creek Mates series. Now that she has 4 books in the series out, I'm going to read them back to back.
The first book in the series introduces Rath one of the cougar shifters who is responsible for the cabins at Cougar Creek and protecting the pride from being discovered by humans. The last time humans knew where the cougar pride was when his parents were killed by hunters. He ends up finding a human female on his property near the river and he's determined to drive her away, but for some reason, she intrigues him. Ivy is a photographer who was told that black bears would be around the creek that she currently is at. She is determined to take photos to redeem her love for photography again and get some amazing photos to her sponsors.  She never thought she would come across an ill-mannered man who is determined to drive her off the property. He's a sexy ill-mannered man though that is hard to resist though.
This is when you either have a love or hate relationship with Rath in the story because Ivy is such a sweet girl. He has every reason to drive her away though because humans tend to be hunters and he's afraid Ivy is a hunter. He also doesn't want her around, when the full pride gets together for the mating season. He doesn't want a bunch of cougar shifter males being around Ivy because it makes them go crazy and start fighting each other.
Rath though does start to show another side of himself with Ivy, especially when he realizes why she is there and how well she fits in at Cougar Creek. Although, Rath is stubborn several times in the story and Ivy tries to reassure him why she's there.
This is an instant-love story, so readers that enjoy instant-love stories will definitely enjoy this book. Other readers may think it's too soon, but Rafe and Ivy definitely fit well with each other. I adored them in the story and wish I could have had more of them. The drama in the story went by quickly though and I kind of had an idea on who the bad guy(s) were in the story after Ivy started explaining about her down of the luck trouble she's been having and why she ended up at Cougar Creek.
I give this book 4.5 stars and have actually already started reading the next book in the series. I'm always excited to read Felicity's books because, when I'm in a reading funk I know her books can get me out of the funk. Thank goodness for Felicity's addicting paranormal stories because I definitely have gotten out one of the longest reading funks this year thanks to her.


I guess I should type a bio here. I'm FranJessca or Fran for short. I'm the owner of Book Lovin' Mamas and main Reviewer. I've been reviewing books since I got out of the Navy in 2011. Now 8 years later, I'm still reviewing, but this time with my youngest sidekick.
When I'm not reading and reviewing, you can find me at my day job during the week and on the weekend taking care of our little farm.

Latest posts by FranJessca (see all)