Review: 'Conspiracy in Death' by J.D. Robb #InDeathReadALong
September 8, 2020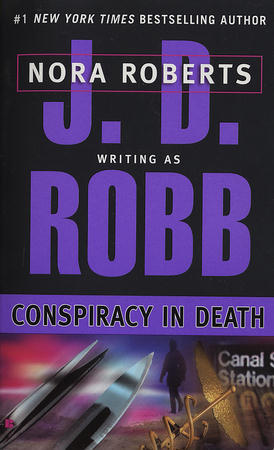 Conspiracy in Death
by
J.D. Robb
Series:
In Death #8
Published by
Berkley Books
on April 1, 1999
Genres:
Romantic Suspense
Format:
Paperback
,
AudioBook
Source:
Purchased
,
Scribd
Goodreads
Purchase at
Amazon
|
Apple
|
Google Play
|
Kobo

At a time when human nature remains as predictable as death, a killer plays God--and puts innocent lives in the palm of his hand...
With the precision of a surgeon, a serial killer preys on the most vulnerable souls of the world's city streets. The first victim: a sidewalk sleeper, found dead in New York City. No bruises, no signs of struggle. Just a laser-perfect, fist-sized hole where his heart had once been. Lieutenant Eve Dallas is assigned to investigate. But in the heat of a cat-and-mouse game with the killer, Dallas's job is suddenly on the line. Now her hands are tied ... between a struggle for justice--and a fight for her career...
---
I finally read Conspiracy in Death by J.D. Robb, which would've been the August #InDeathReadAlong book. I would've read and finished it last month, but life got busy. Now, I think I can read September's book without any issues. (Hopefully, I won't be in another reading slump.) I've been listening to the In Death books, thanks to Scribd, while deep cleaning around my house. Audiobooks have been my life savior since I have my eight-year-old home with me homeschooling her.
My thoughts on the eighth book in the series:
1. J.D. Robb is a fantastic storyteller. I can't say it enough how much I adore her stories in each of the In Death books. I love how she has the series set in the future, but I've repeated that before in my reviews.
2. Each book has Eve dealing with a new case and a new villain that continually test her physically and mentally. This time though, she's dealing with someone that should be saving lives instead of taking lives.
3. Eve is determined to find out who is killing sleepers and thinks it's something to do with the black market. She's getting too close to finding out who is killing the sleepers and ends up finding out who can trust and not trust in this book.
4. Eve is a strong heroine, but we find out she is vulnerable, like the rest of us in this book. She's stripped of her most outstanding achievement in life due to another cop that is jealous of her. I was not too fond of this other cop. Eve does have the support team that helps her, and of course, her husband Roarke is there for her the whole time. I love him so much!
5. I love how everyone comes together in support of Eve in this book. They will do anything to help her. Dr. Mira, Peabody, Feeney, McNabb, and several other characters step up to help her. Her most immense support is Roarke. Gosh darn it, I love his character!
Overall, this book receives five stars from me. I loved everything about this story and the case that Eve Dallas and her team dealt with within this book. J.D. Robb made it hard to figure out who was the actual villain in this story. She made me cry a couple of times in this book because of what Eve was going through. This was a tough one for Eve, and I felt everything she felt when reading it. I love books that make me think, and J.D. Robb did a fantastic job with this one. I can't wait to dive into the next book in the series.
If you haven't read these books yet, then you need to do so now.

This post contains affiliate links you can use to purchase the book. If you buy the book using that link, I will receive a small commission from the sale. It will help sponsor future giveaways but costs you nothing extra. You can read the full disclosure underneath the Privacy Policy.
---
---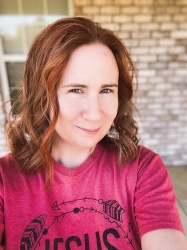 Latest posts by FranJessca
(see all)