Review: 'Dark Longing' by Aja James
May 19, 2019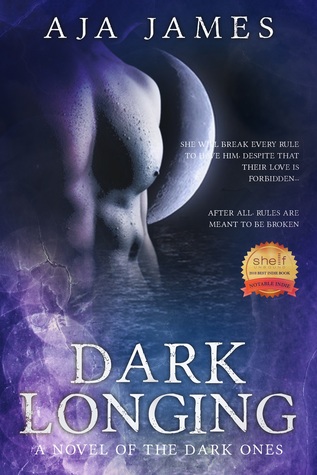 Dark Longing
by
Aja James
Series:
Pure/Dark Ones #2
Published by
Self-Published
on January 18, 2018
Genres:
Paranormal Romance
Format:
eBook
Source:
Kindle Unlimited
Goodreads
Purchase at
Amazon

"Every story has more than one side, like a crystal that captures and reflects different colors of light. Do not take for granted what you think you know, for until you hold the entire jewel in your palm, the temptation is to fall prey to illusion and deception."
This is a story of the Dark Ones…
Inanna: the vampire warrior
Known as the Angel of Death among her kind, she has lived millennia alone, one of the remaining True Bloods in existence, unconsciously longing for the one male she could never have.
Gabriel: the forbidden human
His soul recognizes hers from the first encounter. With the first touch, he is awakened. Though he does not know it, he has been searching for her across the ages.
But even as they are finally reunited, their love faces seemingly impossible odds. Will history repeat itself or will they break all the rules and chart a new course together?
---
Dark Longing is the second book in the Pure/Dark Ones series, and this book focuses on the Dark Ones. If you haven't read the first book before reading this one I highly recommend reading in order because you'll get introduced to the Pure Ones (which are different from the Dark Ones and are described as Elves in this book).
I loved this book from the beginning to end, especially with the world-building of the Dark Ones. I don't know how Aja James does it, but her writing style is addicting, and this is only the second book in the series. Once I have some much-needed downtime, I'm going to dive into the third, fourth, and so on in the series, so I can catch up right now though I have some other books that take precedence since they have a deadline to review them.
I loved Inanna and Gabriel in this book because Aja has their past moments together that leads up to their present lives together. There is a lot of story between these two, and I loved the back and forth to the past to present to find out more about these characters and how they were meant to be with each other. It's not easy for them to be together, though. Some elements and characters are going to try to rip them apart. Gabriel also didn't know about Inanna until his wife passes away, which was a shocker for him. He had no idea about Inanna. Inanna has always been there since she was close to his wife. Now they are to raise a child together, and Gabriel is going to be thrown into the Dark/Pure Ones world. Gabriel is a fighter though in this story, and I loved how his present-day excursions showed what he did in the past.
There's a villain or villains in this book and what I love that Aja does is you get a POV of the villain(s). There's also some unexpected twists and turns in the story, and I was surprised with what happened to the characters. It was one of those moments where I was so shocked that I had a hard time putting down the book because I NEEDED to know what happened next in the story.
The Pure Ones are in this story too, so they don't get left out, and they play a role in the book. I loved how Aja introduced the Dark Ones world in this book. Okay, I'm going to keep gushing already. If you haven't read these books yet, then I highly recommend you do, especially if you are PNR and/or Fantasy reader.
If you are a fan of the Black Dagger Brotherhood series, then I would recommend checking out this series by Aja James. I can't wait to dive into the third book in the series. (Now, if only I had more hours in the day and summertime was not fast approaching since my kids will be home and they don't let me read as much.)
---
Story Rating: 5 stars
Steaminess Rating: 4 stars
Standalone or part of series: Part of the Pure/Dark Ones series. I recommend reading in order.
Do I recommend this book? Yes, definitely.
Will I read other books from the author? Yes, she's become an auto-buy author.
Tropes/Elements: Fated Mates; Slow Burn Romance; Paranormal Fantasy
Hero: Human; Fighter; Father
Heroine: One of the chosen for the Dark Ones (Vampire); Angel of Death

This post contains affiliate links you can use to purchase the book. If you buy the book using that link, I will receive a small commission from the sale. It will help sponsor future giveaways but costs you nothing extra. You can read the full disclosure underneath the Privacy Policy.
---
---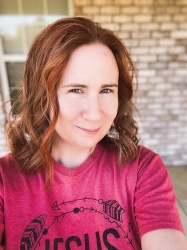 Latest posts by FranJessca
(see all)