Review: 'Den of Vipers' by K.A. Knight
August 26, 2022
This book may be unsuitable for people under 18 years of age due to its use of sexual content, drug and alcohol use, and/or violence.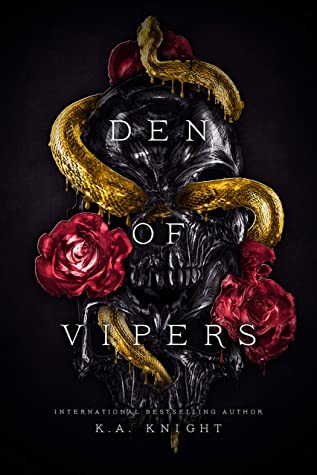 Den of Vipers
by
K.A. Knight
Published by
Self-Published
on July 10, 2020
Genres:
Dark Romance
,
Reverse Harem
Format:
eBook
Source:
Kindle Unlimited
Goodreads
Purchase at
Amazon

Ryder, Garrett, Kenzo, and Diesel—The Vipers.
They run this town and everyone in it. Their deals are as sordid as their business, and their reputation is enough to bring a grown man to his knees, forcing him to beg for mercy. They are not people you mess with, yet my dad did. The old man ran up a debt with them and then sold me to cover his losses.
Yes, sold me.
They own me now.
I'm theirs in every sense of the word. But I've never been meek and compliant. These men, they look at me with longing. Their scarred, blood-stained hands holding me tight. They want everything I am, everything I have to give, and won't stop until they get just that. They can own my body, but they will never have my heart.
The Vipers? I'm going to make them regret the day they took me.
This girl? She bites too.
18+ Reverse Harem Romance. Warning this book contains scenes and references of abuse/assault that some readers may find triggering. Along with graphic sex scenes and violence. This is a dark book.
---
To be honest, I read Den of Vipers because of BookTok. I know some readers are hesitant to take recommendations from BookTok. I was one of them. I decided I was going to give K.A. Knight's Den of Vipers a try. I'm glad I did. I found a new author to add to my long list of authors I have to check for backlist/new releases. 
Storyline/My Thoughts: I'm going to admit, too, that this book was not a favorite, but I did like some aspects of it. First, it's a Reverse Harem where the FMC doesn't have to choose from the male characters. She can have them all as love interests. Although, in the case of Den of Vipers, Roxy is forced to be with the male characters. Her father owed a lot of money to the Vipers, four men everyone knows are trouble, and they own the town. Roxy's father can't pay the debt, so he sells her to settle his debt with the Vipers. The Vipers, Ryder, Kenzo, Diesel, and Garrett, never expect that fierce kick-butt Roxy will fight back at them at every turn. She does deal with unruly people at the bar she owns, so she should be able to handle the Vipers when they come to collect her. Unfortunately, taking on four a-holes can be challenging. The Vipers have no idea what they want to do with Roxy at first, but one of them, Diesel, the unhinged one who carries a fanny pack with explosives and other things, finds her fascinating. Ryder, the sexy suit businessman of them all, finds her annoying. Kenzo is charming, but he will steal your money from you by gambling, and he's taken a liking to her. Garrett is the scarred, damaged one that doesn't like to be touched. He doesn't like women and has every right not to like them. His one-true love tortured him, or he thought she was until she marked him up and left him for dead.
If Roxy wants to stay alive in the clutches of the Vipers, she has to find a way to escape, and if the Vipers think she's going to be compliant, she's not. She bites back like they do and does it even better sometimes. The Vipers will meet their match with Roxy, and they will realize how much she is like them.
Now, here are the things I liked about this book:
Reverse Harem. I love this trope in books right now and love when the FMC has several MMCs as her love interests. I did like certain Vipers over others in the book, but I'm going to admit I liked them all. Ryder and Garrett were my favorites, but I liked Diesel and Kenzo, too.

Ryder for his alpha-like qualities. I love a man in a suit who takes control, and he puts Roxy in her place.
Garett because I always go for the ones who have been damaged/tortured. Roxy helped him overcome his hatred of women, showing how she cared for him. I felt for his character the most on what happened to him. The woman who scarred him deserved what came to her.
Diesel tended to be unhinged/psycho so much that he was scary, but he was the one who proved that Roxy was like the Vipers.
Kenzo is the one I considered the pretty boy. I have no idea why, so don't ask.

Roxy's character. I love an FMC who fights back, and Roxy sometimes did, especially in the beginning. Now, fighting off four males that want you is a different story. Each one with intense personality, but Roxy has a fierce personality, too. She did destroy one of their cars and destroyed Ryder's suits. Yup…she's unhinged and the perfect female Viper.
The spicy scenes. There's quite a bit in this book, so if you are looking for mild spice, this book is not for you. This one goes off the charts with the spice in the book.
Now, here are the things I didn't like:
The storyline. The Vipers are villains in town, but they do good things, too, but the bad is seen more. The ones after the Vipers in the book felt rushed for the storyline. There are more moments of Roxy trying to escape the Vipers than what other drama was happening in the book.
The book is over 600+ pages long. Some things could have been cut, and the book would have been more satisfying without some dialogue and certain scenes. I would have loved more of how Roxy's father is handled. That man sold his daughter. He deserved more than he got.
Other than that, I did like this book but didn't love it. It gets 3.5-stars from me. Now, will I try K.A. Knight's other books? Yes, definitely. Other readers have loved this book so I will be recommending it. It is part of KU right now (as of 8/2022).
Standalone or Part of Series: Standalone
Steam/Spice: ⭐️ ⭐️ ⭐️ ⭐️
Trope(s)/Element(s): Reverse Harem; Enemies to Lovers; knife/gun play; Touch Her and I will Unalive you; Unhinged/Psycho MC; Tortured/Damaged/Scarred MC; Badass/Kickass FMC
Would I recommend this book? Yes. Just because I didn't love the book doesn't mean I won't recommend it to other readers. Everyone has different tastes in books. I recommend it to readers that enjoy Dark Reverse Harem (Organized Crime) Romance.

This post contains affiliate links you can use to purchase the book. If you buy the book using that link, I will receive a small commission from the sale. It will help sponsor future giveaways but costs you nothing extra. You can read the full disclosure underneath the Privacy Policy.
---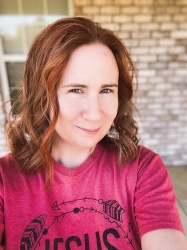 Latest posts by FranJessca
(see all)