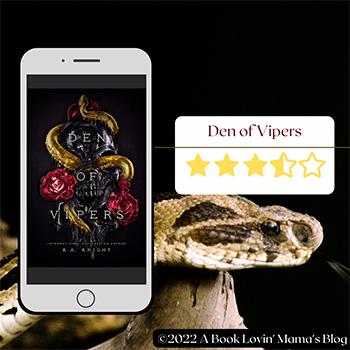 This book may be unsuitable for people under 18 years of age due to its use of sexual content, drug and alcohol use, and/or violence.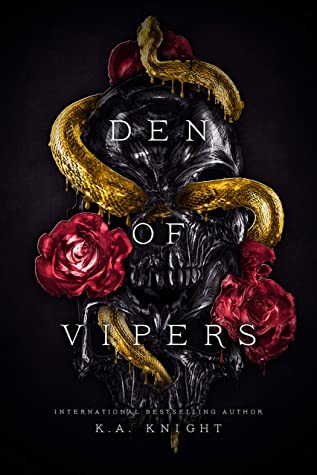 Den of Vipers
by
K.A. Knight
Published by
Self-Published
on July 10, 2020
Genres:
Dark Romance
,
Reverse Harem
Format:
eBook
Source:
Kindle Unlimited
Goodreads
Purchase at
Amazon

Ryder, Garrett, Kenzo, and Diesel—The Vipers.
They run this town and everyone in it. Their deals are as sordid as their business, and their reputation is enough to bring a grown man to his knees, forcing him to beg for mercy. They are not people you mess with, yet my dad did. The old man ran up a debt with them and then sold me to cover his losses.
Yes, sold me.
They own me now.
I'm theirs in every sense of the word. But I've never been meek and compliant. These men, they look at me with longing. Their scarred, blood-stained hands holding me tight. They want everything I am, everything I have to give, and won't stop until they get just that. They can own my body, but they will never have my heart.
The Vipers? I'm going to make them regret the day they took me.
This girl? She bites too.
18+ Reverse Harem Romance. Warning this book contains scenes and references of abuse/assault that some readers may find triggering. Along with graphic sex scenes and violence. This is a dark book.