Review: 'Desires Unleashed' by D.N. Simmons
July 25, 2013
I received a complimentary copy of the book from the blog tour host in exchange for an honest review. This does not affect my opinion of the book or the content of my review.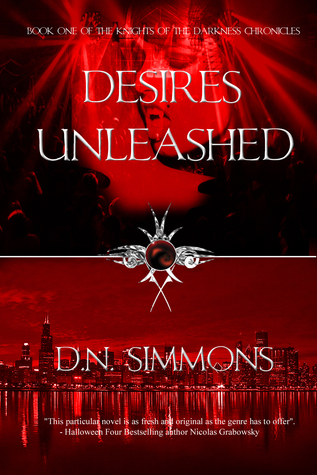 Desires Unleashed
by
D.N. Simmons
Series:
Knights of the Darkness Chronicles #1
Published by
Rushmore Publishing
on September 17, 2014
Genres:
Paranormal Romance
Format:
eBook
Goodreads
Purchase at
Amazon

Desires Unleashed is the first novel in the riveting, highly-addictive and sexually-charged Knights of the Darkness Chronicles. Experience the heart-pounding thrill of the chase in this electrifying page-turner as you uncover the mystery behind the series of gruesome killings that have been terrorizing the citizens of Chicago.
When a grisly decapitated corpse pops up on a Chicago Street, drained of blood, the highly-trained, government-funded special police force assigned two of their best detectives to the case. S.U.I.T. Detectives Warren Davis and Matthew Eric delve deep into their investigation to discover just who or what is leaving mutilated bodies in public places. They soon realize that the killer or killers is one step ahead of them and if they are going to stop the menace before another innocent human is viciously attack, they are going to need help.
Natasha Hemingway liked her life just the way it was... normal and supernatural-free. The vampires and shape-shifters were just where she wanted them to be--far away from her. All was going well until an unfortunate accident landed her in the hospital. It was then that she discovered she had an ability that could help her save countless lives. All of a sudden, she finds herself thrust into the dangerous and alluring world of the supernatural and into the arms of two very sexy and deadly vampires.
Original, gritty and sprinkled with just the right amount of humor and wit, the Knights of the Darkness Chronicles will suck you in and take you for a ride you won't forget. You don't want to miss out on this amazing series!
My Review
I have a feeling I will be putting off other books to read this series because after reading the first book, I am intrigued by the characters from Desires Unleashed. I need more of Darien and Xavier. I also need more of Matthew and Warren. I love the idea of this series and how D.N. Simmons introduced the characters in the first book.
D.N. Simmons did a superb job opening up the series with Desires Unleashed and how she captured my attention from the beginning of the book and kept that attention towards the very end. The only reason why I am leaving off half of the star is that I did get a little confused on certain areas of the book because it would continuously switch from different characters getting their limelight in the story.
I would go from being in Darien's head…from going to Natasha, to Xavier, and then to one of the Detectives. It took me a while to get used to, but once I got the hang of it…the book went quickly for me.
I loved some characters over others the minute they were first introduced. Darien, I was a little skeptical at first until Natasha stood up to him. (He has a dark side, but he also has a good side) Darien is one character that grew on me.
Xander because he is just described as someone, who I typically would fall for in a male character. He got entranced by Natasha first, and he mesmerized me first as a reader.
Warren intrigued me because he works for S.U.I.T and he can hide his secret. He also has past problems that are coming back to haunt him.
Natasha is a character I want to know more about after learning about her abilities. She went up against a vampire and even got into several other sticky situations, but she was able to get out of them.
I believe I will have to put off other books to read more about these paranormal creatures in the Knights of Darkness Chronicles. D.N. Simmons gave me a taste of what S.U.I.T does in this book (Matthew & Warren). She also touches based on the shifters and vampires. I want more. I need more.
I give this book 4.5 moons and highly recommend it to paranormal romance and urban fantasy readers out there.
I look forward to reading the next installment real soon and so glad I do not have to wait for the next installment or the following ones after that. I would go crazy.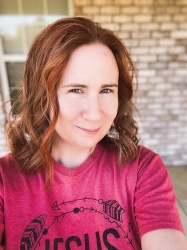 Latest posts by FranJessca
(see all)