I received a complimentary copy of the book from the blog tour host in exchange for an honest review. This does not affect my opinion of the book or the content of my review.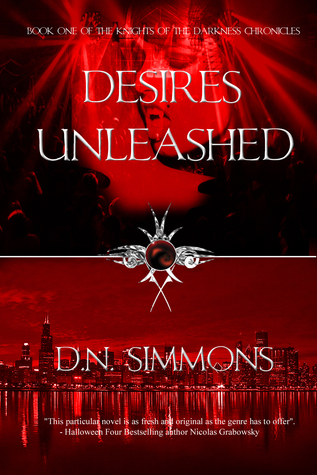 Desires Unleashed
by
D.N. Simmons
Series:
Knights of the Darkness Chronicles #1
Published by
Rushmore Publishing
on September 17, 2014
Genres:
Paranormal Romance
Format:
eBook
Goodreads
Purchase at
Amazon

Desires Unleashed is the first novel in the riveting, highly-addictive and sexually-charged Knights of the Darkness Chronicles. Experience the heart-pounding thrill of the chase in this electrifying page-turner as you uncover the mystery behind the series of gruesome killings that have been terrorizing the citizens of Chicago.
When a grisly decapitated corpse pops up on a Chicago Street, drained of blood, the highly-trained, government-funded special police force assigned two of their best detectives to the case. S.U.I.T. Detectives Warren Davis and Matthew Eric delve deep into their investigation to discover just who or what is leaving mutilated bodies in public places. They soon realize that the killer or killers is one step ahead of them and if they are going to stop the menace before another innocent human is viciously attack, they are going to need help.
Natasha Hemingway liked her life just the way it was... normal and supernatural-free. The vampires and shape-shifters were just where she wanted them to be--far away from her. All was going well until an unfortunate accident landed her in the hospital. It was then that she discovered she had an ability that could help her save countless lives. All of a sudden, she finds herself thrust into the dangerous and alluring world of the supernatural and into the arms of two very sexy and deadly vampires.
Original, gritty and sprinkled with just the right amount of humor and wit, the Knights of the Darkness Chronicles will suck you in and take you for a ride you won't forget. You don't want to miss out on this amazing series!
My Review