Review: 'Double Dare' by Karin Tabke
September 18, 2013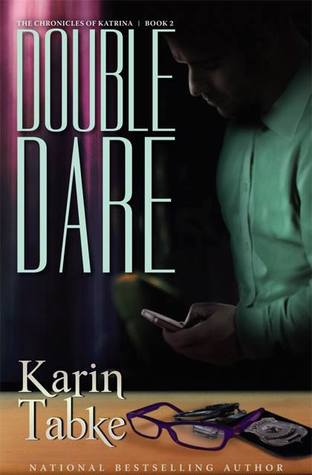 Double Dare
by
Karin Tabke
Series:
The Chronicles of Katrina #2
Published by
Karin Tabke LLC
on September 17, 2013
Genres:
Contemporary Romance
,
Erotic Romance
Format:
eBook
Source:
Purchased
Goodreads

She found passion on a dare but is she willing to risk her heart?
Since The Dare that changed her life, Dr. Katrina Winslow has hooked up, broken up, hooked up again, and run like hell, but her drama's just getting started. Not only does she lose her job, but unpredictable and sexy-as-hell cop Simon insists they have fantasies left to explore.
Simon's a man who gets what he wants and he's got Katy in his green-eyed crosshairs. Though Katy runs from him, she's never further away than his fingertips, something he proves when he sexts her a provocative double dare.
Will the prim and proper scientist resist the sexy cop's thrilling texts? Or will she allow Simon to strip her bare and guide her closer and closer to what she truly desires?
Simon Double Dares you to find out…
My Review
Karin Tabke has Double Dare pick up where The Dare left off at, and this book makes me want even more of the sexy, green-eyed Captain named Simon. I cannot even get him out of my head right now while typing up this review. He won me over even more after reading the Double Dare even with that shocking cliff-hanger. I should be confused and angry, just like Katrina is…but I just cannot.
In Double Dare, we have Katrina going through hell due to what happened in The Dare, and it is about to get worst for her. Her douche of a co-worker, Evan is about to make her life hell at her job since their falling out ( when he finally told her the truth what a jerk ), and Simon is determined to win Katrina over ( he is not going to give up her ). Katrina wants to live her life and to cut off ties with any man out there. She has no one to turn to when the crap hits the fan until she realizes the one man she has been trying to avoid, may be the only person, who can help her.
So many questions were answered in Double Dare, but so many questions were opened up and not answered. Ugh! This is a short book, but it makes you go through so many emotions.
Katrina has issues, and Double Dare opens up those issues, but I think with Simon, she will slowly get over them. Simon has a way with the ladies because even though he is fictional, he has won me over. (*fanning myself*) He is so friggin' mysterious and I want to know the truth about him.
This short book contains sexting between Katrina and Simon, Ben Wa balls as a gift from Simon to Katrina, and Katrina's fantasy of doing something in a public place. Oh boy, that was the HOTTEST scene in the book because someone was watching the whole scene happen.
I highly recommend this short novella and give it 5 full moons. I need the next book already…because I need me some more of Simon. I miss him already. I need to find out the truth about him because darn it, Karin, you left us hanging.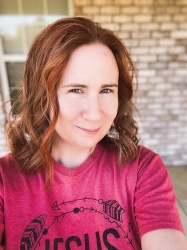 Latest posts by FranJessca
(see all)