Review: 'Fated Throne' by Caroline Peckham & Susanne Valenti
April 20, 2022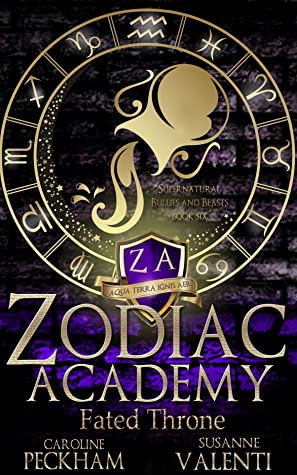 Fated Throne
by
Caroline Peckham
,
Susanne Valenti
Series:
Zodiac Academy #6
Published by
Self-Published
on December 25, 2020
Genres:
Dark Paranormal Bully Romance
Format:
eBook
Source:
Kindle Unlimited
Goodreads
Purchase at
Amazon
|
Barnes & Noble

Fate has torn us apart and sometimes I believe the stars have given up on us altogether.
Without my sister, the world seems darker than ever before and the shadows loom thicker, rising up to answer the call of the Shadow Princess and changing the face of Solaria for good.
Now Lionel Acrux has the strength to make a move for the throne, I'm not sure how much time we have left to stop him.
Our only hope is to find the Imperial Star before he does. We made the sacrifice the stars called for and we're paying the price for that decision so it can't be for nothing. But with the stars turning against us at every move, and the last light in the world seeming to fade, I'm afraid we're almost out of time. Hope is a dangerous thing. It's the key to us fighting on. But it could be what destroys us in the end.
One thing is for certain, I won't stop until I have been reunited with my other half and together we will fight to take our crowns.
A war is coming.
The throne is calling for a new monarch. And someone must answer its call.
---
I'm going to need a therapist after I finish this series. I swear that Caroline Peckham and Susanne Valenti love to torture us. I finished reading the sixth book in the Zodiac Academy series, and here it is. I think the last book couldn't put me through the wringer; they up their game. I've even been warned that the next book will shatter me even further. What else can these authors do to these characters in this book? I can't take it anymore. There better be some kind of HEA for ALL of these characters once the last book comes in the series at the end of this year (2022). (You'll hear me complain a lot in this review about wanting the characters to have HEA, so bear with me. I'm so mad with what happened in this book to certain characters.)
Storyline/My Thoughts: I will type up my review differently from other reviews I've done. I find it easier to go over specifics with certain characters. If I don't, the review will be longer than it is currently.
Tory & Darcy – What happened to Tory in the last book broke my heart for Darcy. Darcy is determined to get her sister back from Lionel and has the Heirs help her on retrieving her back from Lionel and Clara. It's not going to be easy. She has to find a way to get Tory away from Lionel. The minute she does, though, Tory is not the same. Lionel has broken her and made her not the same Tory. There was a lot of crying from me when Darcy did get her sister back. 
Tory & Darius – What Darius had to go through in this book with what happened to Tory in the last one was hard to read. He had to watch his star-crossed lover protect his evil father, and he also was tortured by her due to his father. Darius wasn't giving up on Tory. He was there for her every step of the way. He was even willing to do something he was against to protect her at all costs. Tory feared Darius in this book, thanks to Lionel and his goons. It broke my heart each time Tory backed away from Darius or had to hurt him. Things will change, though, but of course, Caroline and Susanne will rip our hearts with these two characters again and again.
Tory & Orion – I love these two. Orion still wears Tory's bracelet after being released from the prison to be placed in another one (due to Lionel and Clara.) I love when Tory reminds Orion about what he did by kicking him where it counts. He wants him to hurt for hurting his sister.
Orion & Darcy – I understood why Darcy was hesitant to forgive Orion for what he did, but I wanted her to forgive him. He did it for her. I was glad she didn't make it easy for him. Orion tried everything to keep his feelings to himself since he is now Power Shamed, and he doesn't want to affect her status. He does it to make it known often; he will protect her no matter what, especially when Seth eggs Orion on with messages and pictures of Seth hanging out with Darcy. Orion doesn't like Darcy hanging out with Seth. It was funny. I hope and pray that Orion and Darcy get back together. Darcy deserves a HEA, and so does Orion.
Max & Tory – This was a pair I wasn't prepared for at first, but Max needed to help Tory with what happened to her, and he was there for her. His Siren abilities are used constantly in this book. I can't wait to see their friendship grow later in the series.
Darius & Orion – The bond between these two is inseparable. I loved it when Darius and Orion were reunited, even due to Orion being imprisoned by Darius's father.
Darcy & Seth – Seth has finally redeemed himself after everything he put Darcy and Tory through, especially Darcy. I love how Seth confides in Darcy when sharing his feelings about Caleb. Seth also tries to get Darcy and Orion back together by doing things that make Orion crazy. I loved it! Yes, I can now say that Seth won me over, and I forgive him after everything he did to Darcy.
Seth & Caleb – I love that Seth is trying everything to tell Caleb how he feels, and Caleb is entirely clueless. Seth is Caleb's source, so there's an interaction between the two in this book, and things get heated. I need these two together. Seth confessed to Caleb soon, your feelings, darn it!
Gabriel & the Twins – I love that Darcy and Tory have Gabriel in their lives. He's there for them every step of the way. He'll even protect them from the men in their lives. I did get upset with Gabriel for what he had Darius do at the end of the book.
Max & Geraldine – I loved getting more of these two together. Geraldine is a riot with how she handles Max. Max is smitten with Geraldine and is still mad about what she plans to do after they finish ZA.
Lionel & Clara – I hate these two characters with every breath I take. They are evil, especially with what dwells inside of Clara. What Lionel did to Tory makes me what to go through the book and do the same things to him.
The ending – I think I've cried enough in this series, but Caroline and Susanne are undoubtedly not done with making me cry, so I'll suck it up. I'll buy tissues for the next book and then the last book. I know they will devastate me, especially after what Darius had to sacrifice in this book. Seriously, my heart hurts for Darius. I can't take it anymore. I need some of the characters to have a HEA finally. I will say this; I'm glad what Tory did to Lionel at the end of this book. He deserved more, but I'll take it for now. I hope Darcy is okay too with what happened to her, but I won't spoil it for anyone who hasn't read the sixth book in the ZA series.
I could go on and on with this book, on what I loved in it. I don't want to spoil it for anyone who hasn't read the book. This book gets four stars from me, and I'm diving into the next book as I type this review. I will say, this book did take some time to get to some action in it. It dragged in parts, but I understood why after I finished it. I will never be over what happened at the end of this book. This series better end with a HEA. That's all I'm saying.
Standalone or Part of Series: It's part of the Zodiac Academy series, and I highly recommend reading in order.
Steam/Spice Rating: ⭐️ ⭐️ 💫
Trope(s)/Element(s): Bully Romance; Touch Her and I'll Unalive You; Fated to be Together but Cursed Instead; Starcrossed Lovers; Jealousy/Possessiveness, M/F/M (menage scene)
Cliffhanger: Yes.
Would I recommend this book? Yes. I recommend this book/series to fans of Dark Bully Paranormal Romance books. I will warn you ahead of time that this series is not for the faint of heart. These books will rip your heart out and be stomped on so many times that you've lost count. I know I've lost count.
Favorite Quote(s): "We won't die," he said with a shrug. "We're the Heirs and the Savage Princess. Darcy and the dudebros. Wolfman, Bitey C, Fish Fury, Dragzilla, and the Phoen Dream."
She was becoming the queen she was always meant to be. It was just hard to accept that I was never going to be her king.

This post contains affiliate links you can use to purchase the book. If you buy the book using that link, I will receive a small commission from the sale. It will help sponsor future giveaways but costs you nothing extra. You can read the full disclosure underneath the Privacy Policy.
---
---
---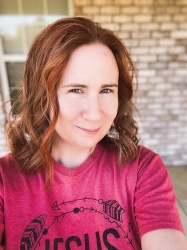 Latest posts by FranJessca
(see all)