Review: 'Hangovers & Holidays' by Heather Long
April 15, 2022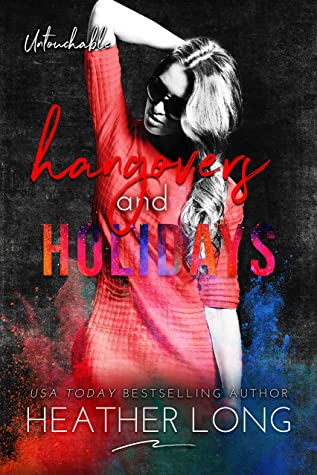 Hangovers and Holidays
by
Heather Long
Series:
Untouchable #5
Published by
Self-Published
on August 18, 2020
Genres:
Mature High School/Young Adult Romance
,
Reverse Harem
Format:
eBook
Source:
Kindle Unlimited
Goodreads
Purchase at
Amazon
|
Barnes & Noble

You know, I never imagined having one boyfriend much less four. Jake, Archie, Coop, and Ian are still my best friends. They're also even more entrenched in my life than I ever imagined. They've been my rocks, but I'm not the only one with issues.
We're fighting our way to a new normal. I'm in therapy. Ian and I are dating. Archie introduced me to his grandfather. Both Coop and Jake's moms refer to me as their son's girlfriend. I don't know how much our parents know about our relationship, but I also don't care.
Not anymore.
The holidays are here and we're halfway through the year. Everyone wants a piece of us. We've survived so much. We've been trying to figure out who we can be amidst all the drama and sabotage surrounding us. Now we have to figure out who we can be period.
That starts with us.
It starts now.
*Please note this is a reverse harem and the author suggests you always read the forward in her books. Contains some bullying elements, mature situations, and is recommended for 17+. This is the fifth in a series and the story will continue through future books.
---
Hangovers and Holidays is the fifth novel in Heather Long's Untouchable series. This book has Mature Young Adult with Reverse Harem. (Reverse Harem is when the female MC has multiple love interests). I've been anxiously waiting for a book where the female MC and her boyfriends have some time together, away from all the drama. This one so far is a favorite of the series, and you'll find out why below my thoughts of it. 
Storyline/My Thoughts: If you haven't read the fourth book in the series, you may want to skip out on reading my review. I will try not to spoil anything, but I always like to warn if I do end up having a spoiler. Each book in the series has a cliffhanger, and I needed to know what happened to Frankie and Ian after what happened in the fourth book. Well, it's going to be an intense beginning to this book. Frankie has already been through enough, and then the unthinkable happens, but her boyfriends are there for her. A couple of them get arrested, but don't worry; they get out of the situation.
I love Frankie's growth in each of these books. She's gone through a lot, but she's getting through it. She has her boyfriends and their families to assist her. She also is talking to a therapist about what happened to her at the homecoming dance. The therapist also wants to have her share about her mother. (I'm not too fond of Frankie's mother. Grrr!)
Now, it's hard having four boyfriends. Yes, I said four and not three because Ian has finally talked to Frankie about his feelings, and Frankie is giving him a second chance. Thank goodness. Frankie is only one person, but she manages to spend time with each of her boyfriends' families on Thanksgiving, and they feed her nonstop with Thanksgiving food. I loved how each of the boys' families adored her and wanted to be there for her. She gets more love from them than her mother (who I can't stand, but I've mentioned that already.)
One of her main squeezes, Archie, plans a getaway trip for them all to a ski lodge in Colorado with the help of her Grandfather. He wants Frankie to have a good time for two weeks with them all. There's bound to be drama, though, which does happen. Rules are established while they are away, and Frankie learns the rules the boys did in the beginning when they started dating her. Frankie adds her own rules too.
I love how Frankie spent time with each of her boyfriends alone and some together. Yes, there is another MFM scene in this book. She also enjoys their company, and she definitely needed this getaway.
There is quite a bit of steam and spice in this book, so be prepared. Frankie already had intimate moments with Archie, Jake, and Coop; now, she gets to have moments with Ian. Oh, Ian is someone that likes some kink in his relationship (light bondage and spanking, to be exact.)
This book is set during the holidays until Frankie and her boyfriends return to school, so it's fast-paced.
There is another cliffhanger at the end, which made me want to start the sixth book, but I'm taking a break from Contemporary YA Reverse Harem for now, but I will be back. I need to find out what happens next with Frankie and her boyfriends. I still don't want her to decide because I'm having difficulty deciding which I like the best.
Each has impressive qualities to them, and they love Frankie. It's definitely seen in this book. I give this book 4.5-stars; it has the highest rating in the series from me. It didn't take me long to read it, so that should tell you that I enjoyed it.
Standalone or Part of Series: It's part of the Untouchable series, and I recommend reading in order.
Steam/Spice Rating: ⭐️ ⭐️ ⭐️ ⭐️
Trope(s)/Element(s): Reverse Harem; Friends to Lovers; M/F/M (menage); light bondage and spanking
Cliffhanger: Yes.
Would I recommend this book? Yes. If you enjoy Mature Young Adult/ High School Contemporary Romance with Reverse Harem.
Favorite Quote(s): "We have a lot of fantasies." "All about you," Jake agreed. "Not all necessarily needing a bed." Yep. That did it. The blush I'd managed to fend off for the conversation won, and my face caught on fire. "I hate you all."
"I protect what's precious, and you're the most precious thing in my life."

This post contains affiliate links you can use to purchase the book. If you buy the book using that link, I will receive a small commission from the sale. It will help sponsor future giveaways but costs you nothing extra. You can read the full disclosure underneath the Privacy Policy.
---
---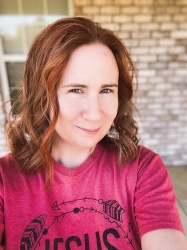 Latest posts by FranJessca
(see all)