Review: 'King of Corium' by C. Hallman & J.L. Beck
January 19, 2023
This book may be unsuitable for people under 18 years of age due to its use of sexual content, drug and alcohol use, and/or violence.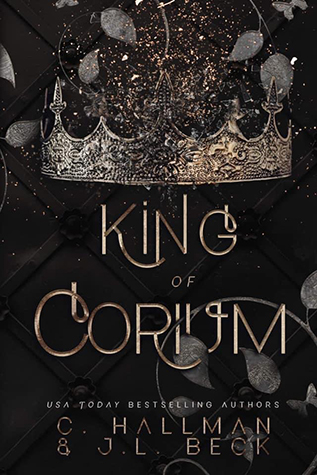 King of Corium
by
C. Hallman
,
J.L. Beck
Series:
Corium University #1
Published by
Bleeding Heart Press
on October 29, 2021
Genres:
Dark Bully Romance
,
Dark Romance
,
New Adult and College Romance
Format:
AudioBook
,
eBook
Source:
Kindle Unlimited
,
Purchased
Goodreads
Purchase at
Amazon

She came here for protection, but that's the last thing she's going to find.
Welcome to Corium University, where the most dangerous criminals in the world send their offspring. Assassins, mafia leaders, arms dealers and art thieves.
You name it, this college houses them.
Here nothing can touch them.
Upon arriving I knew Aspen would be here, she was the daughter of our enemy, a snake in the grass like her father. I had no intention of sparring with her. That is until she opened her pretty little mouth. One sentence and she became my next target, and a woman that I would do anything to see on her knees at my feet.
If she thought the university was the only nightmare she would have to face, she was wrong.
I was the king, and this was my kingdom.
**King of Corium is a dark romance novel, that contains dark themes, including dub-con, non-con. It is not a standalone novel.**
---
I've been meaning to read the Corium University series by C. Hallman and J.L. Beck since I"m a sucker for Bully Romances. King of Corium is the first book in their Corium University series, and it delivered the bully romance I was looking for and an antihero I despised. I don't know why I love bully romances since I hate bullies in real life. I always hated when my mother said that if a bully bullies you, it's because they secretly like you. Yeah, no, thank you, mom. I will not tolerate a guy tormenting me because he can't be brave enough to admit he likes me. He can find someone else to torment or get a swift kick to his nuts. 
Storyline/My Thoughts: Now when it comes to fictional bullies, I'm a sucker for them. I'm twisted, and I know it, but don't judge me for liking them. You probably have your own fictional characters full of red flags that you like. Mine happen to be the bullies that love to bully their love interests because they have no idea why they crave this person so much and are trying to figure it out, especially when they are supposed to hate the person thanks to your family having issues with them. That is what is happening in King of Corium with the two main characters. The MMC (bully) can't seem to find out why he wants the FMC but is determined to make her his. 
Let me remind readers again that this book is a bully romance. It has bullying elements that may make readers uncomfortable. This may not be your cup of tea if you do not like bullies and bullying romance stories. (I may say this several times to get my point across.) 
The poor FMC, Aspen, is forced to attend Corium University because her parents want her to attend. She's safer there, according to her parents. I don't know how when everyone there is going to make her life miserable, including the one person she needs to avoid at all costs. His family is the one her father betrayed, and she will be penalized for her father's actions, even though she is innocent. I felt for the FMC when reading her POV in the book. She is trying everything to survive while being tormented by the MMC, other students, and even faculty members at the University. She's a fighter, though, and will fight back when she can. She gets hurt so many times, both physically and emotionally.
Quinton, the MMC and a-hole to Aspen, wants nothing to do with Aspen at first. He has no issues with her but with her father for what he did to his family, but for some reason, he can't stay away from the fiery Aspen who attempts to fight back. He wants her submission and will get it one way or another. I don't like Quinton in this book at first because he is doing things to the FMC for his own twisted reasoning. He is a manipulative damn guy. Thankfully, the authors give their readers a dual POV in this book with Aspen and Quintin's POV, so we get inside Quinton's twisted head and why he was tormenting Aspen. Sometimes, I wanted to go through the book and knock some sense into the boy.
I've read other books by these authors, so I was prepared for this book to have dark elements in it. The authors do mention one potential trigger for readers in their synopsis. A warning for readers who are bothered by non-con/dub-con in books. I recommend skipping over those scenes or not reading this book.
Not only does the book focus on the FMC being bullied and the MMC being one of them tormenting her, but it has twists and turns in it, too. The MMC doesn't like his family much, mainly his father, and he is dealing with something traumatic that happened in his life. This is why I'm moving on to Book 2. I feel Quinton will redeem himself further along I read in the series. Bullies have background stories that make them the way they are, and I'm all about finding what makes them tick.
Forewarning, there is a brutal cliffhanger at the end of this book. I may have looked at my kindle in shock after reading that ending. How could J.L. Beck and C. Hallman leave it like that? Thank goodness I don't have to wait, and I can dive right into the second book. I would have gone insane waiting. Overall, this book receives four stars from me, and I look forward to reading the continuation of Quinton and Aspen's storyline. Here's hoping Quinton cools it with the bullying; if not, I hope Aspen kicks him where it counts.
Standalone or Part of Series: It's part of the Corium University series, and I recommend reading in order.
Steam/Spice: 🌶 🌶 🌶
Genre(s)/Trope(s)/Element(s): New Adult & College Romance. Dark Romance. Bully Romance. Mafia Romance. Antihero. Enemies to Lovers.
Trigger(s)/Content Warning(s): Bullying. Sexual Assault/Rape. (Dub-Con, Non-Con) Physical Assault on FMC. (There are other possible triggers, check the authors' websites on additional trigger information.) Reminder if the book is categorized as a Dark Romance, it's going to have dark, twisted elements in it that will make SOME (not ALL) readers uncomfortable.
Cliffhanger: Yes.
Would I recommend this book/series? Yes. If you enjoy Dark Bully Romances with Mafia family storylines and are set at a University, not just any University. It's a University where the most dangerous criminals send their kids to learn how to become like them; this book/series may be up your alley.
Favorite Quote(s): His eyes are closed, and I take the moment to really take him in. He is a beautiful as he is evil. A perfect disguise for a predator.
She is mine to touch, mine to torment, only mine.
I never thought I would be the type to crave darkness, but something about him when he's unhinged, and owning me, knowing he holds all the power, excites me.

This post contains affiliate links you can use to purchase the book. If you buy the book using that link, I will receive a small commission from the sale. It will help sponsor future giveaways but costs you nothing extra. You can read the full disclosure underneath the Privacy Policy.
---
---
---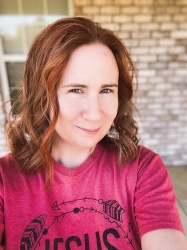 Latest posts by FranJessca
(see all)