Review: 'Legend of the White Wolf' by Terry Spear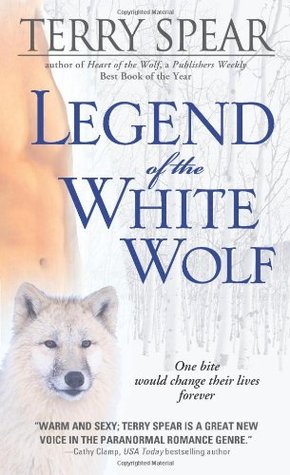 Legend of the White Wolf
by
Terry Spear
Series:
Heart of the Wolf #4
Published by
Sourcebooks Casablanca
on February 1st 2010
Genres:
Paranormal Romance
Pages:
371
Format:
Paperback
Source:
Purchased
Amazon Kindle
|
Amazon Paperback
Goodreads

In this fourth in Spear's series, Private Eye Cameron MacPherson and Faith O'Mallery are both on quests that lead them into the world of magical wolves…
Cameron arrives in the Canadian Arctic to search for his partners in his P.I. business who are late returning from a hunting trip. Faith is there to discover what her father had seen in the same area years earlier that had made him lose touch with reality—man-wolves, he called them.
The two tumble into an icy world of enemies bent on destroying the lupus garou kind. As they turn into lupus garou themselves, and bond with the pack that only they can rescue from destruction, Cameron and Faith find their soul mates in each other.
My Review:
(Originally Reviewed on Mrs. Papillion aka "The Book Worm")
My opinion now on the book may I say since the moment I picked up "Heart of the Wolf"…the first book in the series…I fell in love. =) Terry Spear has become another one of my fave authors that I will continue to read her books without hesitation. This book again has proven how much I love the series. From the beginning to the end, I've been amazed. I loved the characters, and I couldn't help, but fall in love with the white wolfs. I also got to enjoy Leidolf again in this book since he made an appearance. I can't wait for the next book which has him as the main character. Yum!! I love how Faith is an Alpha female from the beginning to the end and how Cameron falls in love with her. I was getting mad over the killers in the story. Grrrr…how dare them! I love how Terry Spear gets the main characters to meet each other. I couldn't stop giggling with the part at the hotel. =) I figured from the description of the book that the ending was going to end the way it did which was okay with me. I can't wait for Leidolf's story. =)
I think I rather read about werewolves now instead of vampires…since werewolves are so much better heroes. =)


I guess I should type a bio here. I'm FranJessca or Fran for short. I'm the owner of Book Lovin' Mamas and main Reviewer. I've been reviewing books since I got out of the Navy in 2011. Now 8 years later, I'm still reviewing, but this time with my youngest sidekick.
When I'm not reading and reviewing, you can find me at my day job during the week and on the weekend taking care of our little farm.

Latest posts by FranJessca (see all)