Review: 'My Lucky #13' by Piper Rayne
January 28, 2023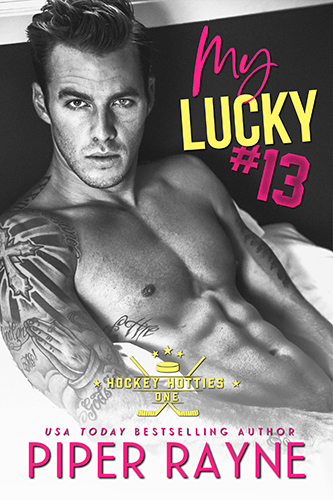 My Lucky #13
by
Piper Rayne
Published by
Self-Published
on June 29, 2021
Genres:
Contemporary Romance
Format:
AudioBook
,
eBook
Goodreads
Purchase at
Amazon
|
Kobo

Lucky.
The one adjective used to describe my entire hockey career. I prefer to call it hard work, at least I did until my game went to complete crap. I haven't scored in eight games and my team owner is talking about trading me.
I've never believed in superstitions. Never needed one. I suppose I was "lucky" in that way. But now the best way to refer to me is desperate. I'd wear the same socks for an entire year just to be the high-scoring center I used to be.
Imagine my surprise when after spending New Year's Eve with a woman, I score a hat trick in the next game—that's three goals in one game for you non-hockey lovers. Now, I have to track her down and bribe her to do it again before every game. Get your mind out of the gutter, I'm not talking about it.
I find her and when I get to know her better, I end up spending more time thinking about her than my game, but she's made it clear she wants no part of me. She's going to learn that I didn't become a professional hockey player without having to fight for what I want.
---
I could feel myself falling into a reading slump and wanted to read something that would prevent me from falling down that rabbit hole. I needed something fluffy and less dark since I've been on a dark romance kick and knew I should have been switching it up before I got burnt out from that subgenre. I'm thankful for Piper Rayne's My Lucky #13. The first full-length novel to their Hockey Hotties series perked me back up and had me smiling like the Cheshire cat from Alice in Wonderland. It also helped to listen to the audiobook and to have the narrators, Jason Clarke and Savannah Peachwood, bring the characters to life. I'm recently a new fan of the duo Piper Rayne, and I'm working my way through their backlist.
Storyline/My Thoughts: Imagine you are a Hockey Player and are at risk of being traded since you are not performing anymore. You're even the team captain, but the owner doesn't care. He wants results. You meet a beautiful woman at an NYE party, and instead of kissing her, she throws white wine in your face. After that incident, you start performing again on the ice and now have to have that woman repeat the process of throwing white wine in your face. The issue is that she thinks you are crazy, and she's dating your agent. This is the case with the MMC in My Lucky #13. Poor Aidan Drake wants to avoid getting traded and doesn't believe in superstitions usually, but this one, he does, especially since he's on a winning streak. Saige, the FMC, thinks Aidan is crazy and doesn't want anything to do with him, which includes throwing a drink. She has reasons for staying away from the sexy hockey team captain of Florida Fury. He's like all other celebrities and has women flocking to him. She refuses to date another athlete since she was burned by one before.
I gobbled up Aidan and Saige's story thanks to the audiobook. It didn't take long to listen to since the narrators made it enjoyable. I loved Aidan's character immediately, even when I was introduced to him in the prequel. I knew he wasn't like all the other hockey players that were being introduced when it came to women. He was solely for his career until he met Saige. He knew she was off-limits, so he waited patiently for her but never gave up. No, there is no cheating in this book.
Saige's character was driven, too, and was all about her job. She didn't have her heart into dating, even the guy she was seeing. After hearing what happened to her when it came to her ex-boyfriend, I could understand why she had trust issues. She had to guard her heart and focus on her job, but Aidan Drake was handsome and very convincing. I don't know how she could handle holding off for so long with him because there was no way I could.
Aidan and Saige are complete opposites as far as careers fit perfectly, though, and it seemed they were fated to meet. I usually have issues with slow-burn romances because I tend to be impatient and want the characters to realize they like each other. Not with this book. The authors did a great job building the romance and having the two characters get to know each other first. It wasn't instant, and the two characters needed to work things out.
The ending bugged me a bit; if I were Saige, I would have made Aidan grovel. He took advice from someone else over what his heart was telling him. It almost bit his butt. Other than the fast-paced over the too quick ending, I enjoyed this book. I enjoyed it so much that I'm giving it 4.5 stars and will be making time to read the rest of this series. I need more Hockey Hotties. However, Aidan Drake may be the top hottie unless one of his other teammates wins me over.
Standalone or Part of Series: It's part of the Hockey Hotties series, but each can be read as a standalone.
Steam/Spice: 🌶 🌶
Genre(s)/Trope(s)/Element(s): Contemporary Romance. Sports Romance. Hockey Romance. Slow Burn Romance. Opposite's Attract. Celebrity Romance. Hockey Player MMC. Social Media Specialist/Manager FMC.
Would I recommend this book? Yes. If you love Hockey Romance stories where the MMC flirts and tries to win over the FMC, this story may be for you. It is a slow-burn romance, so spice comes later. Don't let that deter you because Aidan may convince you he's worth the wait. 😉
Favorite Quote(s): "Because I want you so bad I can't see straight. I want you under me, over me, in the shower, bent over the bed. Any way I can get you. Do you really not see that?"
It feels as though we were two lost puzzle pieces who found each other in a land of misfits.

This post contains affiliate links you can use to purchase the book. If you buy the book using that link, I will receive a small commission from the sale. It will help sponsor future giveaways but costs you nothing extra. You can read the full disclosure underneath the Privacy Policy.
---
---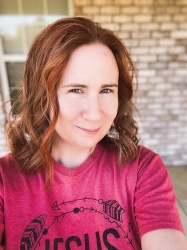 Latest posts by FranJessca
(see all)