Review: 'On Shattered Wings' by S.K. Graves
November 25, 2022
I received a complimentary copy of the book from in exchange for an honest review. This does not affect my opinion of the book or the content of my review.
This book may be unsuitable for people under 18 years of age due to its use of sexual content, drug and alcohol use, and/or violence.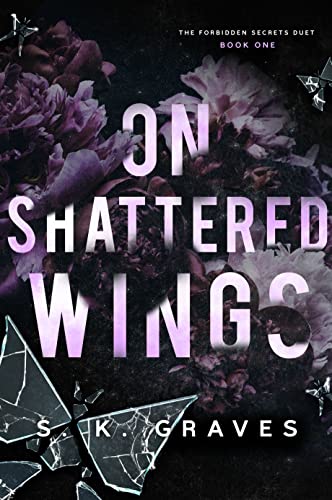 On Shattered Wings
by
S.K. Graves
Series:
The Forbidden Secrets Duet #1
Published by
Self-Published
on November 24, 2022
Genres:
Dark Romance
,
Dark Romantic Suspense
Format:
eArc
Goodreads
Purchase at
Amazon

Butterfly
Seven days.
One hundred and sixty-eight hours.
Ten thousand and eighty minutes.
It seems like no time at all, it'll be gone in the blink of an eye and then my life will change forever.The gilded cage I live in is nothing more than an illusion. The men hide behind masks, obscuring the monsters and demons within them.
I was destined for one thing, to be sold. To be used, abused, and then thrown away. What I didn't expect was him.
Was them.
Archer
I've never known love but now I've had a taste, nothing will stand in my way of claiming it.
He was the unexpected inevitable.
She was everything I never saw coming.
Dash
Everything in our world hangs in the balance, our work, our love, our lives.
He made living possible, I could finally breathe.
She was the flame that kept our love alight.
Until the flame went out.
---
On Shattered Wings is S.K. Graves debut novel, and this book was hard for me to put down. The prologue alone, which was dark and twisted, had me by the grips. It was one of those WTF moments where I didn't know where the author was taking me, and I had to prepare myself mentally. This book has dark elements, and I recommend checking your triggers before diving into the book. The author lists the triggers on her IG account, and I've also listed them in my review below.
Storyline/My Thoughts: If S.K. Graves made the prologue that dark, what would the rest of the book take me, and what would she do with her characters? Yes, I read a lot of Dark Romances and have no triggers because I know the books are fictional. This book, though, had me wanting to go through the book to protect all the characters.
This world that S.K. Graves created is full of things that make you question everything, especially those with all the money and power. This book touches on subjects such as a man who owns several women and auctions these women to the elite to do whatever they want with them. The people who buy these women are not for the faint of heart; some are monsters in disguise. The FMC is one of those women, and she's the prized possession to this man because she's innocent. Unfortunately, the poor FMC has been physically and mentally abused since she was little by the one person who should care for her. She only wants to know what love feels like and be cherished. She won't get it within the hall's walls, where she is forced to sell herself to people who want to harm her. I felt for this FMC immediately and wanted to help her in every possible way.
I don't know what it is, but this is the third book in a row where the poor FMC is treated horribly by her mother or motherly figure. I have no idea what is going on but let me say this upfront, I realize the FMC, Butterfly is fictional, but if I could, I would adopt her in a heartbeat and show her how a mother is supposed to treat her daughter and get her away from the man that owns her. I would also drop-kick the person who is supposed to be her mother. No young lady, especially her age, should be going through what she went through in this book. When reading On Shattered Wings, S.K. Graves had me feeling all kinds of things. Not only for the sweet FMC but the two leading, sexy MMCs, Archer and Dash, too.
Archer, for apparent reasons, won me over for the crap he was dealing with when it came to what his father put him through when he was younger and his monstrous brother who put him in a situation where he felt uncomfortable several times. He had a traumatic childhood due to who his family is, but I was thankful he had Dash in his life.
What did I love about the character Dash? His love for Archer and how he has been in love with Archer for years. Dash has been there for Archer and vice versa. It takes Dash making moves for Archer to finally open up to what they had always known about each other. I loved the scenes between the two. Dash is Archer's shining light in this dark world that S.K. Graves has written. I can't wait to read more of these two together and how they handle the story's villains. I can't wait to see the villains fall due to these two taking them down.
Here's the thing, Archer's brother may have put Archer in a predicament in this book, but he met the beautiful Butterfly, whom he immediately connected with when he saw her. He wanted to be her savior from the world he had found her in, and he would do anything to save her. The only thing that bothered me was how he kept that hidden from Dash and how Dash reacted when he found out the truth.
This book does get spicy too. You will get MF and MM scenes. There are cuddling and caring moments between the three main characters in one scene towards the end. It's evident that Archer, Dash, and Butterfly need each other differently. I can't wait to see this relationship between the three grow more in the next book.
Another reason why I love both Archer and Dash is that they both give Butterfly cute names: little flame and princess. Yes, I'm a sucker for cute pet names in books.
This book had all the twists and turns I was not expecting. The ending is what really surprised me because it had me shaken. Yes, this book ends on a cliffhanger, so prepare yourself ahead of time. You'll need to wait for the next book to discover what happens. I need more of Archer, Dash, and Butterfly. I give this book 4.5 stars, and again I'm so glad I found S.K. Graves debut novel. Another author has been added to my auto-buy list – ✅.
Standalone or Part of Series: It's part of the Forbidden Secrets Duet. This book ends in a cliffhanger, so I recommend reading in order.
Steam/Spice: 🌶 🌶 🌶 🌶
Genre(s)/Trope(s)/Element(s): Dark Romance. Dark Romantic Suspense. MF. MM. MMF. Bi-Awakening. Age Gap. Possessive MMCs. Mafia/Organized Crime.
Trigger(s)/Content Warning(s): Manipulation. Forced Drugging. Child Abuse from Father. Mental/Physical/Sexual Abuse. Murder. Taboo Relationships. Explicit Content. Dub Con. Rape. Necrophilia. (These come from the author's IG.)
Cliffhanger: Yes.
Would I recommend this book? Yes. This book is for you if you enjoy Dark Romantic Suspense with Age Gap, Bi-Awakening, and Why Choose Tropes.
Favorite Quote(s): "That's how I imagine love. Like sliding into a bath filled with simmering water that envelops you in its heat, saturates every cell of your being, and holds you gently. Not demanding, not punishing, but loving and accepting. Washing away all the worries that lie on your shoulders, all the pain that fills your heart. Someone who softly–quietly–loves you just as you are. Imperfect, damaged, and broken."
"I know this is only the beginning of our story, maybe even the prelude, but our time is coming. And when it does, I'll write us a love story worthy of Shakespeare. It'll be an epic fantasy, where the dark knights get the girl, but in order to rescue her, they must set the world ablaze and build a new one just for her."

This post contains affiliate links you can use to purchase the book. If you buy the book using that link, I will receive a small commission from the sale. It will help sponsor future giveaways but costs you nothing extra. You can read the full disclosure underneath the Privacy Policy.
---
---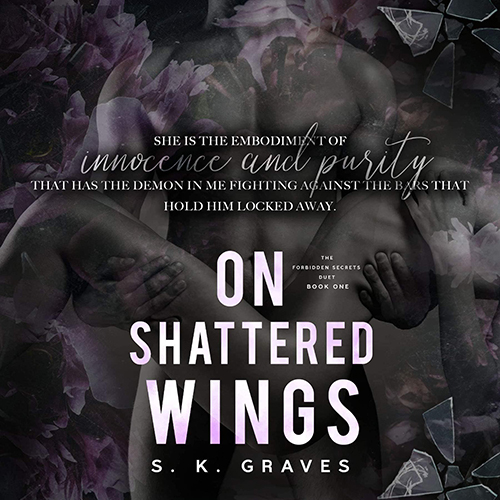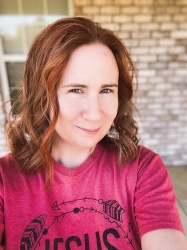 Latest posts by FranJessca
(see all)