Review: 'Pure Healing' by Aja James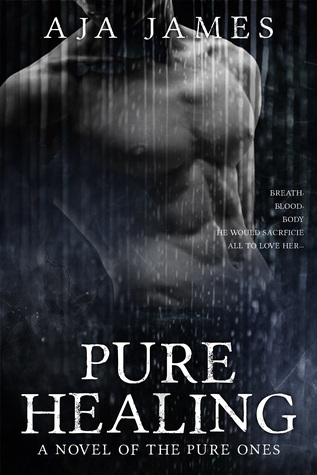 Pure Healing
by
Aja James
Series:
Pure/Dark Ones #1
Published by
Self-Published
on May 4, 2012
Genres:
Paranormal Romance
Pages:
334
Format:
eBook
Source:
Purchased
Amazon Kindle
|
Amazon Paperback
|
Audible
Goodreads

In the world of Pure Ones, where sexual intercourse with anyone other than one's Eternal Mate leads to a slow, painful death within thirty days, love comes with the warning label "fall at your own peril"… Rain: the Healer
From the first time she beheld him, she yearned to sooth his pain and torment and nurtured a secret, selfish desire – to have him for her very own…
Valerius: the Protector
Despite their instant attraction, he has staunchly avoided applying to be the Healer's Consort, haunted by the brutality and violence of his past…
As the decadal Phoenix Rite draws near, as threats from their vampire nemesis intensify, Rain and Valerius must decide whether they let their histories and duties dictate their destiny or whether they risk all for a chance at everlasting love.
My Review
I've been seeing a lot of my Goodreads friends reading the Pure/Dark Ones Series by Aja James and I also got it recommended to me a while ago to try the series out. I'm finally making time for them. At least slowly trying to fit the series in between review books and challenge books.
Pure Healing is the first book to the Pure/Dark One series, so a lot was going on in this book. There were several POVs too in this book, which made it enjoyable to read. If you've read the Black Dagger Brotherhood series that has a lot of POVs to it, then you would feel right at home with this book. This book and series are different from the BDB books though. At first, the book starts slow and introduces us to Sophia who is the young Queen of the Pure Ones. She's very young and tended to get on my nerves at times, but she is still young, so she has time to grow on me. Aja then introduces us to Valerius and Rain. Valerius is one of my favorite types of heroes in books, and that is the Tortured Heroes. I felt for him immediately, especially after finding out what happened to him. I had to skim through that portion of his story since it was uncomfortable to read, but it was a must to tell the readers why he suffers in the present day.
The female character Rain is a healer in the story and is destined to have a consort every ten years that keeps her healthy. I didn't connect well with her at first in the story until her backstory came into play also in the book.
I loved the world-building in this book and where Aja is going in the series. I love the history in the book too. Pretty much all the characters have been alive for some time (except the Queen), and they all have an exciting story to tell on where they came from and how they became a Pure One. Pure Ones are like Vampires since they have the qualities, but there is something different from the horde vampires (evil ones) that have it out for the Pure Ones. I enjoyed the book and looked forward to diving into the second book after I finish some other books. I have it already waiting on my kindle for me.
(On a personal note: I may type up a more extensive review or different one later on, but as of right now this is it while suffering from dizzy/vertigo spells. Hoping to feel better soon, so I can finish up even more reviews. It's also affecting my reading this week with the dizzy spells. Thanks to a particular medicine that I'm now being weaned off by my doctor since it causes too many side effects and I would rather deal with my migraines again. Hopefully, the next medicine works better than this one.)
---
Story Rating: 4 stars
Steaminess Rating: 3.5 stars
Standalone or part of series: Part of the Pure/Dark Ones series.
Do I recommend this book?  Yes.
Will I read other books from the author? Yes.
Tropes/Elements: Fated Mates; (Forewarning: A backstory of rape is mentioned in this book and details are written to on what happened. It's tough to read.)
Hero: Tortured; Broken; Warrior
Heroine: Healer; Pure One


I guess I should type a bio here. I'm FranJessca or Fran for short. I'm the owner of Book Lovin' Mamas and main Reviewer. I've been reviewing books since I got out of the Navy in 2011. Now 8 years later, I'm still reviewing, but this time with my youngest sidekick.
When I'm not reading and reviewing, you can find me at my day job during the week and on the weekend taking care of our little farm.

Latest posts by FranJessca (see all)