Review: 'Rapture in Death' by J.D. Robb #InDeathReadALong
April 17, 2020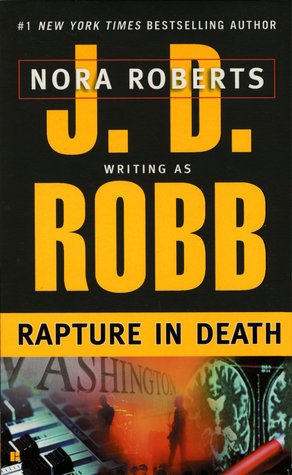 Rapture in Death
by
J.D. Robb
Series:
In Death #4
Published by
Berkley Books
on October 1, 1996
Genres:
Romantic Suspense
Format:
Paperback
,
AudioBook
Source:
Purchased
Goodreads
Purchase at
Amazon
|
Barnes & Noble

They died with smiles on their faces. Three apparent suicides: a brilliant engineer, an infamous lawyer, and a controversial politician. Three strangers with nothing in common - and no obvious reasons for killing themselves. Lieutenant Eve Dallas found the deaths suspicious. And her instincts paid off when autopsies revealed small burns on the brains of the victims.
Was it a genetic abnormality or a high-tech method of murder? Eve's investigation turned to the provocative world of virtual-reality games - where the same techniques used to create joy and desire could also prompt the mind to become the weapon of its own destruction...
---
Every month I look forward to reading another book from J.D. Robb's In Death series for the #InDeathReadALong hosted by @PNRBookLoverReviews and @UTCBookBlog. This month is Rapture in Death, which is the fourth book to the series. It's another installment that I fell in love with because it was hard to put down. It's getting harder and harder to read only one book a month for the Read-A-Long.
The fourth book has Eve Dallas investigating three people that committed suicides. They should be closed cases, but Eve finds each suicide suspicious, especially after autopsies are done on the bodies. There's a small burn on their brains, so Eve is determined to find out what drove a lawyer, engineer, and politician to kill themselves. There's no stopping Eve from finding out the truth, even if she puts herself in danger again.
This installment is another perfect addition to the series. I enjoyed following Eve, Peabody, and Feeney on investigating these suicides, especially after Eve tries to save another person who committed suicide in the book in front of her. The person was acting strange, and this is why I agreed Eve was doing the right thing about investigating these deaths.
I started figuring out who could be behind everything after Eve encountered this person. There was something off with this person, especially how they reacted to Eve and Roarke being together. I love each antagonist that J.D. Robb writes in her stories because they are pure evil in their way. This one took it to the top. I was sick to my stomach towards the end of the book and what this antagonist had planned altogether.
Let's not forget about Roarke and how much I adore his and Eve's relationship. They're married now, and they are supposed to be in the honeymoon phase, but Roarke knows Eve's job is never done. It's bad enough during their honeymoon is when one of the suicides took place. Be prepared for some steamy scenes in this book between the newly wedded couple. I love them as a couple, and I love how Roarke treats Eve and vice versa. These two were meant to be together, and I can't wait to continue reading these books in the series.
Overall, this installment gets 4.5-stars, and I highly recommend it to Romantic Suspense/Thriller readers out there. Be prepared, though, because this is another book that will have you on the edge of your seat trying to figure out what is happening to these people committing suicide. Poor Eve and Roarke are caught in the crossfire again, but they can handle anything thrown at them.

This post contains affiliate links you can use to purchase the book. If you buy the book using that link, I will receive a small commission from the sale. It will help sponsor future giveaways but costs you nothing extra. You can read the full disclosure underneath the Privacy Policy.
---
---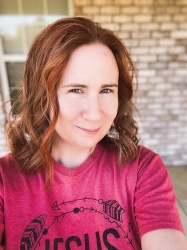 Latest posts by FranJessca
(see all)