Review: 'Runaway Heart' by Claudy Conn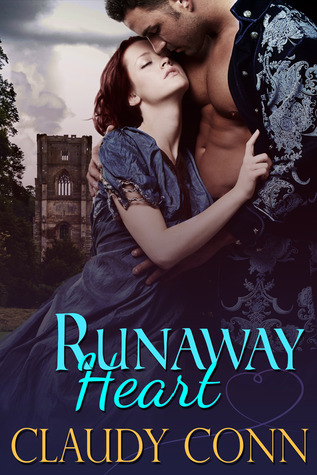 Runaway Heart
by Claudy Conn
Published by Amazon Digital Services on September 24, 2012
Genres: Historical Romance
Pages: 214
Format: eBook
Source: Purchased
Amazon
Goodreads


Spirited Chelsea decided she'd sooner run away to London than return to her vain and selfish guardian, Aunt Augusta.But in her wildest dreams, she never imagined her dear godmother would arrange a Season—or convince the ton's most eligible bachelor to take her under his wing.
Lord Wainwright was a handsome rogue who was not interested in coy games and missish airs. He expected a country mouse with no polish, but instead he found a thoroughly engaging minx, and was oddly irritated by all the male attention she received.
Chelsea with her unspoiled eye saw beyond Wainwright's pursuit of hedonism to the intriguing man underneath. But to her shock, it appeared his heart belonged to her horrid Aunt Augusta!
Adult-content rating: This book contains content considered unsuitable for young readers 17 and under, and which may be offensive to some readers of all ages.
390 KB 72,000 word count
My Review
Claudy Conn has done it again…she sucked me in another Regency Historical Romance and made me fall in love with the characters and their world.
Lord Wainwright is now going on my list of FAVE sexy, male characters that I would to marry…Oops…do not tell my hubby.  =)
Chelsea is wanting to make her mark in the world and find the man who will sweep her off her feet, just like her friends keep talking about.  She's about to turn 19 and she wants to meet the one person who will make her happy for the rest of her life.
Unfortunately, she's dealing with Aunt drama who has not even been there for her since she received guardianship of Chelsea.  She just wants Chelsea because of the trust money she has.
Chelsea runs to her Godmother's house to be around someone who really adores and loves her for who she is.  Daisy, her godmother, wants to find a perfect suitor for Chelsea and enrolls her nephews help to get Chelsea out there in front of the eligible bachelors eyes.
Lord Wainwright does not want to watch over a child, at least that is what he thinks of her when he first sees her, until Chelsea has a make over and now Lord Wainwright cannot keep his eyes off of her.  He knows it is wrong to have feelings for Chelsea, but he cannot help himself.  There is something about the beautiful Chelsea that has him in a bind.
Augusta, Chelsea's Aunt, who is nothing, but a vindictive woman is even more angry with Chelsea since Chelsea seems to be stealing away Augusta's handsome rogue.  Now Augusta wants Chelsea out of the way and she has recruited her brother to help her sweep Chelsea away from the man she has had her eyes on for awhile…and her brother is ruthless enough to do anything to have Chelsea for himself since money is involved and his greedy for more.
Chelsea is about to be thrown in a world she has to become adult quick and she finds herself in love with a man who may belong to another and a world where men will do anything to have her because of how much she is worth.Seriously…I love Claudy Conn's regency romances.  She has me fall in love with the rogue every time and she also has me loving the female characters as well.
Even the secondary characters are ones that I fell in love with.  Not only is Chelsea having her moment of love…but so is her Godmother, Daisy, which is definitely a match made in heaven.  Daisy deserved a happily ever after as well for everything she had gone through.
The villains in the story are ruthless and it seems it is a family trait.  They will do anything to get what they want.
Claudy Conn definitely knows how to transport you back in time where men tried everything to sweep a woman off their feet so they can marry them.  I will say this, Lord Wainwright can sweep me off my feet anytime.  I'm jealous over Chelsea.
The steamy scenes between the characters will require you taking a cold shower afterwards though, so be prepared ahead of time.
I recommend this book to anyone who loves reading historical romances, is a fan of Claudy Conn, and loves to fall in love with a rogue who becomes tamed because of one beautiful young lady who changes his ways.
Claudy Conn even gives you a sneak into other stories that she has written after you read, "Runaway Heart", which will make you want more anyways.
I know I cannot get enough of Claudy's books.  =)


I guess I should type a bio here. I'm FranJessca or Fran for short. I'm the owner of Book Lovin' Mamas and main Reviewer. I've been reviewing books since I got out of the Navy in 2011. Now 7 years later, I'm still reviewing, but this time with my oldest daughter aka Lil' Sidekick.
When I'm not reading and reviewing, you can find me at my day job during the week and on the weekend taking care of our little farm.

Latest posts by FranJessca (see all)