Review: 'Sneaking a Peek' by Eden Summers
I received a complimentary copy of the book from the publisher in exchange for an honest review. This does not affect my opinion of the book or the content of my review.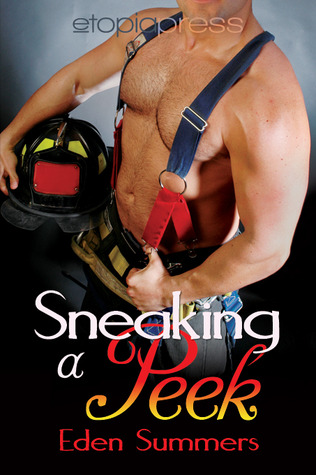 Sneaking a Peek
by
Eden Summers
Published by
Etopia Press
on November 2, 2012
Genres:
Contemporary Romance
,
Erotic Romance
Pages:
55
Format:
eArc
Goodreads

She's either headed for jail...or for the best sex of her life.
Tarney Jensen has been crushing on sexy firefighter Ethan Reid, her best friend's brother, since her sixteenth birthday. She knows acting on her attraction will ruin their friendship, but she can't fight the temptation of his sweat-slicked skin as he works out. Every hot-blooded woman loves to drool over a sexy piece of man flesh, but watching one from the shadows of your porch when he has no idea you're spying on him? Totally illegal.
For years Ethan has watched men go in and out of Tarney's life, but how's a guy supposed to put the moves on his kid sister's best friend without looking like a perv? But when Tarney lets out an ear-piercing scream from her front yard, Ethan drops everything to rush to her aid. And finds out that the woman of his dreams has been sneaking a peek at his workouts…
My Review
I was looking for a short, sexy, steamy read for over the weekend and I found what I was looking for in "Sneaking a Peek" by Eden Summers.
The cover alone had me wanting to read it, and then I read the description, and I knew it was a book I needed to squeeze in before reviews for blog tours.
"Sneaking a Peek" is about a guy and a girl who have had feelings for each other since they were teens.  They never hooked up though because of a specific person not wanting them to get together.
Tarney Jensen had moved back to town after college and found herself moving in next door to her best friend's brother's house.  She has always had a significant crush on Ethan who is now a sexy firefighter.  She never hooked up with him because of her best friend telling her to stay away from her big brother and her conscious telling her; she did not want to ruin a perfect friendship with Ethan.
Ethan who has known Tarney since she was a teenager has always had an eye on her and just never made a move because of his little sister.  He also would see men come in and out of Tarney's life and did not feel it was destined for them to be together.  When Tarney moves in next door, he never realized one night of him working out would bring Tarney into his arms due to her having a fall where he needs to help her.
Of course, he finds out that the little minx has been spying on him while he works out.
He is trying to fight his attraction for Tarney when he's taking care of her after her fall, but he is kind of hard to keep feelings at bay for so long.
Eden Summers is now an auto-buy Author for me.  I LOVED "Sneaking a Peek."  Thanks to the show "Chicago Fire," I have wanted to read a great sexy firefighter story and this quenched my thirst for a while with Ethan being a sexy firefighter.  *sigh* =)
After reading "Sneaking a Peek," I needed a cold drink and a cold shower.  This definitely had some steamy scenes to it between Ethan and Tarney.  Oh boy!!!
I love stories that have friends come together as well, and this was a relationship that was long overdue.  You could tell by reading that both of these characters were in love from the beginning with each other and when they finally hooked up, it was like a volcano exploding between them both.
If you are looking for a short, steamy read, this is a definite must-read for anyone.
Be ready for some moments where you will need to be hosed down and be prepared to laugh as well because Eden Summers puts some humor between the characters as well.
I even teared up towards the end on what Tarney thought Ethan did after they made love the first time.
I recommend this book to anyone who loves erotica and wants a quick read before bedtime…just be warned, you may need to cool off afterward.
(Warning do not read this book while you have kids around as I did.  I think I snapped at my oldest every time she tried to interrupt me while reading "Sneaking a Peek."  I made it up to her when we, later on, watched movies on Netflix together and had ice cream cake.  LOL)


I guess I should type a bio here. I'm FranJessca or Fran for short. I'm the owner of Book Lovin' Mamas and main Reviewer. I've been reviewing books since I got out of the Navy in 2011. Now 8 years later, I'm still reviewing, but this time with my youngest sidekick.
When I'm not reading and reviewing, you can find me at my day job during the week and on the weekend taking care of our little farm.

Latest posts by FranJessca (see all)