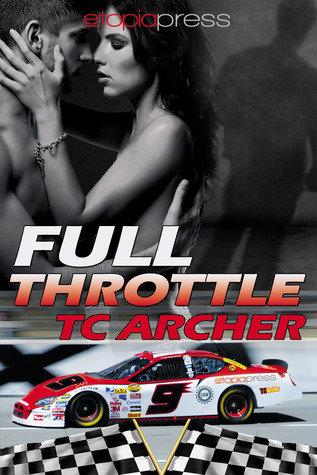 Full Throttle
by
T.C. Archer
Published by
Etopia Press
on June 1, 2012
Genres:
Contemporary Romance
Pages:
430
Format:
eBook
Source:
Blog Tour Host
Goodreads

Fast cars and a smokin' hot passion...
Rex intends to own and drive his own car, but that will cost him millions up front. Last season was a disaster, thanks to a nasty break up, but it taught him a lesson and helped sharpen his focus on what he needed to do: Win every race. And stay away from pretty girls. The last thing he needed was to learn that his new head mechanic, Jimmy James, was the gorgeous redhead pin-up walking around his pit like it was some kind of dance floor.
Gail "Jimmy" James is the first female NASCAR mechanic. As if competing in a man's world isn't tough enough, her bombshell figure bellies her genius IQ, and the pit is no place for either. Nothing Jimmy knew about Rex Henderson the driver prepared her for Rex Henderson the man. But Jimmy has no time to dwell on her feelings as strange mechanical problems curse Rex's car. Whether sabotage or her own mistakes, Jimmy must stay one step ahead of trouble if she's going to keep her job, and keep her driver alive...
My Review Continue reading →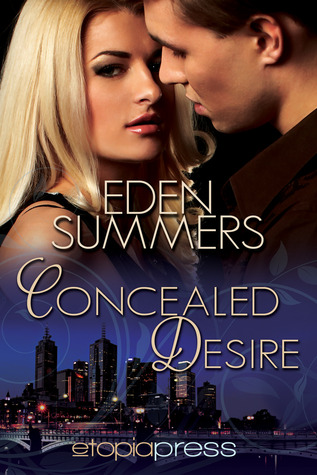 Concealed Desire
by
Eden Summers
Published by
Etopia Press
on January 3, 2014
Genres:
Contemporary Romance
Format:
eBook
Source:
Purchased
Goodreads

"A love that breaks all the rules..."
Since her first day at work, Beth Graison has been in love with Dean Sutherland--the "Son" in Sutherland & Son. Although he's an unrepentant player, there's an unmistakable connection between them, and she knows he feels it too. But she's not about to risk her career for any man, especially one with an office right down the hall whom she works with every day.
Dean Sutherland doesn't do love, but he does do women. And he hasn't felt more than sexual attraction for any woman until Beth. Entirely feminine, smart, and with a natural beauty beyond compare, she makes him think about all kinds of uncomfortable things--like a future and happiness--things he knows from experience are pure fiction.
When his father, the "Sutherland" in Sutherland & Son, propositions Beth to be more than just an employee, Dean can't keep her at arm's length any longer. But he doesn't expect the scorching kiss they share, or the idea that forms when he holds her in his arms. Can he stop his father's manipulating game by making the first move on Beth? Or will his reputation as a womanizer make him just one more Sutherland she wants to ignore?
I received a complimentary copy of the book from the publisher in exchange for an honest review. This does not affect my opinion of the book or the content of my review.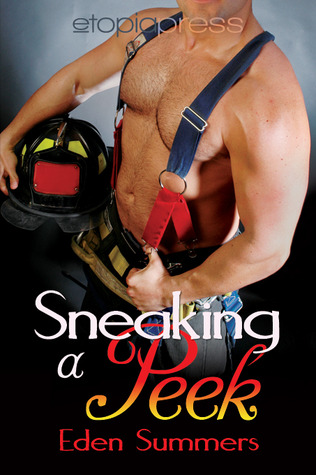 Sneaking a Peek
by
Eden Summers
Published by
Etopia Press
on November 2, 2012
Genres:
Contemporary Romance
,
Erotic Romance
Pages:
55
Format:
eArc
Goodreads

She's either headed for jail...or for the best sex of her life.
Tarney Jensen has been crushing on sexy firefighter Ethan Reid, her best friend's brother, since her sixteenth birthday. She knows acting on her attraction will ruin their friendship, but she can't fight the temptation of his sweat-slicked skin as he works out. Every hot-blooded woman loves to drool over a sexy piece of man flesh, but watching one from the shadows of your porch when he has no idea you're spying on him? Totally illegal.
For years Ethan has watched men go in and out of Tarney's life, but how's a guy supposed to put the moves on his kid sister's best friend without looking like a perv? But when Tarney lets out an ear-piercing scream from her front yard, Ethan drops everything to rush to her aid. And finds out that the woman of his dreams has been sneaking a peek at his workouts…