Re-Post Review: 'Tempted by a Rogue Prince' by Felicity Heaton
December 10, 2018
I received a complimentary copy of the book from Purchased, the author in exchange for an honest review. This does not affect my opinion of the book or the content of my review.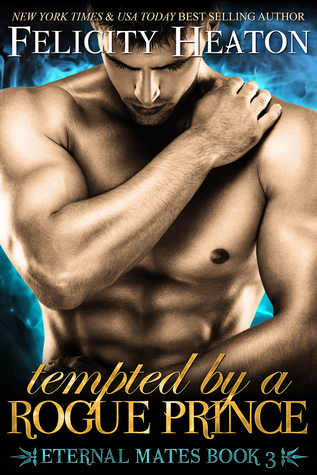 Tempted by a Rogue Prince
by
Felicity Heaton
Series:
Eternal Mates Romance Series #3
Published by
Self-Published
on August 9, 2014
Genres:
Paranormal Romance
Format:
eArc
,
AudioBook
Goodreads
Purchase at
Amazon
|
Apple
|
Google Play
|
Kobo

An elf prince on the verge of losing himself to the darkness, Vail is maddened by the forty-two centuries he was under the control of a witch and forced to war with his brother. Now, he roams Hell seeking an escape from his terrible past and the heads of all who bear magic. When demons of the Fifth Realm capture him, he sees a chance to end his existence, but when he wakes in a cell to a beautiful female, he finds not death but his only shot at salvation—his true fated mate.
Captured by the enemy of the Third Realm when the war ended, Rosalind has spent months in the cells of the Fifth Realm with her magic bound, forced to heal the new king's demon warriors, and haunted by the lives she has taken. When she's brought to heal an unconscious man, she discovers her only hope of escape has come in the form of her worst nightmare and the first part of a prediction that might spell her doom—a devastatingly handsome and dangerous dark elf prince.
Unwilling to fall under the control of anyone ever again, Vail must escape before the Fifth King can use him as a pawn in a deadly game of revenge, but he cannot leave without Rosalind, the woman who looks at him with dark desire in her stunning eyes and awakens a fierce hunger in his heart. A witch who drives him mad with need even as the darkness within whispers she will enslave him too.
Can Rosalind escape her fate as they embark on a journey fraught with danger and resist the temptation of her rogue elf prince? And can Vail overcome the memories that madden him in order to seize his chance for salvation and the heart of his fated female forever?
First Time Read: February 2015
Second Time Read (Listened): December 2018
(Original Review from 2015, but this time in 2018 I listened to the Audible version.)
I'm playing catch up on Felicity Heaton's Eternal Mates series due to how fast Felicity is pushing out the books for this series. I had a hectic summer that prevented me from reading the books I wanted to read, so I'm playing catch up on one of my favorite series from Felicity. Let's say reading them back to back is perfect to feed my addiction to this series that Felicity created.
Felicity knows how to write a fantastic story with her world building and amazing characters. Tempted by a Rogue Prince is no different from her writing style, in fact, she managed to give me more characters to add to my favorites to follow from her.
I have wanted to read Vail's story since he was introduced in the first book. Poor Vail has been under the control of a witch for 42 centuries, and during that time he was at war with his brother. Now he is trying to escape his past, but it's kind of hard when he was captured by demons from the fifth realm. Their king wants Vail to do something for him, but Vail doesn't want someone controlling him ever again. He wants to escape and end the pain he has caused with his brother. He will need the help of other prisoners, one that he should hate due to her kind, but it's kind of hard to hate her when he has feelings for her.
If you haven't read the first book in the Eternal Mates series, you will miss out on the introduction of Vail into the series. (This is why I highly recommend reading this series in order. You don't want to miss out on certain characters. Felicity has secondary characters get their books later on). But Felicity sure does a fantastic job retelling snippets of what happened in the first book with Vail and his brother in Tempted by a Rogue Prince.
Rosalind is a strong female lead in Tempted by a Rogue Prince, and she is continuously tested with Vail due to his issues with witches. He has every right to have issues, but Rosalind is nothing like his captor was. She has such a soft heart, and she wants to help Vail get over his problems. Unfortunately, he is not going to let her in so quickly. She has her issue, and that issue may end up being Vail. ***Broken hero who needs a strong-willed female heroine to get him through it all but of course there are difficulties with it.
I could go on and on, but I don't want to give anything away. I also could go on and on about how much I adored Tempted by a Rogue Prince. The only reason it's not getting a full five moons is due to how sometimes the story drug on in certain parts, but that didn't stop me from continuing. Let's just say the ending had me in tears during the road trip while I was reading Vail's and Rosalind's story. ***Be prepared for the tissues***
I give this book 4.5 moons and highly recommend it to paranormal romance readers out there. Felicity is one author who can push books out like crazy, so be prepared to be able to read stories back to back. =)

This post contains affiliate links you can use to purchase the book. If you buy the book using that link, I will receive a small commission from the sale. It will help sponsor future giveaways but costs you nothing extra. You can read the full disclosure underneath the Privacy Policy.
---
---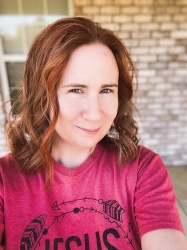 Latest posts by FranJessca
(see all)