Review: 'The Awakening as Told by the Boys' by Caroline Peckham & Susan Valenti
March 2, 2022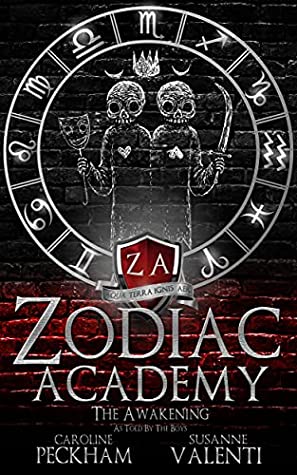 The Awakening as Told by the Boys
by
Caroline Peckham
,
Susanne Valenti
Series:
Zodiac Academy #1.5
Published by
Self-Published
on August 29, 2021
Genres:
Dark Bully Romance
,
Dark Paranormal Bully Romance
Format:
eBook
Source:
Kindle Unlimited
Goodreads
Purchase at
Amazon
|
Barnes & Noble

**This is a retelling of book 1 of Zodiac Academy from the perspective of Orion, Darius, Caleb, Seth and Max**
The Vega twins are alive.
Those five words circle in my mind like an oncoming storm. They change everything about the future we thought had been set in stone. They challenge everything we were raised to be and the stability of the entire kingdom.
They're coming to our academy looking for the life that was stolen from them, but we can't let them take it back.
So much hangs in the balance and we can't risk the arrival of two naïve princesses destroying everything we worked so hard for.
I have trained in dark magic, overcome all challenges and stood in the shadow of Lionel Acrux for far too long already. I won't let them come between me and his downfall.
Which means they have to go before they discover how powerful they truly are.
This is a retelling of the first book in the Zodiac Academy series from the point of view of Orion and the Heirs and should be read after you have finished the original story. It includes scenes from alternative points of view as well over 50k words of additional content and scenes which have never before been revealed. So prepare to step into the dark minds of the Zodiac boys and watch out for the heartbreak and carnage that will ensue.
---
After reading The Awakening, which is told solely in Darcy's and Tory's POV, I couldn't wait to dive into the book with the boys' POVs. I needed to find out why the four celestial heirs targeted Tory and Darcy and needed them gone. This book definitely gave me all the reasons and more. Still, I wouldn't say I like some of them, especially after what they put Darcy and Tory through at the end of the book. A-holes!
Storyline/My Thoughts: I was excited and anxious to read The Awakening as Told by the Boys because I wanted to discover what thoughts were in Darius's, Caleb's, Seth's, and Max's heads after reading The Awakening. I'm going to try not to spoil anything while typing up my review because the previous book and this book had me on the edge of my seat. (Not always for good reasons.)
Now, be prepared if you read this book that you will be reading repeated scenes but from a different perspective. New scenes in this book tell readers what the boys were up to when they were not terrorizing Tory and Darcy. I liked how the authors gave us additional scenes. It provided more details of the boys and their lives.
Darius is still the one I'm intrigued by the most since I read his POV and how he was feeling the whole time. He's not very fond of everything he's doing, but he has to protect someone in his family. He doesn't have a perfect life, and he has his mission that he's working on with Orion.
There's also Orion, who I'm glad I read his POV. You either like him or hate him, and I tended to like him more in this book. He is trying everything to keep the twins as enemies, but you'll read another side of him in this book.
I didn't like Max or Seth even more after this book, but I won't explain why. I will say these two deserve everything that comes to them after what they did to the twins. I'm not saying the others don't, but these two are the worst of them all.
Caleb is one I'm still trying to figure out. He's not as bad as the others, except Tory as his source. He is playing with fire with someone else when it comes to Tory. There is a steamy scene that happens in the book that involves Caleb.
The real enemy of the series is close to the celestial heirs. I really don't like this person.
The very ending of this book is with the conclusion of The Awakening, and I hope Tory and Darcy get their revenge in the next book.
Overall, I give this book 4.5 stars. This one had my attention from the beginning since I already knew what to expect. I liked how the authors gave us the male heirs' perspectives in the first book. It doesn't make me like them entirely, though, but I understand them better. They are still friggin' A-holes!
Standalone or Part of Series: It's part of the Zodiac Academy series. Some readers have recommended reading this book after book 6. I read it after book 1, since book 1 was still fresh in my memory. (It's all up to the reader.)
Steaminess: ⭐️ ⭐️ ⭐️ ⭐️
Trope(s): Bully Romance; Student/Teacher Forbidden Romance (borderline in this book – professor knows it's wrong)
Audience: 18+
Would I recommend this book? Yes. If you enjoy Bully Romances, I recommend this book to you. This book also is paranormal since he has faes, vampires, werewolves, sirens, dragons, etc. This is another reason why I love these books.
Warning(s)/Trigger(s): Bullying (Emotionally and Physically); Sexual Harassment; Physical Trauma (Vampire/Siren Related); A-hole Male Characters (The Four Heirs)

This post contains affiliate links you can use to purchase the book. If you buy the book using that link, I will receive a small commission from the sale. It will help sponsor future giveaways but costs you nothing extra. You can read the full disclosure underneath the Privacy Policy.
---
---
---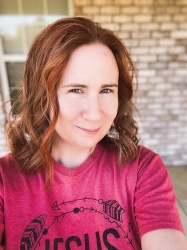 Latest posts by FranJessca
(see all)